Precision Castparts (NYSE:PCP) announced that it has entered into an agreement to buy Titanium Metals (TIE) for $16.50 per share in cash, roughly in line with our fair value estimate. We're huge fans of this deal and expect Precision Castparts to extract significant synergies, similar to what it was able to accomplish when it bought Special Metals in 2006. Special Metals was a huge driver behind profitability expansion during the latter years of last decade.
We think the growth rate of aircraft deliveries (and jet engines) during the next five years will be truly remarkable. Both Airbus (OTCPK:EADSY) and Boeing (NYSE:BA) are ramping up production of their workhorse A320 and 737 programs, respectively, to thwart potential cancellations as competition heats up from global rivals in the narrowbody market. Boeing recently increased the monthly production rate of its 777 and plans to accelerate deliveries of its revolutionary, mostly-composite 787 Dreamliner. Rival Airbus has increased rates on its A330 platform and continues to target a higher production pace for its A380 double-decker in the years ahead. And once the growth of large commercial aircraft deliveries begins to slow in 2014-2015, we'll be at the beginning of yet another new product cycle with Airbus' long-awaited A350, which is scheduled to enter into service in 2014 (though a 2015 target is more likely). Needless to say, investors should expect a boom in commercial aerospace deliveries during the next half-decade -- at levels we haven't witnessed in the past 20 years.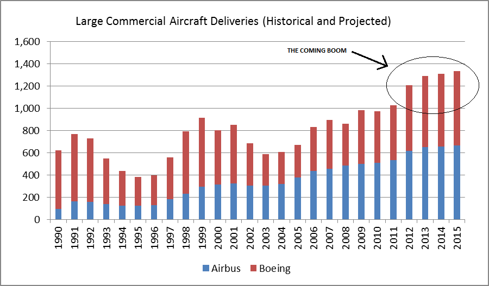 Precision Castparts' CEO Mark Donegan is perhaps the best aerospace executive when it comes to integrating acquisitions and delivering value to shareholders. The tie-up provides Precision Castparts with valuable titanium capacity, and we think the deal helps Precision optimize its supply chain by giving it greater control of input costs via vertical integration. The transaction will be immediately accretive to earnings, and the potential for Precision to expand operating margins is significantly enhanced with this transaction. We would not be surprised to see Precision Castparts' shares converge to our fair value estimate (about $200 per share) in coming months on the optimism surrounding this transaction. We plan to drop coverage of Titanium Metals at the end of December, once the tender offer is completed. Precision Castparts remains one of our top aerospace picks in the portfolio of our Best Ideas Newsletter.
Metal-bender Precision Castparts has long been a favorite of ours. The firm makes the structural castings (metal blocks) and the rotating airfoils (blades) that form aircraft jet engines. Though a structural casting has a relatively longer useful life, a jet engine's airfoil components frequently need to be replaced upon maintenance (think razor, razor-blade model). Precision's components are also critical to flight safety, so it retains a high degree of pricing power with its long-time customers, which can't afford the risk of switching to unproven rivals.
Disclosure: I have no positions in any stocks mentioned, and no plans to initiate any positions within the next 72 hours. I wrote this article myself, and it expresses my own opinions. I am not receiving compensation for it (other than from Seeking Alpha). I have no business relationship with any company whose stock is mentioned in this article.
Additional disclosure: PCP is included in the portfolio of our Best Ideas Newsletter.