The uncertainty in the economic world right now is causing us all to take a step back and reconsider the stocks we have included in our portfolios. I will be the first to say that I have already begun purging my personal portfolio of some stocks that seemed like decent additions based upon valuation models that are not panning out the way I planned. Should you do the same? Perhaps, but that is a decision you will have to make on your own after conducting an honest evaluation of the reasons you added them, and determining if those reasons are still valid.
We will take the economic outlook model below and attempt to use it to identify some stocks which may be worthy of additional study or inclusion into our portfolio based upon the information we have.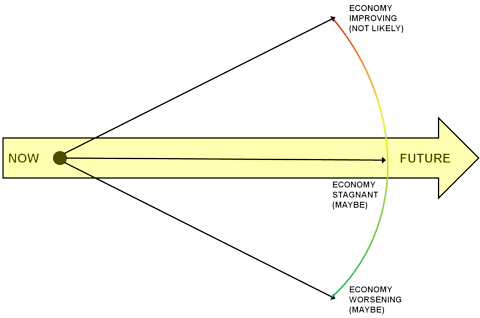 To explain the graphic, we are clearly at the "now" on the time line. The large arrow indicates a generic time period for us to consider. Smaller arrows indicate the three general economic possibilities we should consider in deciding what stocks to investigate further. First, the economy could improve drastically -- we can reasonably rule out that possibility for the time being, so that portion of the arc is shaded red. Second, the economy could remain stagnant -- this is a definite possibility and this portion of the arc is shaded yellow. Finally, the economy could worsen to the point that we enter a double dip recession as seen in Europe -- this is also quite possible given the global economic environment, and this portion of the arc is shaded green.
So, given the probability that the overall environment will steer us to the bottom two-thirds of the arc, we should look for companies that are positioned to continue to profit or at least see business-as-usual despite any further bad news. In order to meet the criteria, we are screening for solid large-cap plays which have taken a recent downward turn with at least a 2% dividend to assist in enhancing our gains while also attempting to minimize any losses in a prolonged sideways market. The ideal candidates would also have a five year history of increasing dividends while displaying lower than average volatility.
So let's look at some possibilities, not in any specific order.
McDonald's (NYSE:MCD)
Seemingly on every list, McDonald's needs absolutely no introduction as the undisputed "heavyweight" champion of the fast food industry. With a commanding global presence, McDonald's is quite nearly a no-brainer for times of economic uncertainty. When the average consumer (unlike Congress) works to tighten the purse strings and reduce debt, certain niceties such as a weekly dinner date often go out the window. Other, more budget-friendly alternatives might be sought as consumers seek "substitute goods," or alternately time might become even more constrained as people look for second jobs and eating on-the-go becomes even more necessary.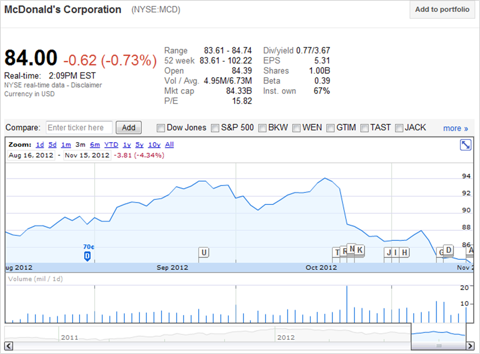 McDonald's displays a beta rating of 0.39, indicating that although the stock will generally trend downward if the market continues to slide, the decrease will be significantly less. With a dividend of nearly 3.7% and a 5-year dividend growth rate exceeding 20%, this stock certainly warrants your consideration. The P/E ratio of 15.8 puts the company in a reasonable range based upon that of other large companies. The stock is down almost 9% in the past month, so pay attention for any indications of a reversal.
McDonald's carries around $12.75 billion in debt, although none of this is short term, compared to $4.2 billion in current assets. The vast majority of the company's assets ($37.3 billion) are held as property, plants, and equipment, not surprising for a restaurant chain. Cash on hand stands at just under $2.2 billion.
Note that the recently announced departure of Jan Fields, President of McDonald's USA, might cause some short-term movement in the stock and we should wait to see how this shakes out before make any significant decisions. However, given that the stock is down approximately 15% on the year indicates that we may be at a decent entry point.
Wal-Mart (NYSE:WMT)
Another global heavyweight, Wal-Mart, makes a certain amount of sense based upon the substitution theory regarding consumer behavior in a poor economy. If the economy is bad and consumers are concerned with buying the items they want while spending as little as possible, a large discount retailer tends to make sense. Spending less money is a primary consideration in reducing your debt levels, and individual consumers seem to grasp that fact.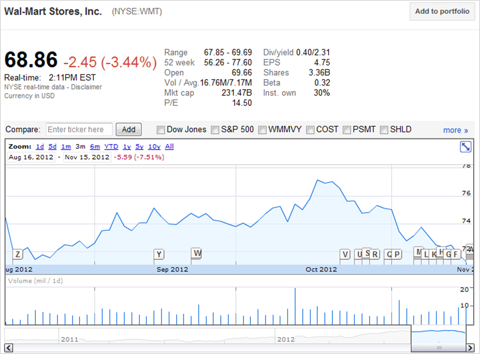 In the past four weeks, Wal-Mart has dropped from the $77 range to under $69, over a 10% drop. Yes, there was some negative sentiment concerning revenue this quarter, but it is difficult to believe that the resulting drop in price was not larger than what makes sense. With a beta of 0.32, this stock becomes a more defensive pick given the economic uncertainty, although in the short term, the company looks to do reasonably well during the Christmas shopping season despite concerns of Black Friday employee demonstrations.
With a dividend yield of only 2.3%, Wal-Mart barely meets our screening criteria, but the 5-year dividend growth rate stands at over 16% and both revenue and EPS are expected to grow in the coming year. Wal-Mart carries $8.7 billion in short-term debt, and total debt over $57 billion. This is balanced against $8.6 billion in cash, $63 billion in current assets, and $205 billion in total assets. With EPS of $4.75 and a P/E under 15, the company seems to be fairly valued based upon the current picture, but earnings are projected to increase at an annual rate of somewhere around 8-10% for the next few years. Increasing future earnings along with the dividend and future dividend increases could result in a positive long-term outlook.
If the economy does indeed track in the sideways to slightly down area of our graphic over the next year, Wal-Mart looks to be an acceptable company to research further. You should pay special attention to the fact that Wal-Mart fell only about 25% in the 2008-2009 downturn, and is currently priced higher than its 2008 peak despite all the worry.
AT&T (NYSE:T)
As a heavyweight telecommunications company, AT&T can be compared to Verizon (NYSE:VZ) without too many fundamental variances. Despite the bleak outlook for the economy, it can be argued that our society has changed somewhat fundamentally such that the goods and services provided by the telecommunications industry have become much more inelastic in demand. The percentage of the U.S. population carrying cell phones or smartphones was somewhere around 93% in 2010. Of course, AT&T does much more than cell phones -- home phones, internet, and television service are all on the current menu for subscribers.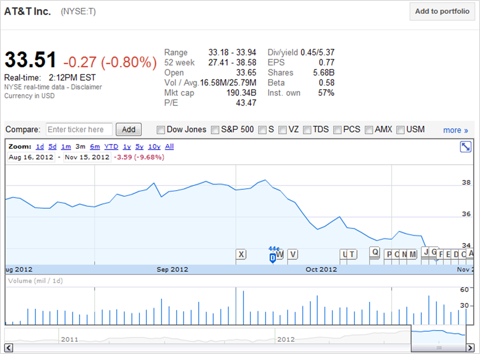 AT&T has dropped over 13% since the middle of October, which is a fact that specifically makes this stock worth a look. AT&T carries zero short term debt, but over $60 billion in long term debt. The company holds over $2 billion in cash, although in this particular industry, I do not find that amount of cash to be as comforting. Net revenues have leveled off at just over $6 billion per quarter, indicating the company remains profitable, and earnings are anticipated to continue increasing, although the rate is modest at generally 6-7% for the next few years. The beta of 0.58 makes it significantly less risky than the market as a whole, indicating that this could be an acceptable defensive choice despite the high P/E ratio.
The current yield of almost 5.4% is the highest among DOW components, and the company has a five-year dividend growth rate stands at over 5% as well. So although the dividend might grow more slowly, it has a head start on some other companies. Bear in mind that AT&T is a company that got hammered in the 2008-2009 decline, dropping nearly 50% in price in that timeframe. I think the company is better positioned to deal with such a decline if this were to happen again, as their product line is updated to clearly reflect the modern communications and media needs of everyday consumers.
Waste Management (NYSE:WM)
Waste Management is a company that has crossed my radar scope a couple times now but never really received significant attention. Maybe I just never stopped to think about how a company that collects, transports, recycles, and disposes trash and garbage could be a valuable addition to my portfolio. It's not a sexy pick, or even one that will make you the envy of others around the water cooler in the office, but initial indications are that it is worth a look. As a leader in environmentally-friendly disposal services, the company displays the following numbers.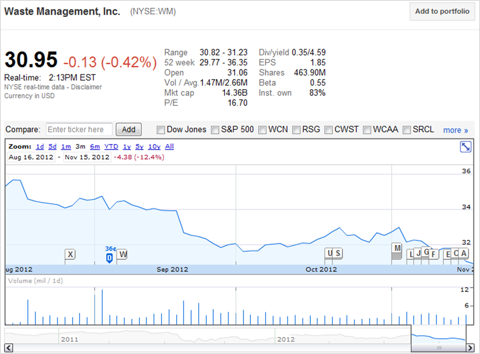 Waste Management is down over 11% since August, yet sports a yield of over 4.5%. The five-year dividend growth rate is over 15%, indicating management's commitment to rewarding shareholders. The debt to assets ratio has remained steady for the past five years, and the beta of 0.55 indicates that the stock stands to lose less than the market as a whole should things go poorly. The high percentage of shares owned by institutions shows that this is not a radical selection, and the P/E ratio of 16.7 places it squarely in the general range of the average S&P 500 company.
Regardless of how the economy tracks over the next twelve months, Waste Management is not likely to see a decrease in demand for its services. Earnings are projected to increase at an 8-11% rate for the next 24 months, and the company stands to track in the "business-as-usual" category despite any fears of economic hardship. No matter what happens, there will be garbage. And until Americans start taking recycling seriously, they will have to pay someone else to figure out where all that garbage goes.
The Bottom Line
Each of these four companies stands to do better than the market in general if things go poorly in 2013. This is certainly not guaranteed, but it makes sense to consider them for further research and possible inclusion on a list of candidates. By taking some time to perform additional analysis on overall economic trends, we can identify companies with business models that stand to continue generating profit despite those overall economic trends.
Good luck out there!
Disclosure: I am long MCD, T. I wrote this article myself, and it expresses my own opinions. I am not receiving compensation for it (other than from Seeking Alpha). I have no business relationship with any company whose stock is mentioned in this article. I am considering establishing a long position in WM in the next five business days. I may add to my position in MCD. I am not currently adding to my position in T.