A producer of high-end electric vehicles, Tesla Motors (NASDAQ:TSLA) makes a great product that seems right for the times. I'd love to own one. In fact, you can't turn on the news without seeing something about energy independence, climate change and alternative energy, so it would seem, therefore, that Tesla is a prime candidate to benefit from changing energy, economic and social dynamics. However, I believe there are major barriers that demonstrate this may not be the case.
Indeed, in my opinion Tesla's financials appear to leave much to be desired.
Below I have outlined 6 reasons why I refuse to go near Tesla with any of my retirement savings. Keep in mind that I am a fairly conservative investor, so this decision is right for me. Consult a financial advisor to determine what is right for you.
The reasons I don't like Tesla as an investment range from valuation to profitability to feasibility. While government policy could trump any of these reasons, I believe that current information warrants extreme caution with this stock.
1. High Valuation
I'm not going to provide a P/E ratio. That's because there's no earnings to speak of for Tesla (see below). This effectively means that Tesla's P/E ratio is infinite. In my world, paying anything for an asset that doesn't spit out a consistent after-tax profit is akin to investing my retirement fund in lottery tickets. Sure, some visionary can foresee a day when this company makes more money than Apple (NASDAQ:AAPL), but I recall visionaries in the late 1990s justifying astronomical P/E ratios for now de-listed Internet IPOs. Call me a cynic but I am not paying $30+ a share for something that lost almost 13% of that amount (on a per share basis) last year.
images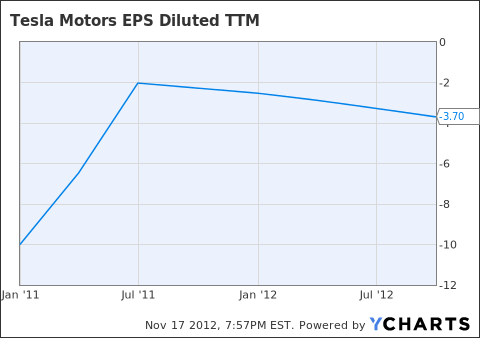 TSLA EPS Diluted TTM data by YCharts
2. Abysmal Profitability
Gross profit margins have been steadily declining over the past couple years. Below I show two charts - one shows Gross Profit Margins for the trailing twelve months and the other shows Gross Profit Margins on a quarterly basis. As you can see, quarterly gross margins turned negative over the most recent quarter. This means that the company is not currently able to cover its cost of goods sold. Think about that for a second...that means this company is losing more money for every additional vehicle produced. In my opinion, any company that consistently can't cover its cost of goods sold is toast in the long-run.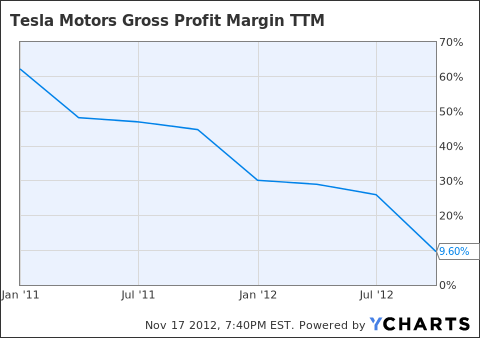 TSLA Gross Profit Margin TTM data by YCharts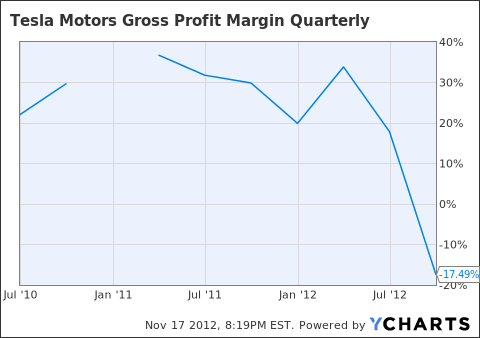 TSLA Gross Profit Margin Quarterly data by YCharts
As one might expect, margins further down the income statement are also falling along with gross profitability. The following two charts show the trickle-down effect of declining gross margins on EBIT margins and cashflow from operations. Not comforting, in my opinion.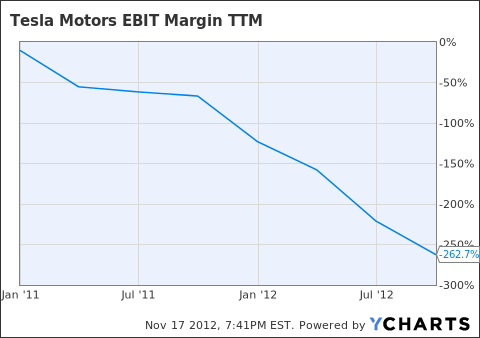 TSLA EBIT Margin TTM data by YCharts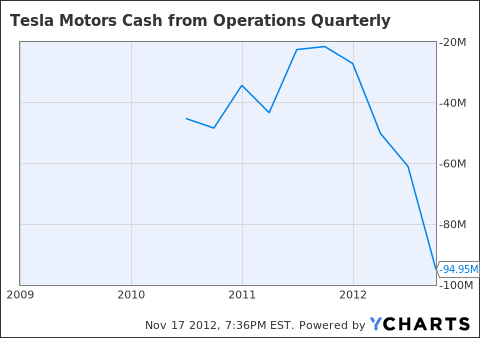 TSLA Cash from Operations Quarterly data by YCharts
3. Altman Z-Score
The Altman Z-Score is a succinct way to estimate the probability of bankruptcy within a two-year period.
From Wikipedia:
The Z-score formula for predicting bankruptcy was published in 1968 by Edward I. Altman, who was, at the time, an Assistant Professor of Finance at New York University. The formula may be used to predict the probability that a firm will go into bankruptcy within two years. Z-scores are used to predict corporate defaults and an easy-to-calculate control measure for the financial distress status of companies in academic studies. The Z-score uses multiple corporate income and balance sheet values to measure the financial health of a company.
The description concludes:
Altman found that the ratio profile for the bankrupt group fell at -0.25 avg, and for the non-bankrupt group at +4.48 avg.
Tesla's Z-Score is -0.811. Of course, this is only a academic evaluation based on the current set of variables. Change the variables over time and the score will change. But as long as profitability erodes - particularly gross margins - I believe this investment is too speculative for my personal risk profile.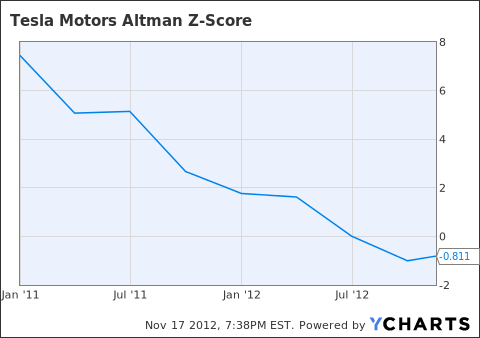 TSLA Altman Z-Score data by YCharts
5. Visibility
I take this argument from the Peter Lynch school of investment management. Peter Lynch - a legendary portfolio manager with Fidelity - was well known for saying that some of his investing ideas came from what he saw while driving around with his family or while visiting the mall. He essentially felt that first-hand observation of buyer behavior gave insight into future profitability at certain firms.
Apply this to the world of automobiles. Tesla is admittedly in the early stages of its public adoption, so I don't expect many people to own these cars. But I live in a big city and would feel more comfortable investing in Tesla if I actually saw a couple of these cars around town. Unfortunately, I have personally never seen a Tesla on the road.
Note: I'd love to hear from others living in big cities to learn about their observations.
Admittedly, this argument may be a bit unrealistic. However, if I could witness the emerging trend with my own eyes I'd feel a lot more comfortable plunging into an investment that I believe is speculative.
6. Reality of 'Alternative Energy Vehicles'
I won't pretend to be an expert at evaluating automobile efficiency. So I'll rely on the research done by others. And that research is highly controversial among electric vehicle advocates.
According to John Peterson of The Street, "the claimed environmental benefits of electric drive are a bald-faced lie that ignores the undisputable reality that electric vehicles create more pollution in their manufacture than they save in their operation".
Quoting research by Carnegie Mellon University, Peterson showed the following graph that displayed the net present value of lifetime vehicle ownership costs including air emissions and oil premium costs.
Chart Legend:
CV = Conventional vehicle
HEV = Hybrid electric vehicle
PHEV = Plug in hybrid electric (number indicates vehicle range in miles)
Based on this data, the economics of plug in hybrid vehicles with decent driving range don't seem to provide a long term benefit over conventional vehicles.
There are probably research studies that counter the assumptions made by Carnegie Mellon University, and technology is improving and getting cheaper all the time. However, I believe there is still currently too much doubt over the economic and environmental benefit to owning plug in hybrid electric vehicles sold by companies like Tesla.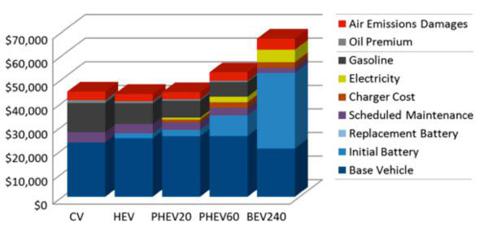 In conclusion, while there are many attractive attributes to Tesla Motors and its stock, I cannot justify allocating any of my retirement funds to Tesla given my personal objectives and risk tolerance.
Disclosure: I am long AAPL. I wrote this article myself, and it expresses my own opinions. I am not receiving compensation for it (other than from Seeking Alpha). I have no business relationship with any company whose stock is mentioned in this article.
Additional disclosure: Data source: Ycharts. This is not advice. While the author makes every effort to provide high quality information, the information is not guaranteed to be accurate and should not be relied on. Investing involves risk and you could lose all your money. Consult a professional advisor before making any investing decisions.