A major portion of the Patient Protection and Affordable Care Act (otherwise known as ObamaCare) in which insurers are mandated to fully cover those with pre-existing conditions, is scheduled to finalize on January 1st 2014. Despite the declared resolution, the future of healthcare policy is a big unknown. There are flaws in every possible solution, and the whole issue is so tightly wound in politics that I can't even begin to predict what will be decided. However, due to the implications for healthcare operators, the investors of healthcare REITs would be wise to understand the scope of possible outcomes.
We can form boundaries and know with a fair degree of certainty that whatever policy is enacted will lie somewhere in the middle.
Worst Case Scenario: Realistically, the worst that could happen is that the profit margins of operators are squeezed, and SOME of the operators are put out of business. The government cannot create a plan that hurts the healthcare industry so much that it crumbles and Americans are left sick and dying.
Neutral Scenario: Given the filibustering nature of government, there will be a period of time during which policy remains as is.
Best Case Scenario: A sustainable policy is enacted that gives more Americans access to healthcare, causing a corresponding spike in demand and enhanced revenues for operators.
Since healthcare REITs have reported strong third quarter results, investors have little to worry about from the neutral to positive scenarios. Instead, we must know the risks associated with adverse policy change. Keep in mind that while the healthcare operators and their respective REITs are intertwined, the risk profiles are very different.
Risk to operators
An adverse policy for healthcare operators would be either a cut to Medicare and Medicaid, or reduced reimbursement from insurance companies as the government mandates make their operations less profitable. Each of these occurrences would result in either the amount of reimbursement for services being cut, or a restriction to the type of services that are reimbursed. The former would across the board reduce profit margins of operators, while the latter would disproportionately hurt those which provide a higher portion of services that could be deemed elective. Most likely, it would be a mixture of the two and we would be left with a spectrum of how much operators are hurt.
images

Keep in mind there is no way to predict what the policies will be and how much damage they would cause to each type of operator. This is stictly my opined prediction based on the line of logic presented below:
Reimbursement will be cut most heavily on the least necessary services. Most in-patient operations and ER procedures are both urgent and necessary, so insurance companies and Medicare/Medicaid will likely continue full reimbursement on these. Clinical checkups and extended stays are arguably important, but lack the urgency. The cuts on hollistic providers and other questionable medical practices such as chiropracty can easily be executed on the basis of unclear benefits. In terms of pharmaceuticals, it seems resonable that reimbursement will remain for the medically necessary medicines (antibiotics, NSAIDs, etcetera) and be cut for the hedonic medicines that affect how the patient feels without any medical effect. For example, pain medications are among the most costly to produce due to the associated legalities in addition to the actual production.
Even in the worst case scenario most healthcare providers would survive. Some of the lost revenues would be offset by the presence of increases to demand coming from demographics, specifically, the aging baby-boomer generation.
Risk to healthcare REITs
As previously mentioned, the healthcare REITs have a very different risk profile. Healthcare policies have no direct impact on these REITs, affecting them only through their tenants. The nature of the leasing contracts gives REITs an extra cushion. As an obligation, operators have to pay rent using their cash reserves even while functioning at a loss. It is not until bankruptcy that rent payments are suspended, and even certain types of bankruptcy maintain rental payments.
Through Chapter 11 Reorganization bankruptcy, the operator can select to close down the bleeding operations while keeping the self-sustaining portions of their operations open. If the portion of operations functioning out of the REIT owned building(s) remain(s) open, the associated rental contracts remain active. A Chapter 7 Liquidation bankruptcy, however, results in total loss of the future rental contract. The REIT would be entitled to claim on any rent which accrued during the process, but this would be rather minimal in comparison to the entire contract.
Not all healthcare REITs are created equal
Various aspects affect the safety of the REITs rental contracts.
Tenant diversification: While having a wide tenant base mitigates the losses from a single tenant going bankrupt, we can also consider the other route. Having a large concentration in a single tenant could even be safer, if that tenant is very well positioned. Sabra healthcare (NASDAQ:SBRA), and their primary tenant Sun Healthcare Group (NASDAQ:SUNH) provide an excellent example. With a market cap of only $214mm SUNH is sitting on a relative mountain of cash ($63mm in cash and nearly $200mm of adjusted accounts receivable) which allows it to stay afloat for a very long time even in the worst of conditions. Hypothetically, as its less conservatively positioned competitors fall it would gain market share and return to profitability.
Tenant type: I believe REITs that contract with operators on the favorable end of the spectrum above have enhanced safety of contracts. Medical Properties Trust (NYSE:MPW) has an advantage here, with its primary properties being full-size hospitals rather than clinics or SNFs.
Asset quality: While the quality of the underlying asset has little effect on the stability of the rental contract, it enhances the ability to retenant.
Tenant EBITDAR coverage of rent: MPW once again has the advantage here with outstanding tenant lease coverage of 5.5X illustrated in their most recent presentation.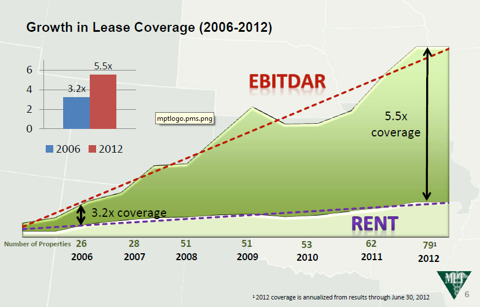 Healthcare REITs are able to obtain extraordinarily high cap-rates (routinely in the 9-11% range) and have an entire untapped industry for growth. Investors enjoy strong and growing cashflows along with very large dividends of 5.61% as the sector average. The only reason some of these stocks remain so undervalued is the fear of restrictive policies. However, as we have seen, they will be just fine even in the worst of circumstances. Healthcare will always be needed and its demand is growing. These REITs are securely positioned.
| | | | |
| --- | --- | --- | --- |
| Company (ticker) | Market Cap | Price/est. AFFO | Dividend Yield % |
| HCP inc. (NYSE:HCP) | $20.14B | 16.1 | 4.53% |
| Health Care REIT (NYSE:HCN) | $15.47B | 17.0 | 5.05% |
| Healthcare Realty (NYSE:HR) | $2.00B | 17.5 | 5.11% |
| Healthcare Trust (NYSE:HTA) | $2.30B | 17.1 | 5.61% |
| LTC Properties (NYSE:LTC) | $968mm | 13.9 | 5.85% |
| Medical Properties Trust | $1.54B | 13.1 | 7.05% |
| National Health Investors (NYSE:NHI) | $1.48B | 17.1 | 5.03% |
| Omega Healthcare (NYSE:OHI) | $2.46B | 10.6 | 7.90% |
| Sabra Healthcare | $772mm | 15.1 | 6.23% |
| Senior Housing Properties Trust (NYSE:SNH) | $3.92B | 12.7 | 7.00% |
| Universal Health (NYSE:UHT) | $580mm | N/A* | 5.14% |
| Ventas inc. | $18.86B | 17.4 | 3.89% |
| Healthcare REIT Average | n/a | 16.1 | 5.61% |
*UHT does not have a FactSet consensus estimate P/AFFO
Disclaimer: 2nd Market Capital and its affiliated accounts are long MPW, OHI, and SBRA. This article is for informational purposes only. It is not a recommendation to buy or sell any security and is strictly the opinion of the author.
Disclosure: I am long MPW, SBRA, OHI. I wrote this article myself, and it expresses my own opinions. I am not receiving compensation for it (other than from Seeking Alpha). I have no business relationship with any company whose stock is mentioned in this article.