Precious metals fell for the fifth time in the last six weeks as a host of short-term factors have emerged to pressure gold and silver prices, notably a renewed "flight to safety" that has sent the trade-weighted dollar sharply higher over the last month (precious metals usually move opposite of the dollar), uncertainty over how the U.S. "fiscal cliff" will be resolved, and gold liquidation by leveraged traders to cover losses elsewhere as the broad stock market continues to fall.
But, as has been the case for more than a decade now, the long-term picture for precious metals remains quite bullish as central banks with free-floating currencies in Japan, mainland Europe, the U.K., and the U.S. are likely to launch new rounds of money printing in the months ahead. Also, investment demand from hedge funds, ETFs, China, and elsewhere in the world remains strong, the latest report from the World Gold Council showing increased demand in India, a nation that appears intent on remaining the world's largest gold consumer this year despite stiff competition from China.
For the week, gold and silver both fell 1.0 percent, gold down from $1,730.80 an ounce to $1,713.70 while silver dropped from $32.63 an ounce to $32.31. Gold is now up 9.7 percent for the year, down 10.9 percent from its 2011 high, and silver is 16.0 percent higher in 2012, down 34.7 percent from its high last year.
The silver price has been remarkably resilient in recent weeks as noted in this item at the blog on Friday. Along with Treasuries and the U.S. dollar, it was one of the few assets to muster a gain since the U.S. elections that accelerated investor's shift away from risk assets and toward safe haven assets. What appeared to be overly optimistic predictions for the silver price last week - toward $50 an ounce in 2013 by Philip Klapwijk of GFMS and to $165 an ounce by 2015 by Ian Williams of Charteris Treasury - don't sound all that outlandish anymore given the metal's recent performance.
As for gold, last week's World Gold Council report surely played a role in the price weakness seen on Thursday as many news reports carried the headline "Gold Demand Falls 11% in Q3″. If not for the fact that this is a comparison to record high demand in the third quarter of last year, it might actually be significant.
Recall that there was a chance the U.S. government might default on its debt last summer as Congress couldn't agree on how to raise the debt ceiling and credit agencies were threatening or issuing downgrades, prompting massive gold buying, particularly in Europe.
Last week's headlines were, in part, the World Gold Council's fault because they presented graphics like Chart 3 below depicting this 11 percent decline.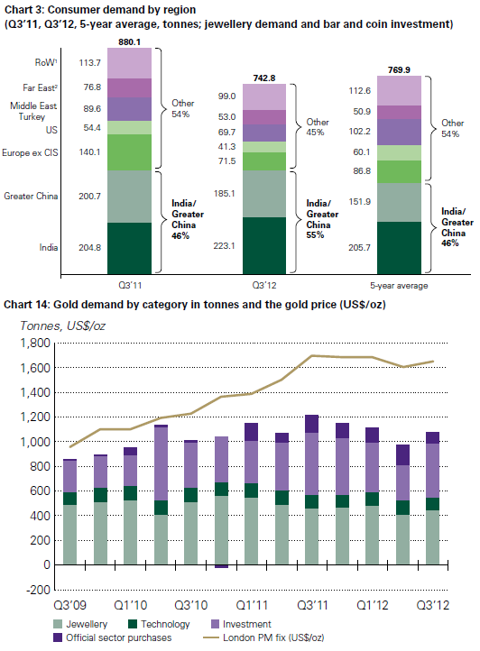 In the back of the report, Chart 14 puts third quarter gold demand in its proper historical context - about average in an era when seasonality has become less meaningful.
One positive note from the report was that gold demand in India picked up considerably in recent months after the country saw unusually low gold buying earlier in the year due to a weak currency and jewelers' strikes prompted by a series of government tax and duty hikes aimed at reducing gold imports.
India was the strongest gold market in Q3 at 223 tonnes, accounting for a full 30 percent of global demand as jewelers restocked gold in advance of surging festival season demand.
At just 177 tonnes, China saw lower gold demand in the third quarter as compared to a year ago and slowing economic growth along with uncertainty related to the change in government leadership were likely key factors.
Look for demand in China to heat up rapidly now that a new government led by Xi Jingping is in place. Xi, who has an engineering degree and probably understand money better than Western politicians, reportedly favors more central bank gold accumulation and demand from the Chinese public should rise due to holiday buying and increased gold trading in Hong Kong and Shanghai that includes the launch of new gold ETF products.
Demand from emerging market central banks fell to 98 tonnes in the third quarter as nations such as Brazil and Paraguay added to their gold reserves and, due largely to high demand during the first half of the year, overall central bank buying in 2012 is expected to meet or exceed last year's 456 tonne total.
The World Council reported that the third year of Europe's Central Bank Gold Agreement ended in September with full-year sales of just 5.9 tonnes! In a sign of how dramatically central banks' views of gold have changed in recent years, this total was just a tiny fraction of the allowed sales of 400+ tonnes and marks the lowest annual sales by Western central banks since this gold-selling program began in the 1990s.
Hedge funds still favor precious metals as billionaire George Soros raised his holdings by 50 percent in the third quarter, fellow billionaire fund manager John Paulson's massive gold holdings were steady, and Windhaven Investment Management raised its overall gold holding by nearly 500 percent to about $4.5 billion.
Demand for gold backed funds rose 136 tonnes in the third quarter and, on Friday, holdings at the giant SPDR Gold Shares ETF (NYSEARCA:GLD) rose to a new record high at 1,343 tonnes. Some 135 tonnes of silver exited the popular iShares Silver Trust ETF (NYSEARCA:SLV) last week, however, this comes after steady additions in recent months that again pushed its holding over the 10,000 tonne mark.
Owners of the Sprott Physical Silver Trust (NYSEARCA:PSLV) were no doubt disappointed that the fund's premium dipped from nearly five percent to just over two percent last week after the company announced it will purchase another $270 million in silver, however, my guess is that, with a rising silver price, this premium will rebound quickly.
There were a number of gold price predictions last week highlighted by Deutsche Bank's forecast of $2,000+ next year and, due largely to expectations of more central bank money printing, this now appears to have become conventional wisdom. How much above $2,000 an ounce next year remains the key question.
As for the short term, there's been a good deal of speculation about the impact the U.S. "fiscal cliff" might have on precious metals and I continue to believe that, save for the highly unlikely "short-term extension/credible long-term plan" solution, this will be positive for gold and silver.
Look for partisan bickering in Washington to accelerate in the weeks ahead now that the first, hopeful meeting between President Obama and Congressional leaders on Friday is out of the way. Credit rating agencies are no doubt watching and, as was the case last summer during the debt ceiling debate, the first downgrade warning is again likely to send the U.S. dollar lower and precious metals higher.
Disclosure: I am long GLD, SLV, PSLV. I wrote this article myself, and it expresses my own opinions. I am not receiving compensation for it (other than from Seeking Alpha). I have no business relationship with any company whose stock is mentioned in this article.
Additional disclosure: I also own gold and silver coins and bars.