Zillow's Q3 negative home equity report helps to shed more light on the underlying factors supporting the housing recovery. According to Zillow (NASDAQ:Z):
…high negative equity rates have contributed to appreciation, as they contribute to inventory shortages. Underwater homeowners cannot put their homes on the market because they couldn't sell the house for enough to cover their outstanding mortgage, despite increased demand. Therefore, as the supply of homes is constricted, buyers are more likely to bid up prices in the market and therefore drive up home values.
Demand for housing has been the trigger to set this dynamic in motion, and 2012 has been the year of a recovery in housing demand. I have chronicled this increase in demand for much of this year through the reports of homebuilders like KB Home (NYSE:KBH). KBH conducts a significant part of its business in hard hit California and provides an excellent gauge of the market there. From the last earnings report of Home Depot (NYSE:HD), I noted that household formation is finally experiencing a strong rebound.
In addition to stronger demand, the ability and willingness of homeowners to continue payments on underwater homes have also contributed to the growing squeeze on inventory. According to Zillow's report, 90.3% percent of homeowners with an underwater mortgage are still making payments on current mortgages. Across the country, about 25% of all homeowners are underwater. Here is the distribution from Zillow's report: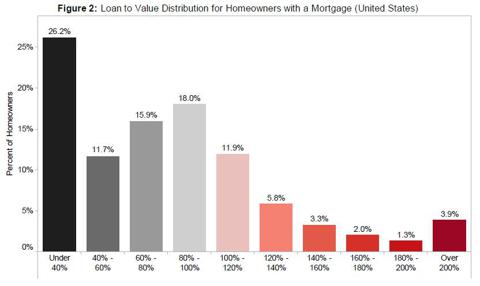 Loan to Value Distribution for Homeowners with A Mortgage (United States) - Q3 2012
Altogether, these forces converged to drive up home values in the third quarter by the largest quarter-over-quarter increase since 2006: "National home values appreciated 1.3 percent from Q2 to Q3 2012, with much of that appreciation focused in hard-hit areas, like Arizona, Florida and California." As part of a virtuous cycle, the increases in home values have lowered negative equity levels:
The strong appreciation many regions experienced in the third quarter pushed negative equity levels down from 30.9 percent last quarter to 28.2 percent this quarter. This is the first time negative equity has fallen below 30 percent, and is the biggest quarter-over-quarter drop in negative equity, since Zillow revised its methodology for determining negative equity in the first quarter of 2011.
When the housing bust was at its worst, there were a lot of fears that homeowners would abandon homes in droves, including through strategic defaults. This flood never happened and the latest data suggest such a flood is not imminent either. In fact, the next wave of supply will likely not come until prices increase enough to put a significant dent in negative equity.
I am not sure there is a method for determining where that tipping point lies, but as prices increase to such a level, a lot can change in a recovering economy. In particular, improved employment prospects could keep people rooted to their recovering communities OR drive higher migration levels that in turn drive housing turnover and additional economic activity. As always, time will tell.
In the meantime, the SPDR S&P Homebuilders ETF (NYSEARCA:XHB) has already responded well to the improved prospects for housing. The index has pulled back about 10% from recent 5-year highs and is now testing its upward trend from 2011 lows. A break of this trend could setup the next big buying opportunity in XHB to play the on-going recovery for housing.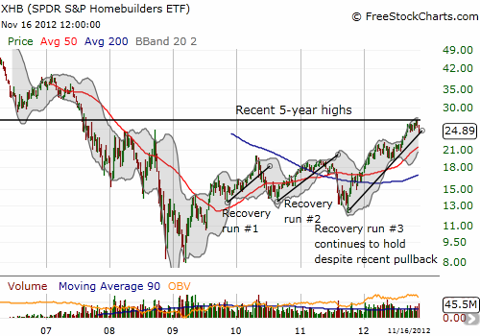 XHB pulls back and tests its upward trend
Source: FreeStockCharts.com
Be careful out there!
Disclosure: I have no positions in any stocks mentioned, and no plans to initiate any positions within the next 72 hours. I wrote this article myself, and it expresses my own opinions. I am not receiving compensation for it (other than from Seeking Alpha). I have no business relationship with any company whose stock is mentioned in this article.