Up until now, REITs have owned real estate tied to almost all sectors of the economy, including apartments, shopping centers, warehouses, hotels, storage facilities, healthcare-related properties, offices, data centers, cell towers, and more.
In addition, as I reported in other Seeking Alpha articles, the trend has become more popularized as many of the new specialty companies, like billboards (see Lamar (NASDAQ:LAMR) article) and document storage (see Iron Mountain (NYSE:IRM) article) are considering REIT ownership. By converting to a REIT, these corporations - engaged mainly in owning and operating real estate - return essentially all of their profits to their shareholders in the form of dividends. Conversely, these qualifying companies are essentially able to boost their stock market valuations because REITs today are trading at much higher multiples.
So it makes sense that companies want their stocks to trade at healthy multiples (due to investors' demand for income) and up until now, the concept outweighed the disadvantages of being a REIT. But these days, the big banner attached to the REIT industry are the flashing lights that read WE ARE AN INCOME COMPANY .
Remember though that the primary qualification for admittance to REIT-dom is rooted in the Congressional creation of the most important denominator: REAL ESTATE. So what's the next unique sector that owns real estate and pays out rental income marked by durable forms of repeatability?
Betting on a Casino REIT?
Penn National Gaming, Inc. (NASDAQ:PENN) announced last week that it intends to pursue a plan to separate its gaming operating assets and real property assets into two publicly traded companies including an operating entity, Penn National Gaming ("PNG"), and, through a tax-free spin-off of its real estate assets to holders of PENN common stock, a newly formed, publicly traded real estate investment trust called "PropCo" (subject to required gaming regulatory body approvals). PropCo is the proposed creation of the first gaming focused REIT that initially will receive around $450 million in rent, representing approximately half of PNG's projected 2013 adjusted EBITDA.
Through a tax-free dividend, PENN shareholders will receive PropCo common stock. PropCo will subsequently declare a taxable dividend of approximately $1.4 billion of accumulated earnings and profits equivalent to approximately $15.40 per PENN share comprised of approximately $487 million of cash, or an approximately $5.35 cash dividend per PENN share, with the remainder comprised of PropCo shares.
PropCo shareholders are to be entitled to ordinary dividend which, based on pro forma 2013 guidance, would be $2.36 per PENN share. PropCo's target dividend ration is approximately 80%.
So maybe we should take a look at some of PropCo's cards and see if there is any value proposition in play. Does it make sense that a casino REIT will be able to provide long-term value and do the benefits of a REIT spin-off make the company better or worse?
Is Gaming a Repeatable Business Model?
To me the first question to ask is "does gaming offer a repeatable income model?"
According to the American Gaming Association, there are over 250 commercial gaming facilities in the US of which approximately 140 are owned by public companies. Many of these facilities are located in jurisdictions where regulatory constraints limit operator expansion (source: PENN presentation).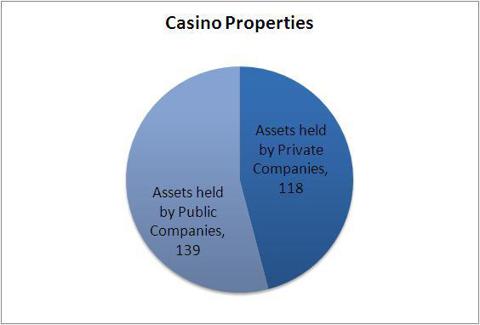 Commercial casino gaming revenues rose for the second consecutive year in 2011, continuing the recovery that began in 2010. The annual State of the States: The American Gaming Association Survey of Casino Entertainment shows national gross gaming revenues increased by 3% from 2010 figures (when revenues rose just under 1%) to a total of $35.64 billion in 2011. The report also includes a survey that found continued strong support of the industry among gaming community leaders. (source: American Gaming Association).
The new edition of State of the States also reported that in 2011 the industry directly employed more than 339,000 people who earned $12.9 billion in wages, tips and benefits. In addition, commercial casinos contributed $7.93 billion in tax revenues to gaming communities across the country - 4.5% more than in 2010.
Penn National Gaming, Inc. was founded in 1971 and is based in Wyomissing, Pennsylvania. The company was formerly known as PNRC Corp. and changed its name to Penn National Gaming, Inc. in May 1994. Penn National owns and manages gaming and pari-mutual properties in the United States and Canada. The company is involved in hotel, dining, retail, admissions, program sales, concessions, racing operations, and other ancillary activities.
As of November 15, 2012, it operated 29 facilities in 19 jurisdictions, including Colorado, Florida, Illinois, Indiana, Iowa, Kansas, Louisiana, Maine, Maryland, Mississippi, Missouri, Nevada, New Jersey, New Mexico, Ohio, Pennsylvania, Texas, West Virginia, and Ontario. The company's operated facilities consist of approximately 36,800 gaming machines; approximately 850 table games; 2,900 hotel rooms; and approximately 1.6 million square feet of gaming floor space.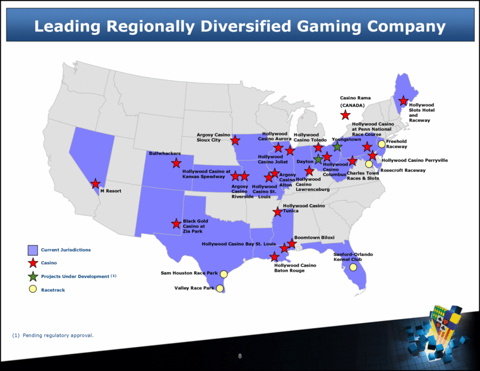 Penn National has grown its revenues from around $517 million in 2001 to around $2.832 billion today (Sept 30, 2012) - a 448% increase and annualized growth of 37% (over 12 years).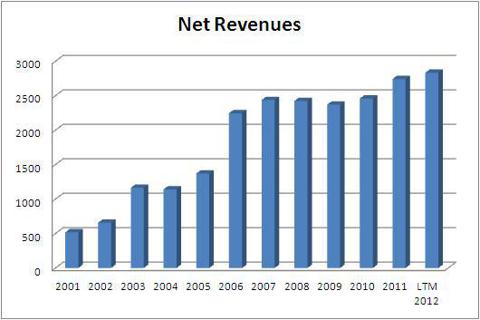 Accordingly, EBITDA margins have averaged around 25.8% from 2006 through 2012.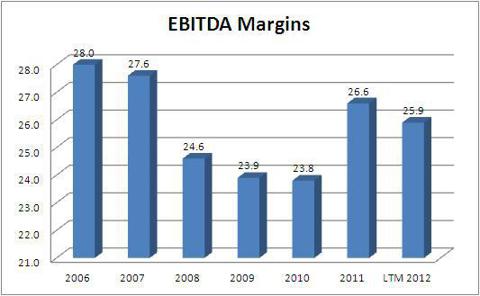 The Spin-Off Proposition
PENN has received a Private Letter Ruling from the IRS with respect to certain tax matters regarding the transaction and the qualification of PropCo as a REIT. The proposed spin-off of PropCo shares to PENN shareholders is expected to occur in the second half of 2013 with REIT election effective by January of 2014.
Under the plan, PropCo will initially own substantially all of PENN's real property assets and will lease back most of those assets to PNG for use by its subsidiaries, under a "triple net" 35 year Master Lease agreement (including extensions).
It is expected that PNG would pay approximately $450 million to PropCo in rent, which would result in a rent coverage ratio of approximately 2.0 times earnings before interest, taxes, depreciation amortization and rent ("EBITDAR"). After the proposed separation, PNG would operate the leased gaming facilities and own and operate other assets, which include a casino management contract, a 50% joint venture interest in Hollywood Casino at Kansas Speedway, gaming licenses, seven non-casino racetracks and gaming equipment.
Based on PENN's current real estate portfolio, PropCo is expected to initially own 17 casino facilities, which have a total of over 3,200 acres of land, 6.9 million square feet of building space and 20,000 structured parking spaces, as well as two new facilities to be constructed in Ohio. Through its rent structure, which is partially based on the performance of the facilities, PropCo would expect to grow organically by participating in PNG's growing revenue base. In addition, PropCo would focus on expanding its gaming and leisure sector real estate portfolio through acquisitions, and thereby diversify its asset base and tenant base over time.
PENN has received a private letter ruling from the Internal Revenue Service relating to the tax treatment of the separation and the qualification of PropCo as a REIT. The private letter ruling is subject to certain qualifications and based on certain representations and statements made by PENN. .
Prior to the spin-off, PENN anticipates refinancing its existing debt obligations and PNG and PropCo are expected to enter into new credit facilities. Peter M. Carlino, Chairman and Chief Executive Officer of Penn National Gaming commented,
This proposed transaction would be transformational for Penn National and its shareholders and presents a direct path toward unlocking the tremendous value of our real estate asset portfolio. Our plan is to create two well capitalized companies with strong free cash flow that are positioned for growth in the gaming and REIT sectors.

The transaction and new ownership structure would permit both companies to best address market and growth opportunities in their respective industries through access to a lower blended cost of capital, fewer regulatory license ownership restrictions, a new capital funding source for the gaming industry by creating an industry specific REIT, and potential opportunities to diversify in the future beyond the gaming industry.

The REIT is a highly efficient vehicle for providing consistent and growing income distributions to shareholders as PENN generates substantial and growing free cash flow from existing and future operations.
Tim Wilmott, the company's COO, commented,
In its eighteen years as a public company, Penn National Gaming has established a proven record for acquiring and developing leading gaming assets, driving efficiencies and generating growing financial results. The transaction creates a structure whereby Penn National Gaming can compete even more effectively for new opportunities including strategic acquisitions and greenfield developments. Penn National Gaming's customers will continue to enjoy our market leading amenities driven by our employees' commitment to deliver quality guest services.
It All Boils Down to a New Net Lease Operation in a Casino REIT Wrapper
According to the Penn National Gaming presentation (November 15th), the casino properties will be leased under a "Triple Net" Master Lease whereby PNG will be responsible for maintenance capital expenditures, property taxes, insurance and other expenses. All properties subject to the lease will be cross-defaulted / guaranteed. PNG will remain responsible for acquisition, maintenance, operation and disposition of all (including gaming) FF&E and personal property required for operations.
The lease terms will be for 15 years, with four 5-year extensions at PNG's option. Causes for termination by lessor include lease payment default, bankruptcy and/or loss of gaming licenses. At the end of lease term, PNG will be required to transfer the gaming assets (including the gaming licenses) to successor tenant for fair market value, subject to regulatory approval. Provisions for orderly auction-based transition to new operator at the end of the lease term if not extended.
Rent will be paid based upon a fixed base rent component with annual escalators (subject to minimum rent coverage of 1.8x) plus: (1) Fixed percentage rent component for the facilities (other than Hollywood Casino Toledo and Hollywood Casino Columbus), (2) reset every five years to equal 4% of the excess (if any) of the average net revenue for such facilities for the trailing five years over a baseline, (3) Ohio's (Toledo and Columbus) performance components will be established monthly with land rent set at 20% of monthly net revenues.
So Why Does PropCo Want to be Like O?
PropCo states in its presentation (November 15th) that the company has "a disciplined market-tested management team." In addition, the company indicates that it should be able to add additional properties by securing sale/leaseback transactions with existing gaming operators. The company also plans to venture out into other non-gaming venues, possibly recreational.
Clearly, PropCo is wanting to benefit from the higher valuations enjoyed by REITs and specifically the triple net REIT peers.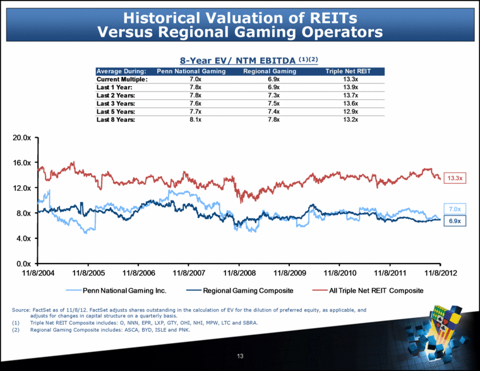 So will PropCo turn into another Realty Income (NYSE:O)?
It certainly appears that the casino-focused player is betting that it can extend its winning streak by utilizing the attractive low cost of capital and higher multiples that other triple net REITs enjoy. But wait, O has one of the most sought after dividend platforms in REIT-dom and just because PropCo is an expert at one category, does that necessarily guarantee success PropCo to achieve the same success as Casino Royale?
In my opinion, those odds look like the same odds of getting a royal flush (according to Wikipedia these odds are 649,739 : 1).
To start, Realty Income has been dealing winning cards for over 43 years and the enviable track record of repeatability is marked with over 18 years of maintaining and increasing dividends (since the company went public). The stalwart REIT has over 2,828 individual (single-tenant) assets spanning around 34.33 million square feet. That 49 state footprint marks a sound "margin of safety" for the well-balanced portfolio that continues to widen: 44 different industries and 144 different tenants.
Realty Income has one of the most diversified platforms in the REIT industry - and managed by one of the most experienced teams around. Accordingly, Realty Income has never ventured out into the casino business (yet) and the 44 industries that Realty Income does invest in (none casinos) have been screened and filtered with a high degree of research and analysis.
By properly surveying the list of filtered investment opportunities, Realty Income considers which (if any) of the remaining companies (and industries) are worthy of ownership. This involves some consideration of the company's business model, its current competitive position within that industry, and the "economic moat" around the company; that is, a sustainable competitive advantage that helps preserve long-term pricing power and profitability.
Now that's not to say that Realty Income will never invest in a casino, but in the unlikely event that it does, the company will be one of 44 "vetted" categories and its exposure to the business will be less than 5% of revenues (not 100% as proposed by PropCo).
Betting on a Casino REIT: Let's Call a Spade a Spade
So if Realty Income is a royal flush (in dividend land), how do you compare PropCo? Simply fold. There is just not enough diversification, and although I have never officially recommended a mortgage REIT, I would now (instead of PropCo). In other words, this is a risky proposition and in the words of Ben Graham,
An investment operation is one which, upon thorough analysis, promises safety of principal and satisfactory return. Operations not meeting these requirements are speculative.
In addition, PropCo's management team may have expertise in gaming, but what about investing? With no exception, REIT investors, in my opinion, should distinguish REITs for their ability to control risk as they are for generating return. That is why famed investor and author (of The Most Important Thing) said,
When you boil it all down, it's the investor's job to intelligently bear risk for profit. Doing it well is what separates the best from the rest.
PENN shares moved up over 28% on Friday as the stock closed at $48.23 per share. This surge - the highest price for the gaming company since 2008 - is likely to unlock value for the gaming operator; however, PropCo will be a highly concentrated REIT with considerable exposure to one sector and one company. Play 'em safe.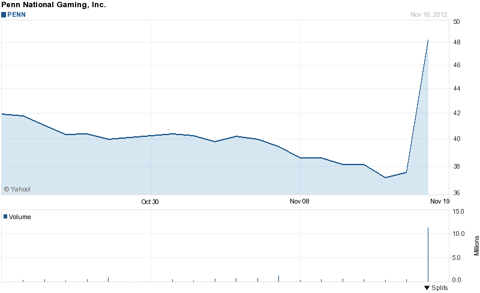 Source: Penn National Gaming (November 15, 2012) Presentation, SEC Filed 8-K (November 15, 2012), and American Gaming Association
Disclosure: I have no positions in any stocks mentioned, and no plans to initiate any positions within the next 72 hours. I wrote this article myself, and it expresses my own opinions. I am not receiving compensation for it (other than from Seeking Alpha). I have no business relationship with any company whose stock is mentioned in this article.