A battle is brewing regarding Mongolia's huge Oyu Tolgoi copper mine which, at full production, will be among the top five copper mines in the world. As discussed in my recent article about Mongolia's politics, the Mongolian government has raised the royalty taxes on Oyu Tolgoi in contravention of the Oyu Tolgoi agreement of 2009, and these additional tax revenues are included in Mongolia's planned budget. Turquoise Hill Resources (NYSE:TRQ) came out with their quarterly reporting on November 14, 2012. In their report, Turquoise Hill acknowledged the new law pending presidential signature, but said it does not apply.
Request to renegotiate Investment Agreement rejected

In October 2012, the Company, Rio Tinto and Oyu Tolgoi LLC, rejected a request from the Government of Mongolia to renegotiate the Oyu Tolgoi Investment Agreement. The rejection followed the receipt of a letter from the Minister of Mining requesting the parties renegotiate the landmark agreement that was signed in October 2009 and became fully effective in March 2010.

In its proposed 2013 budget, the Government of Mongolia has included revenue from the application of a progressive royalty scheme to Oyu Tolgoi. However, the Investment Agreement provides a stabilized royalty rate of 5% over the life of the agreement and specifies that new laws made after its signing will not apply to Oyu Tolgoi. Any change to Oyu Tolgoi's royalty rate would require the agreement of all parties to the Investment Agreement.

As recently as October 2011, the Mongolian Government reaffirmed that the Investment Agreement was signed in full compliance with all laws and regulations of Mongolia.
A Country With A Legal Slingshot vs. A Giant With A Document
Turquoise Hill is 51% owned by Rio Tinto (NYSE:RIO) and the President & CEO of Oyu Tolgoi LLC, Cameron McRae, is from Rio Tinto. Thus, this dispute is really between an international mining conglomerate with a market cap of $87 billion and a country of 2.8 million people with a 2011 GDP of $8.5 billion. One could view this as a David vs. Goliath with Rio Tinto's market cap being 10 times greater than Mongolia's GDP. Rio Tinto has the agreement and has more economic firepower.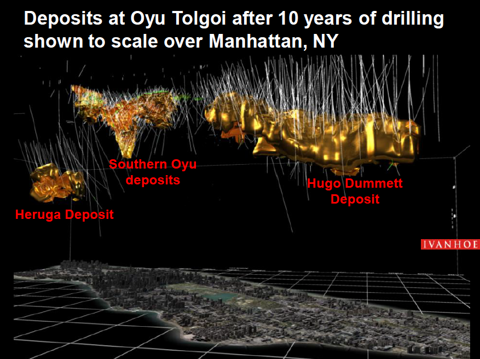 Source: Ivanhoe Mines November 2011 corporate presentation; Why Ivanhoe, Rio Tinto Are So Keen On Mongolia.
More Politics And Law Seems To Be In The Future
However, the recent quarterly report from Turquoise Hill smacks of disingenuous behavior. What the Mongolian government did in 2011 is not relevant to the new government that was elected in June 2012. There is a different prime minister, a different minister of mining, and different membership in parliament.
The notion that "all parties to the Investment Agreement" have to agree in order for a change to be made is an interesting legal thought. The history of countries nationalizing mines in their sovereign nations or requiring 51% local ownership of mines within the boundaries of their nations disagrees (see Venezuela and Zimbabwe for recent examples). The agreement stands only as long as all sides honor it. There may be (negative or positive) consequences to the Mongolian government unilaterally changing the nature of the agreement, but it is their country, they have a new government in office, and they can formulate, and re-formulate, the laws of their own country.
There is no advantage to Rio/Turquoise Hill acknowledging that the law passed is legal. If they did, they would have to do a new NI43-101 report as the profitability of the mine would be changed. And, of course, the Investment Agreement is more favorable than the new law, so it makes sense to attempt to enforce the legal viability of the Investment Agreement for Rio/Turquoise Hill.
On the other hand, Rio/Turquoise Hill is taking some risk here. If the new royalty tax is enforced by Mongolia and impacts Turquoise Hill's profitability, there has been speculation by some in Mongolia that some lawyer(s) may bring a class action suit of shareholders against Turquoise Hill for failure to acknowledge a material event that would adversely impact the company's results (not to mention failing to update the NI43-101 to acknowledge the new law). The case might be weak, but some lawyers do try weak cases that could have a large potential economic outcome.
There is, in reality, a standoff. The government has passed law that Rio's Turquoise Hill will be paying higher taxes. Rio has announced via Turquoise Hill's quarterly report that it will not. One side is likely wrong, and both may lose. Turquoise Hill can lose by being taxed more or having production delayed, and other additional costs. The government can lose by not receiving tax revenues planned for in the budget or by Turquoise Hill deciding to produce less (or nothing) as a counter move to the tax that would lower much needed tax revenues.
Reviewing Other Government Actions
The government is pursuing other policies that are not good for shareholders of Turquoise Hill which were discussed in the prior article:
The Minister of Mining has said he wants a full renegotiation of the Oyu Tolgoi Investment Agreement and will resign if he fails to get it.
The government is in the process of passing law that ends the tax treaty with the country where Turquoise Hill is domiciled (the Netherlands).
In general, the new government has shown itself to be far more resource nationalist than the prior government, and has been quite energetic in passing laws that change the investment climate of Mongolia.
Speculating What Rio Tinto May Do Next
Therefore, among my sources and friends in Mongolia - business executives, local brokerage houses, research analysts, private equity, and bankers - all are now curious what Rio Tinto's next moves will be. Only upper management at Rio Tinto and Oyu Tolgoi's Mr. McRae know.
Speculations include:
The Oyu Tolgoi Investment Agreement vs. the new government policies (higher royalty taxes) will go to international arbitration. This will take years. Possible, but seems more likely that both sides will sit down and renegotiate before such a trial ever finishes.
Actual renegotiation of the Oyu Tolgoi Investment Agreement. Seems quite unlikely from the current stance of Turquoise Hill and Rio Tinto. However, we do not know what happens behind closed doors.
Rio Tinto/Turquoise Hill will completely stop all operations until the Mongolian government relents and upholds the Investment Agreement. This seems extreme but definitely a good conversation starter at a party in Mongolia.
Rio Tinto/Turquoise Hill will only invest further in the open-pit mine at Oyu Tolgoi (i.e. only the Southern Oyu Deposits shown below), and will leave vast amounts of wealth underground not mined as the capital investment in the underground mine (with lots of complex block-caving to do) deemed to not be sufficiently profitable (whether true or not). Possible. Allows Rio Tinto/Turquoise Hill to have negotiating leverage while getting the easy money out of the ground. Also, would give breathing time to possibly pursue international arbitration on the Investment Agreement while getting some Return On Investment for all their efforts. Local handicapping favors this possibility currently though all admit they do not know for sure.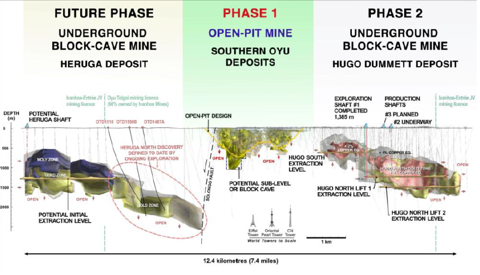 Source: Ivanhoe Mines November 2011 corporate presentation; Why Ivanhoe, Rio Tinto Are So Keen On Mongolia.
Investment Opinion
For the majority of this year, investors have been advised by me to stay away from Turquoise Hill (and its former incarnation as Ivanhoe Mines). For the adventurous, one could follow the news wires out of Mongolia and play every twist and turn going short and long depending on the news. This is trading, not investing. Unfortunately, until there's a resolution, which is at least months if not years away, Rio's Turquoise Hill is only good for news-based trading and not an investment.
Disclosure: I have no positions in any stocks mentioned, and no plans to initiate any positions within the next 72 hours. I wrote this article myself, and it expresses my own opinions. I am not receiving compensation for it (other than from Seeking Alpha). I have no business relationship with any company whose stock is mentioned in this article.