In the United States people traditionally think of defense contractors as those corporations that build hardware such as tanks, ships and aircraft. While Lockheed Martin (NYSE:LMT) with its advanced fighter, the F-35 Joint Strike Fighter, Boeing (NYSE:BA) with aerial tankers and Huntington Ingalls Industries (NYSE:HII) building aircraft carriers do exemplify this view there are many other defense contractors providing services to the Pentagon.
The U.S. defense budget is primarily spent on personnel, services, support and then hardware and research and development. This has meant that there are several medium-to-large contractors that make their money through selling software and services to the Armed Forces.
Computer Sciences Corporation (CSC)
CSC is a corporation employing over 90,000 persons worldwide. It has been in existence since the early 1950s. It focuses on custom software for governments and corporations to include supply chain management, applications and services. The company has struggled over the last several months and in September announced a 3-5 year plan to "turn around" the company. The goal is to increase EPS from the current less than a dollar to about $5 a share. The stock price has been as high as almost $60 a share in 2010 but over the last year, as the chart below shows, it has traded between the low 20s and $35.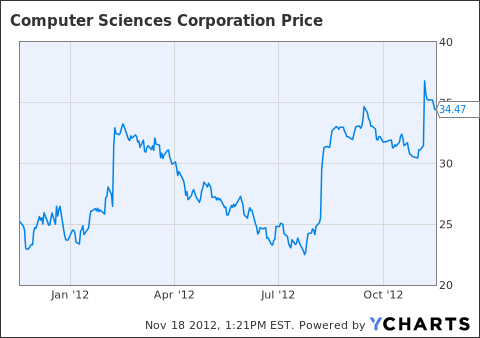 Since the last earnings announcement the first week of this month the stock is up almost 25%, closing on Friday at $34.47. For the quarter EPS was 83 cents, which beat predictions by 36 cents. The company feels that now it should be able to deliver EPS of $2.30 to $2.50 a share. While it dramatically beat analyst predictions CSC is still trying to recover from a year ago when it had negative earnings for its 4th quarter of 2012. In 2010 and 2011 it did meet its goal of $5 a share for the year.
CSC is in the process of refocusing the business. This means that it is looking to jettison some of its different parts while making some strategic acquisitions. In the last quarter it acquired a data processing company that supports U.S. intelligence agencies, 42Six Solutions, while separating some of its commercial Italian components.
Like all large defense contractors CSC has sequestration and potential budget reductions to deal with. It continues to grow its commercial business lines, which will help make up for future cuts in government spending. It is also focused on reducing costs like many other defense contractors to help not only in making more money from contracts but also to aid in winning them as the U.S. market continues to get more competitive.
The big question facing this stock is whether management can meet the goal by 2015. The current headwinds in the U.S. and world economy along with almost guaranteed spending cuts of some amount make this seem difficult. It does not help that CSC has failed recently with some major contracts. The U.S. Air Force recently ended an attempt to build a logistics management system that would have replaced several hundred legacy systems. CSC had been the major contractor on this but had lost this in the spring. Now the Air Force has decided to cancel the program all together and consider starting over.
Despite recent improvements in earnings and stock price the near-term estimate for this stock is that it will not show much more growth unless plans to improve performance come to fruition quickly. The stock does pay a decent dividend of 80 cents a year making it attractive from that point of view especially at this price point.
CACI International (NYSE:CACI)
CACI is very similar to CSC in that it offers software solutions and support services to a variety of defense, government and some commercial customers. It is, though, much smaller. CACI has the intelligence market as one of its primary areas of concentration. Also like many other defense contractors it has been expanding its presence in the healthcare IT market.
For the first quarter of the Fiscal Year 13 on October 31, it reported earnings per share of $1.49, which tracked to analyst predictions. Revenue was just under $1 billion for the quarter, which was a record for the company. Management also reiterated its prediction for 2013 of $3.8 to $4 billion in revenue and diluted EPS of $6.64-$6.93, performance that exceeds CSC's current get well plan. The company pays no dividend.
The stock price has been fairly consistent for the last year, closing on Friday at $50.48. The 52-week high of $63.11 was set in April. As the chart below shows the price fell steeply after the company reported earnings in early May. Good earnings and the announcement of a buyback plan led to a solid bounce soon after. The 52-week high is also close to the stock's all-time top set over a year ago. Since that recent bottom the trend has been upward although in the last few weeks it has been trading around the $50 price.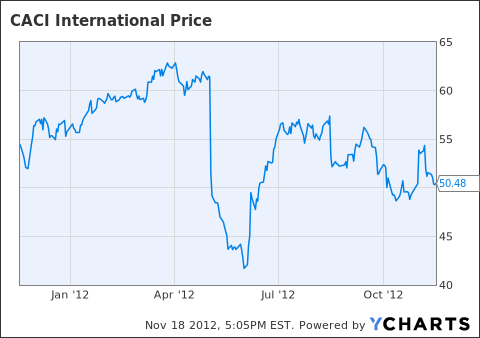 CACI seems better positioned than some defense contractors for the upcoming budget struggle. If the big cuts happen they will be in the areas of personnel, hardware and operations. Services, too, will be reduced but most likely as a percentage of current spending. This would cause revenue for CACI to be slightly less. Intelligence will remain a big part of the budget due to the type of threat and the world situation. CACI remains well positioned to take advantage of this continued market.
In its most recent earnings discussion management continued to stress its desire for more M&A activity. This is certainly a trend that is expected to grow in the near term if the budget does begin to be less. CACI will utilize this to expand its shares of targeted markets including healthcare and intelligence work.
From a fundamentals point of view CACI would look like the better stock but over the last year CSC has out performed the market by 22%. CACI actually trails the market by 17%. Add the dividend that CSC pays and for the year money invested in CSC would have provided the best return. In the future if CSC does not meet the goals of its turnaround plan then this performance might not continue and CACI with its better EPS and industry position might be a better thought.
Disclosure: I have no positions in any stocks mentioned, and no plans to initiate any positions within the next 72 hours. I wrote this article myself, and it expresses my own opinions. I am not receiving compensation for it (other than from Seeking Alpha). I have no business relationship with any company whose stock is mentioned in this article.