DaVita HealthCare Partners Inc. (NYSE:DVA), formerly DaVita Inc., is the world's second-largest dialysis provider with nearly all of its clinics based in the U.S., treating patients suffering from chronic kidney failure, known as end stage renal disease (ESRD). DVA operates approximately 1,850 dialysis clinics for nearly 145,000 patients with ESRD. Despite its dominance in the dialysis market, some analysts are concerned about DVA's merge with the privately held HealthCare Partners, one of the largest physician network managers in the U.S., as the operating risk increased. However, with the addition of HealthCare Partners, DVA can better adapt to the changing evolution of health care delivery in the U.S., aligning better with government's efforts to cut healthcare costs.
The Merge and the Recent Development
The merge with HealthCare Partners had allowed DVA to offer a more integrated group of services, which the government is looking to provide incentives through its accountable care organizations, the ACO model. While the Medicare reimbursement model was changed in 2011 to encourage clinical service providers, including the dialysis operators, to reduce cost and use drugs more sparingly, it favors DVA and Fresenius Medical Care Corporation (NYSE:FMS), the world's largest dialysis provider, as they are better place to cut costs. However, it also creates revenue pressures for DVA and its larger rival. This merge will help DVA mitigate the risk through the ACO model, which integrates patient treatment across care settings, such as doctor's offices, hospitals and long-term care facilities, as reported by Reuters.
On Oct. 30, 2012, DVA raised FY 2012 EBIT guidance; however, it also issued FY 2013 EBIT which was below analysts' estimates. As reported by Reuters:
DaVita Inc. announced that for fiscal 2012, it expects EBIT to be in the range of $1,315-$1,330 million. For fiscal 2013, it expects EBIT to be in the range of $1,350-$1,450 million. According to I/B/E/S Estimates, analysts are expecting the company to report EBIT of $1,331 million for fiscal 2012; EBIT of $1,463 million for fiscal 2013.
According to the latest form 4 filed with the SEC by Warren Buffett's Berkshire Hathaway (NYSE:BRK.A), Mr. Buffett had increased its stake from 11,471,118 share to 11,748,045 shares in the period from Nov. 8 to Nov. 12, 2012, in the price range of $112.02 to $112.84. Berkshire Hathaway is the largest major direct holder and the largest institutional holder for DVA.
Fundamentals Overview and Technical Analysis
With the data gathered from MorningStar, a quick comparison of DVA's key stats to its competitors in the medical care industry, including FMS, will be presented below. DVA's EPS growth of 12.2, in the past three-year average, is higher than the industry average of 10.3; however, its revenue growth of 7.3 is slightly trailing the average of 8.2. DVA's operation efficiency is shown in its higher operating margin and net margin of 16.0% TTM and 6.8% TTM, respectively, as compared to the averages of 11.8% and 3.8%. The ROE of 23.3 is higher than the average of 21.2 and DVA's debt-to-equity of 2.2 is lower than the average of 3.4. From the valuation perspective, DVA's P/E of 20.4, P/B of 4.2, and P/S of 1.4 are all higher than the averages of 12.8, 3.1, and 0.6 and DVA appears to be overvalued as compared to its peers. However, with its solid balance sheet, consistent cash flow, and great growth potential after the merge, DVA's higher valuation can be justified and also be supported with Buffett premium.
DVA closed at $112.89 with 0.75% gain on Thursday's trading. The volume of 782.3K is lower than the 30-day average of 865.3K. DVA had been trading in the range of $70.84-$116.50 in the past 52 weeks. DVA had been holding relative well as compared to the recent market pull-back. DVA is currently trading above its 50-day MV of $106.76 and 200-day MV of $94.01. DVA's price did not decline despite a bearish sign indicated by MACD (12, 26, 9) since Oct. 24. The RSI (14) of 59.36 is still showing the buying momentum; however, it had dropped from 70 as in the early October. The next resistance for DVA will be $117.29, the R1 pivot point, followed by $122.07, the R2 pivot point, as seen from the chart below.
Click to enlarge image.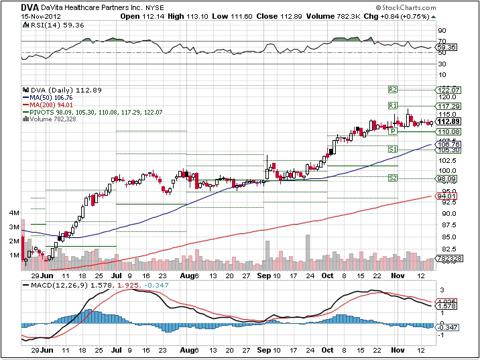 Source: StockCharts.com.
Options Play
DVA is a solid healthcare stock with a strong cash flow and has a positive long-term outlook with the growing aging population. We will review a credit put spread options play to capture the upside potential while planning to acquire the stock at a discounted price.
Short 1x April 20, 2013, put at the strike price of $100 for the credit of $3.30
Buy 1x April 20, 2013, put at the strike price of $90 for the cost of $1.75
The maximum profit is $1.55 and the maximum risk/margin requirement is $8.45 ($10 loss - $1.55 credit received). If DVA closes above $100 on April 20, 2013, this options play will generate 18.34% return for the margin used, for nearly five months of investing period. However, if DVA closes below $100 upon options expiration, the acquisition cost will be $98.45 per share, which is 12.74% lower than Buffett's latest reported purchase price of $112.83.
Note: All the prices are quoted from the close as of Nov. 15, 2012, and all calculations are before fees and expenses. Investors and traders are recommended to do their own due diligence and research before making any trading/investing decisions.
Disclosure: I have no positions in any stocks mentioned, but may initiate a long position in DVA over the next 72 hours. I wrote this article myself, and it expresses my own opinions. I am not receiving compensation for it (other than from Seeking Alpha). I have no business relationship with any company whose stock is mentioned in this article.