At the beginning of last week I highlighted the disparity between commodity prices and equities and the dollar. Indeed apart from being defensive, the favoured trade was to just be long the dollar, targeting an initial target on the DXY (the USD Index) of close to 84.
Equities have come off and Asian stocks are down for the fourth day in a row. The dollar has strengthened against the euro and sterling but has done little against Asian currencies, actually weakening slightly against spot CNY, thanks to conveniently better Chinese economic data.
Anyway to get to the point let's run a little chart show.
This first one is of the ADXY (the Bloomberg JP Morgan Dollar Index) and the MSCI of Asia x Japan equities. The long term relationship is clear and so is the recent slight disparity.
However, when one looks at Korea the performance of the KRW looks particularly stretched against the Kospi.
Kospi & KRW (inverted)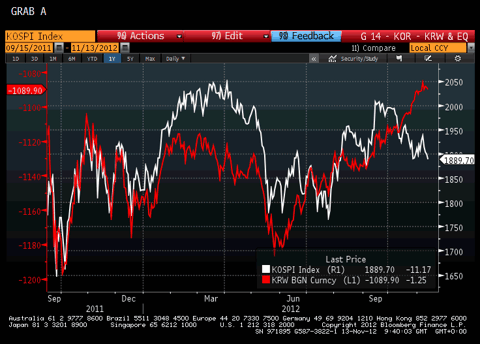 The relative outperformance of AsiaFX can also be seen when one looks at the relative performance of the DXY and the ADXY. Again the relationship has broken down somewhat. In the chart below one can see that with the DXY (blue, inverted and strengthening) and the ADXY (white).
ADXY & DXY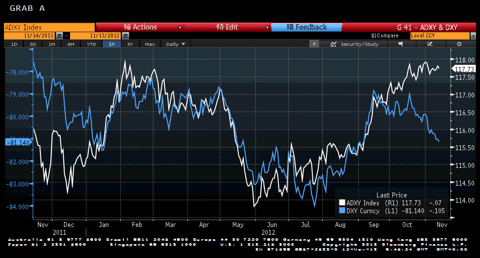 This move can be aptly summed up when one looks at EURKRW which has moved almost 6% since mid September. Note how oversold the 9-day RSI is.
EURKRW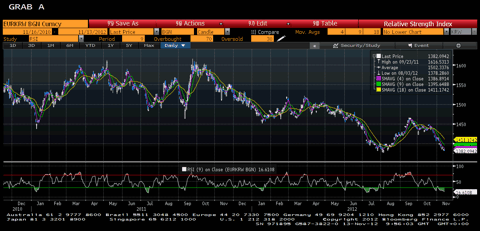 The risks of concerted intervention are rising and dollar buying is the most likely route. Moreover the failure by the Bank of Korea to cut rates last week is, in my opinion, a mistake.They should cut in December and ultimately take rates back to where they were in 2009, i.e. 2% compared to the current 2.75%.
All in, the way to go looks to be to buy upside protection on USD Asia, to position for lower rates in Asia - Korea, China, Malaysia and Thailand all look good - and if you want to balance that out somewhat buy AxJ equities options as a partial hedge.
Disclosure: I have no positions in any stocks mentioned, and no plans to initiate any positions within the next 72 hours. I wrote this article myself, and it expresses my own opinions. I am not receiving compensation for it. I have no business relationship with any company whose stock is mentioned in this article.