Apple (NASDAQ:AAPL) is in one of its most significant tailspins ever which has seen the stock drop $200 in two short months. I have utilized option strategies since 2010 to capitalize on the volatility. For reference, please view the first and other articles in the series to understand the strategy and its potential returns. This strategy is to simultaneously generate income and reduce your effective cost basis by selling out-of-the-money options to generate weekly income without sacrificing long-term returns. Even if you have no plans to engage in the options market this is your one-stop primer for the critical Apple developments.

(Source: Yahoo! Finance)
As you can see from the chart above, Apple continued its bear market descent this past week and the selling accelerated dramatically on Wednesday as Apple dropped from $545 to a low of nearly $505 around noon on Friday. The selling was fast and ferocious on Friday as the stock shed market capitalization at a speed that I have not witnessed in quite some time. The decline looked as if there was no end in sight but just as quickly as the stock fell it staged a rally. Apple not only regained all of its losses in remarkable fashion but was able to finish the day up over two dollars. It is quite remarkable that we Apple investors are now celebrating a mere forty basis points of appreciation.
I wrote last week that Apple investors should just sell if they were nervous and it came to ring true as investors continue to get shaken out of the stock. The velocity of the selling on Friday and the subsequent recovery gives me confidence that the worst of Apple's decline is behind us. Some will disagree but most concur that Apple is extremely cheap on a forward P/E basis. Ex-cash the forward P/E is close to seven - it is extremely difficult to find a growing technology company trading at such a multiple.
The price/earnings ratio is essentially a measure of relative sentiment and it is clear that investors have a very bleak view of Apple's prospects and the media's recent negativism has been a factor. The media coverage of Apple has been extremely pessimistic the past two weeks but the past few days there has been a noticeable shift in sentiment. Below I will highlight a few of the headlines that should benefit Apple and should stabilize the stock:
Despite Apple's decline, the at-the-money options continue to hold tremendous value as there is always the possibility that Apple can 'pop' in excess of five percent in a given week. For example, the weekly $530 calls have a time value ratio of 1.61% which is about as high as you will see for a non-product launch/earnings week. The premium is even more impressive when you consider that this is a short trading week with the Thanksgiving holiday further reducing volumes. This is a tremendous week to take advantage of Apple's volatility to initiate a position as I believe the relative risk is in your favor. Ask yourself: do you believe Apple is likely to fall fifty more points before it rises fifty points? There are still very real fiscal cliff concerns but long-term Apple will rebound as there are few significant fundamental concerns for the stock.
If I had to point to the only fundamental issues facing Apple I would have to select competition and margin compression; however, both are drastically overstated. Competitors' products will be held at bay by Apple's tremendous brand loyalty and high switching costs that keep consumers locked into the Apple ecosystem. Even if you like that new Amazon (NASDAQ:AMZN) Kindle Fire tablet at $199, you may very well be tempted to stick with Apple for its famous "it just works" atmosphere. Is it worth $129 to have the same applications, iMessages, and countless other features on your tablet? Millions of consumers will definitely say 'yes' and buy the iPad Mini, despite its premium price. Margins are always a sensitive topic for Apple because it does sell technology at far above cost when the standard tech model has been a race to the bottom, which has not done very well for the likes of Dell (NASDAQ:DELL) and Hewlett-Packard (NYSE:HPQ).
Apple's margins will naturally fall over time if it continues its strategy of entering into new markets with competitive margins (i.e. televisions). With that in mind, I am willing to accept lower margins in new markets as long as the 'core' markets remain intact. Margins for the iPhone, iPad, and Macs will continue to stay strong as component costs naturally decline. Margins are important to watch for short-term fluctuations as well as indications that trends are emerging but I continue to remain confident in Apple's pricing power.
Below I present three possible scenarios and the potential returns for the Apple options. The first scenario represents a negative outlook for Apple while the final two scenarios are more reasonable. These scenarios are forecasts and there is no guarantee that they will come to fruition. Even if you are optimistic it is important to consider both positive and negative circumstances in order to stress your assumptions. As a general rule, selling calls with higher strike prices has greater potential return but additional risk of loss due to the lower (or lack of) downside protection. For more information on the fundamentals of covered calls, consult Investopedia.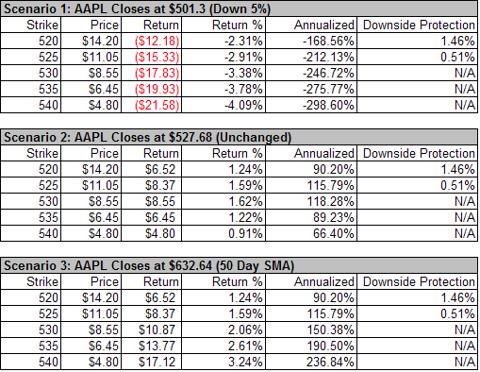 Additionally, if you would like even more information, I have prepared a sensitivity analysis for absolute return and percent returns, respectively. After studying the information above, these two charts make it easy to pick a strike price based on where you believe Apple will close at the end of the week. Estimate where you believe Apple will close and select the strike price with the highest return.

With this information, executing a buy-write on AAPL November 23 (Weekly) 525s is the optimal risk-return strategy as an opening Apple transaction. This is a far more conservative covered call than I typically recommend as it is already in-the-money by almost three dollars. The option has a potential return of $8.37 (time value) and should provide adequate covered in a light volume trading week. An alternative approach is to sell out-of-the-money 520 puts and collect the premium without having to purchase the stock outright. The 520s are currently trading around $6.50 and appear to offer the best risk-reward profile for the week. In the past week the relative value of the put options has been declining. Investors are less willing to pay high premiums for protective puts, further indicating that investors are growing less bullish on Apple. Note that if the stock declines to the strike price, you are obligated to buy the stock (or closeout the position).
You should always consider the risks (particularly with naked calls or puts) raised in this article in light of your personal circumstances (including financial and taxation issues) in consultation with your professional financial adviser.
Disclosure: I am long AAPL, GOOG. I wrote this article myself, and it expresses my own opinions. I am not receiving compensation for it (other than from Seeking Alpha). I have no business relationship with any company whose stock is mentioned in this article.