Deutsche Telekom (OTCQX:DTEGY), a German-based telecom operator, surprised investors after announcing that it is sticking to its dividend plan for 2012 due to its better than expected results for the quarter. This is a pleasant surprise for investors, because other regional telecom operators have restricted their dividend payouts to cut down their high-debt levels as well as to cope with the weaker consumer spending. Companies that have cut or suspended dividends include Spain-based Telefonica (NYSE:TEF) and France Telecom (FTE). Currently, DTEGY is trading at $10.5, closer to its 52-week low of $9.60 and we believe this could prove to be a good entry point to take advantage of a potential price appreciation and dividend income. The stock has a dividend yield of 8.3%.
In the third quarter, the company generated revenues of 14.6 billion euros, which remained flat over the previous year quarter. However, earnings dipped largely due to a substantial 7.4 billion euros impairment charge for its U.S.-based T Mobile business, which the company has decided to merge with MetroPCS Communications (PCS). Excluding the effect of the impairment charge, the company reported an EBITDA of 4.8 billion euros, beating analyst expectations of 4.6 billion euros.
Strong subscriber adds:
The table below shows the consistent rise in contract-based customers in Germany.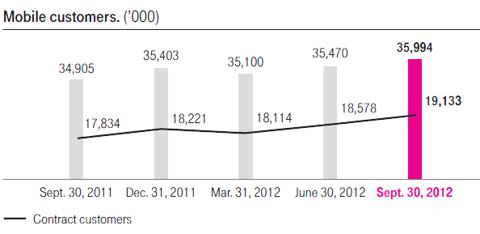 The company has been facing stiff economic challenges in the regions of its operations. However, despite the meltdown, it has been successful at bringing consistent growth to its mobile subscriber base in almost all countries. Germany, which accounted for almost 37% of its total operating revenues, expanded its postpaid subscription base by 7% over the year-ago quarter. The total number of customers using mobile phones on the company's network reached 36 million by the end of first nine months, representing a growth of 2% over the year-ago quarter.
Improved data revenues due to smartphones:
The number of smartphones sold in the first three quarters also rose to 2.7 million as compared to the 2.3 million as of September 2011. The smartphone penetration now stands at 70% of total mobile phones sold by the company in Germany. Increased smartphone sales in the quarter boosted the company's data revenues which are on a consistent incline. However, its German operations continue to suffer from a decline in the fixed telephone business, largely due to customers switching to wireless products. Fixed line losses were largely offset by an increase in broadband lines as well as growth in its TV subscription base that represented growth of 2% and 39% over the prior year period.
Other highlights of the earnings release are as follows:
Free cash flows of 2.3 billion euros, growth of 37% over Q3 2011.
A decrease of 2 billion euros in total debt as of Q3 2012.
12% growth in operating cash flows.
17% growth in prepaid customers through T-Mobile.
Dividends:
The stock currently offers a dividend yield of 8.3 percent which is important to many investors as operators in the region have cut or suspended their payouts. Moreover, the company's management has reaffirmed that it will maintain its current dividend plan for the year 2012. Currently, it pays an annual dividend of 0.70 euros ($0.85) per share. Its free cash flows are on an incline, with a yield of roughly 14% that compares well to its dividend yield of 8.3% which indicates the company's ability to finance its payouts with its cash flows.
DTEGY is currently trading at 0.6 times its sales which is a 25% and 65% discount to the industry average and Vodafone's (NASDAQ:VOD) multiples. On a forward Price earnings basis, the stock is trading at 15 times its forward earnings compared to Vodafone's 10x.
Disclosure: I have no positions in any stocks mentioned, and no plans to initiate any positions within the next 72 hours.
Business relationship disclosure: The article has been written by Qineqt's Telecom Analyst. Qineqt is not receiving compensation for it (other than from Seeking Alpha). Qineqt has no business relationship with any company whose stock is mentioned in this article.