Sierra Wireless Inc. (NASDAQ:SWIR) reported double-digit growth in both the top and bottom lines during its third quarter, leading to strong earnings estimate revisions. This provider of wireless solutions became a Zacks No. 1 Rank (Strong Buy) on Nov. 7. With solid demand for OEM-related products and a P/B multiple of just 0.83, this Zacks No. 1 Rank (Strong Buy) stock offers a value proposition.
Strong Q3 Earnings
On Nov. 1, Sierra Wireless reported third-quarter earnings of 23 cents per share, surpassing the Zacks Consensus Estimate by a whopping 155.6% and the year-ago earnings by 130.0%. Total revenue of $162.6 million barely missed the Zacks Consensus Estimate by 1.2%, but increased 10.8% year over year. Both the M2M and mobile computing segments of the company generated significant year-over-year revenue growth.
Strong Earnings Estimate Revisions
Earnings estimates for Sierra Wireless have been rising over the last 30 days. The Zacks Consensus Estimate for 2012 moved up 17.2% to $0.68. For fiscal 2013, the Zacks Consensus Estimate increased 12.5% to $0.72. The current estimates indicate year-over-year gains of 775% for fiscal 2012 and 5.93% for fiscal 2013.
Impressive Valuation
In addition to a low P/B multiple, the stock trades at a P/S multiple of only 0.37 and a forward P/E multiple of just 11.45 (a P/E ratio below 15.0, a P/S ratio below 1.0, and a P/B ratio under 3.0 generally indicate value). The P/E, P/S, and P/B multiples for the company are in contrast to the peer group averages of 17.75, 0.85, and 1.59, respectively.
Chart Shows Potential
Over the last year, the stock has returned 10.3%, significantly outpacing the S&P 500's return of only 8.1%. The widening gap between the stock price and the earnings estimates for 2012 and 2013 indicate that SWIR is currently undervalued.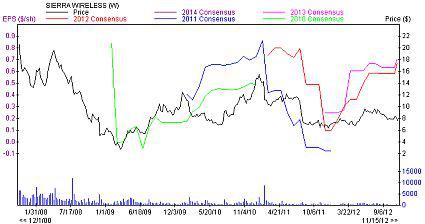 Based in Richmond, Canada, Sierra Wireless was founded in 1993. The company develops USB modems, data cards and routers. These products are mainly used by wireless service providers, infrastructure solution providers, original equipment manufacturers and distributors. It also offers software engineering, integration and design services to customers to facilitate the use of its products. Currently, the company is having a market capitalization of $230 million.
Read the full analyst report on SWIR (email registration required).