On November 14, Solazyme (SZYM) gave a jolt to its share price with a display of external evidence that the company is meeting expectations and even exceeding them. The company made two key partnership expansions which can be further expanded upon in my article found here. Previously, the stock price had been descending as shareholders errantly suspected a operational setback due to a lull in company press releases. Yet Solazyme came out swinging on its earnings day as it announced that all current projects were on track and on schedule. CEO Jonathan Wolfson also reminded investors in the company conference call with the following statement: "[Management is] putting together a company that will create significant shareholder value by commercializing a very important and extremely valuable technology with world-class partners."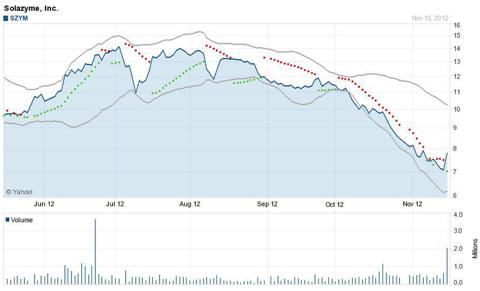 There Is Value In A More Efficient System
But what is it that makes this technology so valuable? Solazyme has created the world's first carbohydrate-to-oil technology platform according to CEO Jonathan Wolfson in a video found here. As it stands now, oils are essentially derived from either petroleum, plants or animal fats. Yet Solazyme evolves microalgae (the world's first oil producer) to rapidly create oils that can effectively replicate and enhance existing oil profiles. The company can control both the properties of the oil and the process to create it. It can even invent new types of oil that provide tailored benefits useful to industry and consumers. With its technology platform, Solazyme thereby creates a new oil source and provides a sustainable means to convert low-cost feedstocks into a readily available supply of hard-to-find specialty oils.
Therefore, what truly makes this technology so valuable isn't necessarily that it can merely convert sugar into fuel as many can be so inclined to think. Rather, the company has evolved a production process into a new understanding of how industrial logistics can work. The platform has the near-term capability to overhaul the agricultural industry altogether when it comes to oilseed production. Longer-term, it can play a unique part in the goal to replace how petroleum-based oils are derived. Taken from an article written on November 15 by Jim Lane of Biofuels Digest found here, he states the following:
"Fundamentally, the market of customers is beginning to see Solazyme as a particularly efficient hybrid of agroscience company and grower. In the old model, companies like Bunge and ADM depended on companies like Monsanto, Dow AgroSciences, and DuPont's Pioneer HiBred to come up with seed technologies that optimized oil characteristics, and farmers to grow the oilseeds via their "programmable" farmland.

The old model was slow-moving in product development, slow-moving in adoption, complex in its organization, and subject to risk-building pressures ranging from diesel prices to weather.

For some time, Solazyme has been talking up a comparison to Monsanto, Dow and DuPont - but this week's deal-making brings the other aspect of the company into a clearer light. That is the ability of the company to replace, via an industrial process, the grower in the field - through large-scale capacity deals that bring tailored renewable oils to market."
As stated, the unique impact that Solazyme is able to bring to the table is the ability to streamline an outdated process when it comes to existing oil production. The company can radically change the dynamic of how oils are researched, developed, produced, and harvested through a controlled environment in an industrialized setting. No longer are agricultural commodity traders like Bunge (BG) and Acher-Daniels-Midland (ADM) needing to rely on the inconsistency of farm-based crops that are genetically optimized. Rather these traders will be able to use the technology of Solazyme to cost-effectively convert a single feedstock into a multitude of enhanced oil products.
With Solazyme's platform, these agribusiness companies will be able to change their output within a few days time to produce a steady supply of an entirely different product altogether utilizing the same standardized fermentation equipment. With such power, these companies can now address consumer demand in a timely fashion previously thought unimaginable. Above all, Solayzme can introduce predictability and control into a market that is anything but predictable as seen through soaring diesel prices and devastating weather.
But Solazyme's impact goes beyond just the immeasurable value of a streamlined process. The company can create new oil profiles quicker and more effectively than companies like Monsanto (MON), Dow (DOW) and DuPont (DD) are able to do because it operates on a simpler organism that rapidly reproduces. Whereby testing the results of a modified plant requires weeks of growth, Solazyme's microalgae divide in fractions of the time. As explained in my article found here, the company's true comparative advantage may simply lie in its ability to develop oils on a much wider field of potential capabilities. Perhaps this is why the company was already able to create an oil profile that these companies have never been able to accomplish as seen in my other article found here.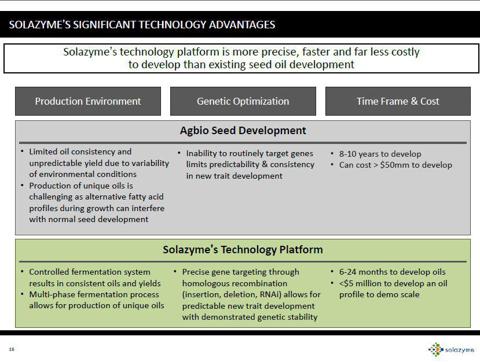 Industry Is Accepting Solazyme's Technology.
Therefore, as we view the most recent announcements of partnership expansion, investors should continue to focus their minds on the important issues revolving around Solazyme's unique platform. It's not about a hypothetical debate about whether natural gas has a more promising future than biofuel. It's not in a concern over oil's abundance due to North Dakota's drilling success. It's not even an issue about whether or not an open-pond algae company like Sapphire Energy can actually produce fuel at scale. None of these thoughts, while often thrown around by those following this company, truly matter in respects to the company. Ultimately, the core issue to watch is whether the industry is accepting Solazyme's technology as a legitimate contender in its target markets. Thus far, the positive response is growing.
In the end, Solazyme is scaling a technology that is meant to fit into the current infrastructure and into the markets of the present day. Yet the company is offering a radical alternative to the way industry currently operates. It introduces a more controlled and flexible system that can create customize tailored solutions. The company is very quickly gaining momentum across the board by leaders in their respective field. Even would-be competitor Dow Chemical has initiated a commercial offtake agreement for Solazyme's unique dielectric fluids.
Yet despite this progressing potential, Solazyme continues to trade at all-time lows. Skeptics point to stale revenue growth and yet they ignore that the company is only beginning to develop the manufacturing capability to truly begin its operations. The company is now in a rapid construction stage. The priority of the company has shifted from having to prove the technology to effectively putting manufacturing capability into place. Surprisingly it's not doing this alone. Top tier names like Roquette, Bunge, and now ADM have all come to partner with the company in making this happen.
To accomplish this, the company is on track to bring online 5000% more production capacity by 2014 as it scales roughly 2,500 MT to approximately 125,000 MT. Under the plans thus far released to the public, Solazyme has defined a route to increase capacity to over 400,000 MT by 2016. A thought to consider would be that a 100,000 MT plant suggests revenues of $300 million per year when selling oil for $3,000/MT. Critics continue to cite overvaluation fears due to a lack of present day profitability. Yet when one considers the provided margins and the rapid revenue growth for years to come, one wonders if the stock is adequately priced now to reflect this value to come.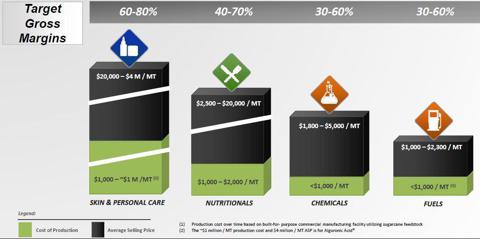 In recent weeks, two of agribusiness' elite found in Bunge and ADM have asserted their confidence in the company by expanding existing relationships or starting a new one. Their partnerships confirm that Solazyme is indeed attracting premiere business partners that can take the technology to the next level. They have even extended market development agreements with Solazyme prior to the company actually producing oil at a large commercial scale. For a company that has been greatly ignored by the investing community, Solazyme remains a possible diamond in the rough. Investors should continue to monitor this company and exercise due diligence to determine whether the stock offers an opportunity that corresponds with their own respective investing goals.
Disclosure: I am long SZYM, BG. I wrote this article myself, and it expresses my own opinions. I am not receiving compensation for it (other than from Seeking Alpha). I have no business relationship with any company whose stock is mentioned in this article.