Novo Nordisk A/S (NYSE:NVO) is a Denmark-based company engaging in the discovery, development, manufacturing and marketing of pharmaceutical products. NVO operates two major business segments: Diabetes and Biopharmaceuticals. The diabetes division offers a range of diabetes products, including modern insulins, such as NovoRapid, NovoMix and Levemir; new-generation insulins, such as Degludes and DegludecPlus; as well as the FlexTouch insulin pen, among others. The biopharmaceuticals division (comprising roughly 25% of revenue) provides treatments for people with haemophilia, growth hormone deficiency and for women experiencing symptoms of menopause.
With roughly 50% market share by value of the global insulin market, NVO is the leading provider of diabetes care products and benefits from decades of accumulated research and marketing experiences, sticky customers, scale advantages, and a strong patent portfolio. These competitive advantages and increased demand for diabetes treatments should enable NVO to grow continuously and generate strong cash flow consistently for the long-term.
Recent Developments
On Oct. 31, 2012, NVO beat analysts' third-quarter expectations and raised its full year profit guidance, where sales of 19.9 billion kroner is over the Bloomberg consensus of 19.8 billion and up 20% from the year-ago quarter, as reported by Amy Reeves from Investor's Business Daily. The Company also stated that full-year profit will rise 16% to 18%, up from previous guidance of 15%. The latest Q3, 2012 earnings call transcript from Seeking Alpha can be accessed here.
On Nov. 8, 2012, the FDA panel recommended approval of NVO's Degludec Insulin, as reported from Reuters. A direct quote is showing the benefits and the concerns for Degludec while FDA voted to recommend approval:
"Panel members said during an all-day meeting that they were concerned about a trend toward higher incidence of cardiovascular events with degludec than other drugs in 16 clinical trials, even though the difference was not statistically significant. But they expressed enthusiasm for degludec's 24-hour duration of action, saying it was perhaps unmatched by other drugs and would allow patients to take the insulin at a different time of the day if they missed taking it at their usual time. The panel began weighing the benefits and risks of the medicine two days after FDA staff members said combined data from the 16 studies suggest degludec may increase the risk of cardiovascular death, non-fatal heart attacks and strokes and unstable angina, compared to standard insulins. Moreover, FDA staff reviewers had suggested degludec may offer no strong advantage over other drugs in avoiding hypoglycemia -- dangerously low blood sugar levels that are a common side effect of insulin."
Fundamentals Overview and Technical Analysis
Based on the data gathered from MorningStar, NVO's key stats will be compared to its peers in the biotechnology industry within the healthcare sector, including Bristol-Myers Squibb Company (NYSE:BMY), Eli Lilly and Company (NYSE:LLY), and Sanofi ADR (NYSE:SNY). NVO has a comparable revenue growth of 13.2 and a much stronger EPS growth of 24.5 (3 year average), as compared to the industry averages of 13.6 and 15.5. NVO had demonstrated a strong, effective operation with its 37.5% operating margin, ttm, and 27.1% net margin, ttm, as compared to the averages of 28.5% and 14.5%. NVO's ROE of 57.3, ttm, and zero debt-to-equity, as compared to the industry average of 15.0, ttm, and 2.6 is impressive. NVO is currently undervalued with a P/E of 25.1, comparing to the average of 41.8. With its strong balance sheet, consistent cash flow, and growing demand, the long-term outlook for NVO is very promising.
NVO closed at $153.43 on Friday with 0.74% gain. The volume of 604,095 shares is slightly over the 30 day average volume of 581,985 shares. In the past 52 weeks, NVO had been trading in the range of $105.86 to $170.27. Since Oct. 25, 2012, the MACD (12, 26, 9) had been showing a bearish sign; however, the MACD difference had been decreasing since Nov. 6, 2012. NVO is currently trading below its 50-day MV of $159.35 and above its 200-day MV of $148.04. NVO is showing a decreased selling momentum as RSI (14) approaches the 50 middle line, as seen from the chart below. The selling pressure seemed to be eased and the short-term technical trend for NVO is slightly bearish toward neutral.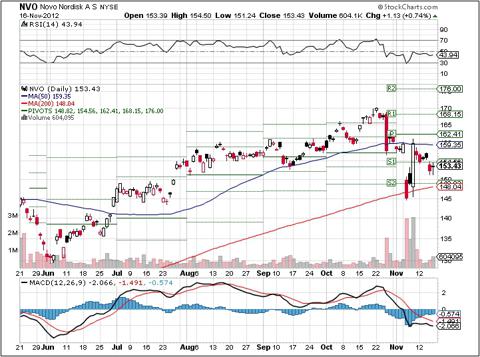 Source: StockCharts.com
Options Play
With the recent pull-back, it is a good time for long-term investors to take a look at this promising healthcare, biotechnology stock. For investors who are concerned about the upcoming U.S. fiscal cliff, it will not hurt to watch more on the sideline before things become clearer. As for the investors who would like to gain some potential upside profit while having a plan to acquire NVO stock at a further discount price, a bullish credit put spread will be reviewed below.
Short 1x March 16, 2013 Put at the strike price of $135 for the credit of $2.05
Buy 1x March 16, 2013 Put at the strike price of $130 for the cost of $1.45
The maximum profit is $0.60 and the maximum risk/margin required is $4.40 ($5 loss - $0.60 credit received). If NVO closes above $135 on March 16, 2013, the return will be 13.64% for the margin used. If NVO falls below $135 upon options expiration, the acquisition cost for NVO will be $134.4, which is 12.4% lower than the current $153.43.
Note: All the prices are quoted from the closing of November 16, 2012 and all calculations are before fees and expenses. Investors and traders are recommended to do their own due diligence and research before making any investing/trading decisions.
Disclosure: I have no positions in any stocks mentioned, but may initiate a long position in NVO over the next 72 hours. I wrote this article myself, and it expresses my own opinions. I am not receiving compensation for it (other than from Seeking Alpha). I have no business relationship with any company whose stock is mentioned in this article.