We were previously attracted to the mortgage Real Estate Investment Trust Sector due to the ability of the firms to effectively utilize leverage in order to provide investors with high current dividend yields on their investment capital. When the Federal Reserve announced that it was bringing back its Quantitative Easing Program on a greater scale than its previous money printing efforts we were a little cautious, but somewhat optimistic that high-quality mREITs would still be able to maintain a 10-12% annualized dividend yield and that investors would realize that such investments offered a superior alternative to bonds and other fixed income investments. We were previously cautious optimists on the mREIT sector because the mREIT heavyweight and bellwether Annaly Capital Management (NYSE:NLY) announced that it would repurchase $1.5B worth of its stock but have backed off our cautious optimism now that the Obama Administration and its allies have sharpened the long-knives for FHFA Acting Director Edward DeMarco. Annaly also announced that it was spending $840M ($12.50/share) to acquire the shares of CreXus Investment Corporation (NYSE:CXS) that it does not already own. Considering that Annaly's share price has declined along with its mREIT peers since October, we're not surprised it is doing everything it can to boost it.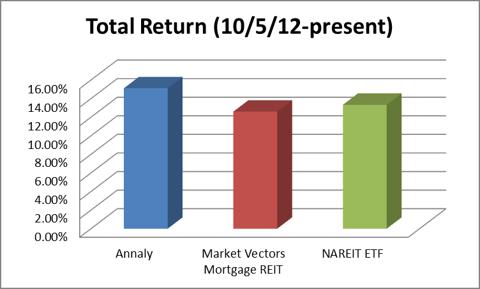 Source: Morningstar Direct
When Annaly announced the acquisition of CreXus, Annaly's CEO Wellington Denahan-Norris said Annaly may allocate 25% of its shareholders' equity to real estate assets other than agency-backed MBS securities. Annaly's primary RIA subsidiary is Fixed Income Discount Advisory Corporation and it sub-advises the MBS portfolio for Annaly Capital Management as well as two other mREITs. The two other mREITs that FIDAC provides sub-advisory services for are Chimera Investment Corporation (NYSE:CIM) and Crexus. We've previously published an investment report evaluating the investment merits of CreXus and we believe that the acquisition of CreXus by Annaly validated our thesis. As of its most recent quarter, CreXus had $968.4M in assets, $19.15M in Mortgages Payable, $34.8M in non-interest bearing liabilities and $914.5M in equity. Annaly is a much bigger organization than CreXus and it has $917M in preferred stockholders' equity and nearly $16.2B in common equity. Once the deal is completed, Annaly's non-agency MBS and related assets will be at 5% of its common shareholders' equity.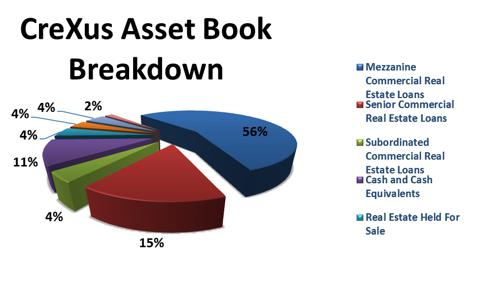 Source: CreXus Q3 Earnings Release
Now that Annaly has announced its intent to acquire CreXus, there has been speculation that it will also acquire Chimera Investment Corporation. We previously discussed how Chimera Investment Corporation is typically one of the highest-yielding mREITs due to its focus on non-agency subprime paper. Unfortunately this paper is so toxic that the company is either unable or unwilling to file time financial statements. We find its worth repeating that Chimera is as ugly and repulsive as its namesake creature from Greek mythology. However, in the wake of Annaly's acquisition of CreXus, Chimera's shares have increased by 6% on sharply higher trading volume.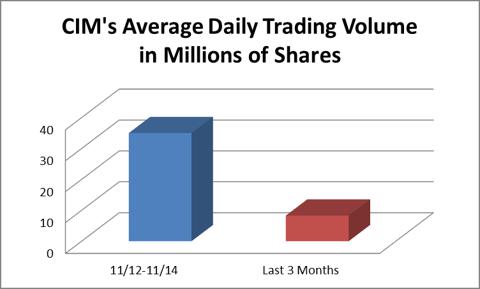 Source: Morningstar Direct
Before its acquisition of CreXus, Annaly sought to create an image to investors of being the "conservative, prudent, senior statesmen of the business." We guess it helps people forget about Chimera. Hopefully for Annaly's sake, Wellington Denahan-Norris isn't the Bruce Bent Junior of the mREIT business and Annaly doesn't become the Reserve Fund of the mREIT business. In our opinion, we perceived that Bruce Bent saw himself as a "conservative, old fashioned senior statesman" of the money market business. Annaly typically uses less leverage in its own proprietary mREIT portfolio operations than other mREITs and has the longest average life for its liabilities. Annaly also utilizes significantly less leverage in the management of Chimera and CreXus than it does in its own proprietary portfolio book. Even though the company uses less leverage than other mREITs, it still pays investors a 14% annualized dividend yield and we believe that the company could maintain a 10% yield and that the worst case scenario for a dividend cut is 30%.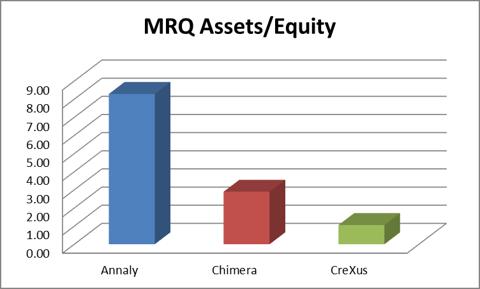 Source: Most recent earnings releases for Annaly, CreXus and Chimera
In conclusion, we will be keeping our eye on Annaly. Annaly's size, operational scale and management have resulted in the company being the mREIT sector's bellwether firm. We would recommend that investors who purchased shares of CreXus to sell out now at $12.30/share rather than wait for the deal to close for an additional $.20/share. Although Annaly's acquisition of CreXus only increases its balance sheet by nearly 70bp based on most recent quarterly results, we are concerned that the company would also consider acquiring the beleaguered subprime mREIT specialist Chimera Investment Corporation. We're concerned that Annaly's diversification efforts may result in di-worse-ification results for its bottom line. However, we find it interesting that Annaly Capital actually has a higher dividend yield than Chimera. Annaly's dividend yield is 14.3% and it exceeded Chimera's dividend yield by 100bp.
Disclosure: I have no positions in any stocks mentioned, and no plans to initiate any positions within the next 72 hours. I wrote this article myself, and it expresses my own opinions. I am not receiving compensation for it (other than from Seeking Alpha). I have no business relationship with any company whose stock is mentioned in this article.
Additional disclosure: This article was written by an analyst at Saibus Research. Saibus Research has not received compensation directly or indirectly for expressing the recommendation in this article. We have no business relationship with any company whose stock is mentioned in this article. Under no circumstances must this report be considered an offer to buy, sell, subscribe for or trade securities or other instruments.