Since my initial positive piece on May 8, 2012 , Buy Annaly Capital For Diversification, shares of Annaly Capital Management (NYSE:NLY) are down 10%. However, I remain bullish on NLY.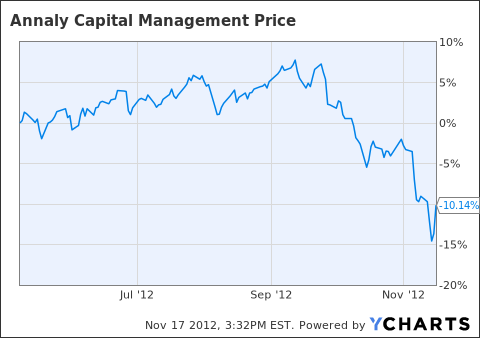 NLY data by YCharts
Reasons For Sell-Off
The sell-off in NLY has occurred for a variety of reasons:
1. QE infinity as a negative for the industry.
One consistent argument against the entire mortgage REIT has been the impact of the Fed's new unlimited QE program. SA contributor Markos Kaminis does a nice job of laying out the negative argument in his piece entitled Why QE Infinity Is Bad For Annaly. In short, the negative argument based on QE infinity is that the Fed's purchases of MBS will lead to lowered interest rates on mortgage securities and thus lower spreads for the mortgage REIT'S. As shown by the chart below, in addition to NLY, other mortgage REITS such as American Capital Agency Corp (NASDAQ:AGNC), Chimera Investment Corp (NYSE:CIM), and MFA Financial (NYSE:MFA) have come under selling pressure since QE infinity was announced on September 13.
NLY data by YCharts
There are two reasons why I am skeptical of the "QE infinity is Bad For Annaly" argument. Firstly, as shown by the chart below, NLY performed quite well through the first rounds of QE which have been ongoing since late November 2008. While shares are slightly lower over this period, it must be noted that NLY yielded more than 12% for each year. The total return for NLY since November 25, 2008, when QE started, is more than 73%. Additionally, I do not believe QE infinity means MBS yields must go lower. To the contrary, it is possible, perhaps unlikely, but possible that QE infinity, as desired, leads to a sharp increase in inflation which leads to higher MBS rates.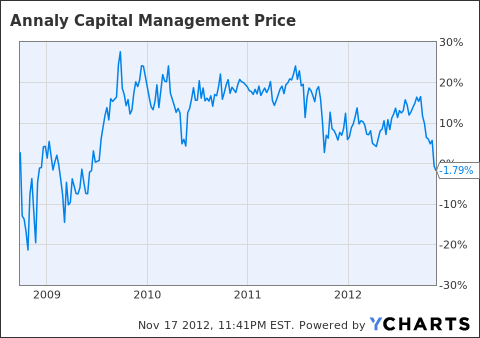 NLY data by YCharts
NLY Dividend Yield data by YCharts
NLY Total Return Price data by YCharts
2. Death of Michael Farrell
Sadly, on October 21, NLY co-founder and CEO Michael Farrell died. Farrell, throughout his career had been considered one of the industry leaders. To say that Farrell's loss should have no negative impact on NLY shares would be naive. Since NLY's founding in 1997, the total return, as shown by the chart below, has been nearly 600%. This return is extremely impressive and unmatched in the industry.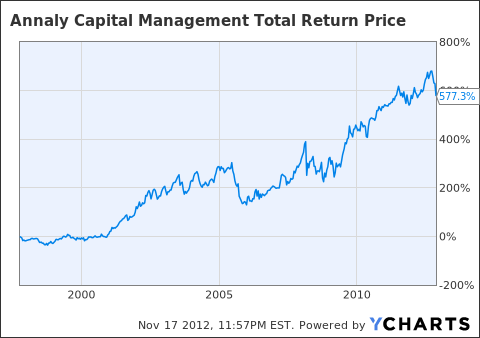 NLY Total Return Price data by YCharts
However, there are two reasons why I don't think it makes sense to sell NLY based on Farrell's death. Firstly, the market had known for some time that Farrell's death was a possibility. In January, Farrell announced he had cancer, but also said it was treatable. That being said, the loss of the legendary Farrell certainly came as something of a surprise and has likely played a role in the recent sell-off. Additionally, I am comfortable with the new CEO, Wellington J. Denahan Norris. It should be noted that Ms. Denahan Norris co-founded the company with Farrell and has served as Vice Chairman of the board since the company's founding. On October 8, 2012, Ms. Denahan Norris was appointed co-CEO. Previously, she had served as COO and CIO for NLY. While the loss of Michael Farrell will be significant for NLY, because of the strength and experience of the new CEO, I do not believe this is reason to sell the stock.
3 Reasons Why I Remain Bullish
1. Valuation
Right now, as shown by the chart below, NLY is trading at an all time low price/book. Price to book is a key metric to use when looking at NLY because, unlike most companies, all of NLY's assets are very liquid. Simply put, NLY's current valuation has priced in significant headwinds ahead for the company.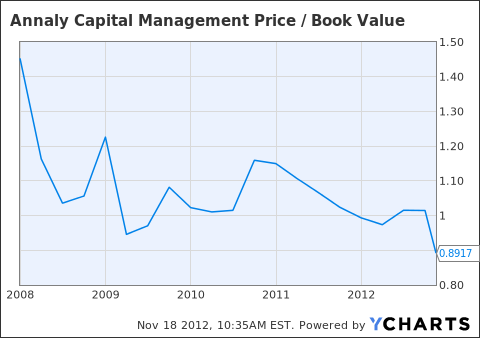 NLY Price / Book Value data by YCharts
2. Share Buyback Program
In mid October, NLY announced a share repurchase program of up to $1.5 billion. While it must be noted that this plan can be suspended at any time, I believe that this program will put a floor under NLY shares. SA contributor Zvi Bar does a nice job of explaining the positive impact of NLY's plan in his piece Annaly's $1.5 Billion Share Repurchse Plan Is Good News For Shareholders. In addition to proving demand for the stock, the share buyback plan is also a defensive move on NLY's behalf. Typically, mortgage REITS such as NLY sell additional shares through secondary offerings in an effort to increase their leverage. NLY's defensive move means that, if market conditions are to worsen further, the company will be less exposed.
3. Insider Buying
On November 14, NLY President Kevin Keyes purchased 100,000 shares at a price of $13.90. While this is the most significant insider purchase of late, it is not the only one. Specifically, numerous insiders have been exercising options. The insider activity indicates to me that those who know the company best, the insiders, agree with me that despite the headwinds, NLY shares are too cheap to ignore.
Annaly To Buy Crexus
In an unusual move, just a few days ago, NLY announced it was buying the 88% of Crexus Investment (NYSE:CXS) that it does not already own for $840 million. The move is seen as a reaction to extremely low yields currently available in the agency MBS market. As SA contributor Regarded Solutions points out in his piece Annaly: Brilliant or Desperate? Time Will Tell, time will tell whether this was a good decision or not for NLY. While I am unsure of how this acquisition will play out for NLY, I do not believe it is reason to avoid the stock.
Conclusion
Despite the current headwinds, I am sticking with NLY. Essentially I continue to own the stock for 3 reasons. Firstly, as discussed in my initial piece, I believe NLY can play an important role in portfolio diversification as its correlation with stocks and bonds is relatively low. Additionally, I am skeptical of some of the negative arguments against the stock and believe that the current valuation has priced in many negatives. Finally, the share repurchase program and recent insider buying program lead me to believe that the downside from here is quite limited.
Disclosure: I am long NLY. I wrote this article myself, and it expresses my own opinions. I am not receiving compensation for it (other than from Seeking Alpha). I have no business relationship with any company whose stock is mentioned in this article.