While the Congress is working to find a deal to solve the Fiscal Cliff, it seems that Apple (NASDAQ:AAPL) last week was anticipating the most feared outcome (i.e. no deal) by already falling from the cliff in free-fall mode.The last month and a half has already taken out of the company $170 billion (that's the equivalent of two McDonald's (NYSE:MCD), more or less 5 Starbucks (NASDAQ:SBUX), or 38 Netflix (NASDAQ:NFLX) in 45 days!) and now the stocks apparently may have found support at $505, a 9 month low.
Why the stock has entered heavy-correction mode many have tried to explain: 2 earnings misses in a row, shrinking margins, no lines at the iPad mini launch (didn't they sell 3 millions of them, or 1 and a half the previous record held by the New iPad?), Samsung raising their prices on chips by 20% (just denied from a Samsung spokesman) and even Steve Jobs' death (quick in getting the latest news these guys, aren't they?).
My intent here is not to analyze these points, even if each and every of them could be easily objected (and it is not only my personal opinion, every high level analyst who follows the stocks has rushed out to give a positive take on the stock, while reaffirming their price-targets) because there are already many articles here on SA which contradict every and each of these points. No, what I'd like to do instead is giving a perception of how ridiculously cheap - love it or hate it, the data doesn't lie - AAPL has become, and show the great buying opportunity this drop in stock value presents.
A few tidbits on Apple valuation and its cash
At current price of 530$ (give or take a few bucks):
Trailing P/E of 12 is at the lowest level since the financial crisis of 2008
Trailing P/E of 12 is also much lower than the average S&P 500 of 15.6
Dividend yield has just got at 2% (that's more than what Disney (NYSE:DIS) gives)
Cash per share of 127$ represents a whopping 24% of the stock price
If Apple wanted to spend its money in acquisitions, it could choose from 484 components of the S&P 500, or it could make a shopping list of 44 components of the index
In other words: Apple cash is bigger than 96.8% of S&P 500 components' market cap (taken singularly) or equivalent to the market cap of 8.8% of the index components (summed together)
Moreover, the Q4 results everybody saw as a miss (which actually would have been a beat in many ways if it wasn't for a few financial accounting anomalies, see "The real truth about Apple's Q4 results" and Apple 2.0: "Did iPad unit sales grow by 26% or 44% last quarter?") just made us acknowledge the company still grew earnings, for FY 2012, at an amazing 62%.
The Showdown
But the most astonishing numbers come out if we take out the enormous pile of cash which sits in Apple's bank account: I couldn't resist comparing it with the likes of other heavily followed stocks:
Exxon (NYSE:XOM): obviously it doesn't share much with Apple, apart from the monstrous market-cap, but it represents the oil & gas energy industry, which has one of the lowest P/E ratios of all (BP was just put for emphasis);
Microsoft (NASDAQ:MSFT): while it's like comparing an orange to an apple for many reasons (pun intended), it is always compared to Apple by many other Apple bears here on SA, so I thought it was good to give another perspective;
So, what did I do? I took a bunch of data from Reuters and organized it in this three terms of comparison between the 4 companies:
Trailing earnings for the last 4 quarters
Trailing P/E ratio (ex-cash/debt)
YoY growth (achieved by making the mathematical average between earnings growth and revenues growth to avoid inconsistencies)
Here are the results: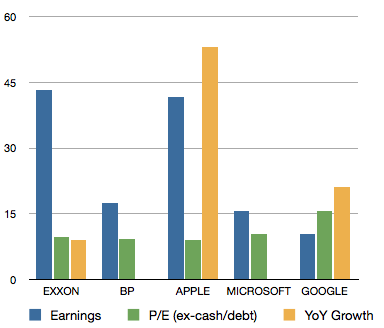 In short:
Apple has the lowest trailing P/E (ex-cash), even lower than Exxon and BP, two typically extremely low P/E stocks (and therefore lower than the vast majority of S&P 500 for that matter)
Apple though still grows almost 6 times faster than Exxon and almost 3 times faster than Google
Apple made the same money in a year as Google, Microsoft and BP combined
Conclusions
The irrationality of the market has brought AAPL at such low levels its trailing P/E ratio (don't even think about the forward P/E) is now lower (ex-cash) than XOM's and BP's.
At the same time, Apple represents a unique reality: no other company in the world has such a large amount of cash in their bank account (actually, in the US, just the managers of the "Pimco Total Return" mutual fund and of the "Vanguard Total Stock Market Index Fund" have more money to manage than Apple CFO Peter Oppenheimer). And, most amazingly, Apple still grew earnings by 62% and is expected to grow them by 20-30% in FY2013.
I find valuation at current levels compelling and, seen the strong-expected holiday season coming, plan to heavily increase my long position in AAPL by the end of November.
Sources: Reuters, Google Finance, Yahoo Finance, Forbes
Disclosure: I am long AAPL. I wrote this article myself, and it expresses my own opinions. I am not receiving compensation for it (other than from Seeking Alpha). I have no business relationship with any company whose stock is mentioned in this article.