Cisco (NASDAQ:CSCO) is a classic dog stock. Make no mistake, this company has disappointed more investors than Microsoft (NASDAQ:MSFT), DELL (DELL) and Hewlett-Packard (NYSE:HPQ) put together.
And to be honest, I have been saying to people to stay away from Cisco for many years. The reason was that it was always priced to perfection and them some. I could never understand how investors were able to buy Cisco years ago and be able to sleep at night.
But that was then. Today things have changed and Cisco's valuation metrics have also changed. Finally they landed on planet earth.
Because a picture is worth a thousand words, let do this with some fundamental charts of Cisco:
CSCO Shares Outstanding data by YCharts
Please note (above chart) the market cap of Cisco is where it was 10 years ago, even though the float has been shrinking. The float is about 40% less. I cannot stress enough how bullish this is for any stock.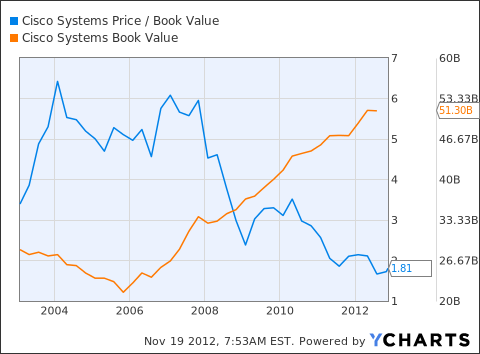 CSCO Price / Book Value data by YCharts
At the same time, book value has been climbing, and he Price/Book ratio has been falling and today stands at 1.81. It is pretty hard to find any high tech stock with a Price/Book of 1.8.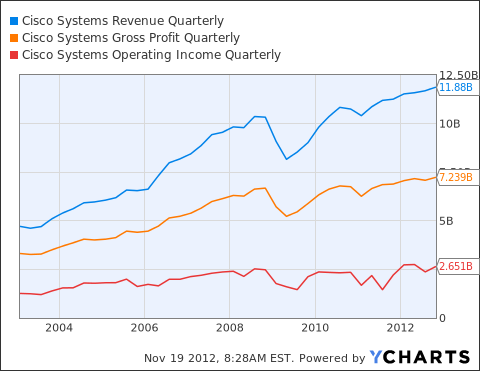 CSCO Revenue Quarterly data by YCharts
At the same time, total revenue, gross profits and operating profits are on the rise. The stock price however has gone nowhere.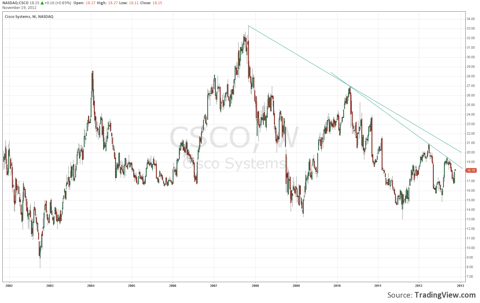 On top of all this, there is a dividend to consider, that will probably keep going up in the future, as the chart below suggests it might. So besides buying into a relatively undervalued stock, you also have a pretty good yield.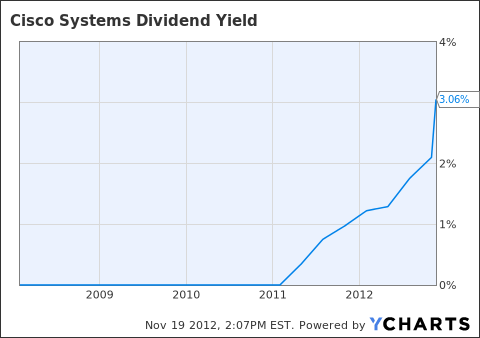 CSCO Dividend Yield data by YCharts
So why is CISCO so cheap? I am not sure, but I think it has nothing to do with the company itself. I think it has to do with the market. This market simply doesn't not want to pay any kind if premium for almost any big cap stock.
For if one looks at many other big cap technology stocks, he/she will see more of the same. That is, big-cap companies trading for a fraction of what they were worth many years ago.
Microsoft , as I mentioned a while ago, is a perfect example. Please consider - Microsoft: In The Forefront Of The PC Revolution Once Again.
For whatever reason, valuations are what they are, and the fact is Cisco is trading at very depressed valuations. Especially compared to what the market was paying for it years ago. And as far as I'm concerned, nothing has really changed for Cisco to warrant such a different valuation. Of course one can make a case that Cisco was trading at bubble multiples years ago, but today it is not.
One other explanation for the market's hesitation to price Cisco and other stocks better, might have to do with the question of how politicians will deal with the fiscal cliff ahead of us. Please read: Is The Fiscal Cliff Already Priced In?
The bottom line is that Cisco is a relatively cheap stock. Almost any metric one looks at, it is difficult to see much wrong with the balance sheet and it is hard to dispute the long-term prospects of the company.
As such, and, taking into account today's valuations, I rate Cisco as a buy and in my opinion, it is a perfect candidate for conservative long term portfolios. Also, when taking into account current valuations and the dividend, Cisco offers protection from market volatility and any future market pressure, even in the event that politicians manage to make a mess of the fiscal cliff ahead of us.
Disclosure: I have no positions in any stocks mentioned, and no plans to initiate any positions within the next 72 hours. I wrote this article myself, and it expresses my own opinions. I am not receiving compensation for it (other than from Seeking Alpha). I have no business relationship with any company whose stock is mentioned in this article.