Stocks To Trade
Today, we are looking at an earnings trade in Oracle (NYSE:ORCL), longs in Apple (NASDAQ:AAPL) and 3D Systems (NYSE:DDD), and shorts in Akamai Technology (NASDAQ:AKAM) and Autodesk (NASDAQ:ADSK).
For an earnings trade, we are looking at ORCL today. The company has earnings due in mid-December, and we believe that the company could see limited upside into that report. The last report for the company saw the stock gap down and hold strong resistance at the $32 level. The company is expected to see around 12-15% growth in earnings year-over-year along with around 2.5% growth in revenue. The company has seen consistent resistance at the $32 level, and we do not believe the earnings potential creates enough upside to break through what has been strong resistance before earnings. The cloud computing companies have all reported fairly unimpressive earnings in the latest season as well, and if Salesforce.com (NYSE:CRM) reports fairly unexciting earnings, ORCL may continue to see resistance to get going. Right now, we can make 11% on the 32/33 bear call spread. Without a strong report from CRM or complete reversal of the market, ORCL should not break $32 where it gapped down below after its last report.
Trade: ORCL, Dec22, 32/33 Bear Call Spread
Max Gain: 11%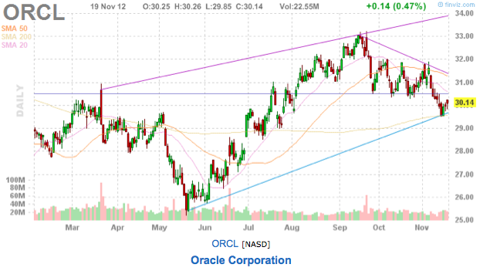 For longs, we like the looks of Apple and 3D Systems. Apple is starting to appear as a potential breakout stock after it benefited from a strong day in the market and broke above its 10-day MA. The company is starting to get going, but it had many weeks of weakness. We need to see a break of at least the 20-day MA to see a further break higher. As of now, this move does not mean a lot without taking out more key price levels. The stock looks very solid to take off as the company will benefit from a strong holiday rally that should mean lots of sales for Apple products. After such weakness, the stock represents a great opportunity for longs, and we believe that if the stock shows some strength cash will flow back into a very strong company. We like playing it for a trade on the break of the 20-day MA as it will create another wave of buying.
Another interesting story is what is happening over at DDD. After two disparaging articles about the company's accounting practices, DDD held a special call to discuss its accounting practices and defend investors. The stock rallied strongly on the meeting, and the recent weakness has shown a bottom that we believe is a great place to play a bull put spread. The stock has very strong support at 32.50 and 35, and the stock should resume its upward trend after what was a promising call. The company cleared up a lot of questions and restored confidence. If the stock did not break 35 on the recent article weakness, we see no reason that it should for the near-term future.
Equity Trade: AAPL, Long
Breakout Point: Break of 20-Day MA
Options Trade: DDD, Dec22, 35/30 Bull Put Spread
Max Gain: 11%
For shorts, we like the looks of Akamai and Autodesk. Stocks that weaken on days of strength like Monday are stocks to watch for strong future breakdowns as well as limited upside. AKAM is looking quite weak right now in the midst of a recent downtrend that began after the stock gapped up slightly on earnings near the end of October. After that gap, the stock has continued to weaken, showing strong resistance at the $40 line. The company's latest report was strong with its beat on estimates, but guidance was only in line with estimates. And with a 33 PE ratio, the company has to continue to shine in its growth of earnings to maintain such lofty pricing. The stock right now is testing the 200-day MA just above $35. If that breaks, the stock could lose some more footing and be in store for a strong breakdown.
ADSK is another stock that weakened on a strong Monday and looks primed for a bear call spread. The issue for ADSK has been a series of weak earnings. The stock saw 15%+ declines after back-to-back earnings to start off the year. Their latest report was not any better with mixed earnings and a lack of guidance. The stock has lacked much of a catalyst all year and is in a long-term downward channel. We believe they are great for a bear call spread with strong resistance sitting above them with the 200-day MA at the $35 line.
Stock Trade: AKAM, Short
Breakout point: Break of 200-Day MA
Options Trade: ADSK, Dec22, 34/35 Bear Call Spread
Max Gain: 11%
Disclosure: I have no positions in any stocks mentioned, and no plans to initiate any positions within the next 72 hours.
Business relationship disclosure: The Oxen Group is a team of analysts. This article was written by David Ristau, one of our writers. We did not receive compensation for this article (other than from Seeking Alpha), and we have no business relationship with any company whose stock is mentioned in this article.