One smart investor once told me to "always look for red flags. Large promotions, management changes, and changes in metrics." Looking at the last few months of data-points on Green Mountain Coffee Roasters (NASDAQ:GMCR), there are so many red flags it would drape a whole mountain.
1. K-cup Patent Expiration
Green Mountain's K-cup patents expired in September 2012. We are starting to see many competitors launch K-cup pod products where the company receives no royalties whatsoever.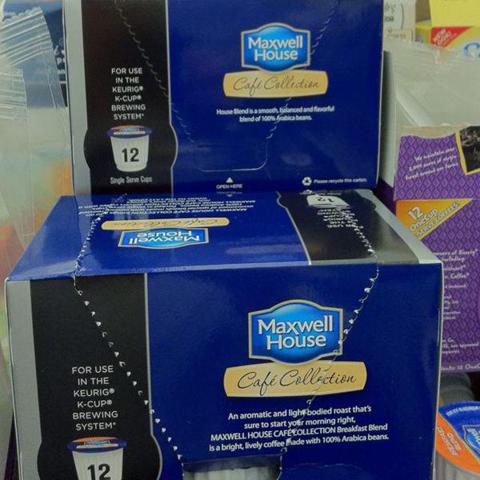 [Maxwell House] pods are not licensed by Keurig or affiliated in any way, Kraft (KRFT) spokesman Basil Maglaris told Reuters. That means that Green Mountain will not receive any royalties from their sale...

Maxwell House is the third-largest retail coffee brand in the United State...

Following news of similar launches by private label brands including Kroger Co (KR), Safeway Inc (SWY) and Supervalu Inc (SVU), the move by Kraft adds more weight to the argument put forth last year by Greenlight Capital's David Einhorn - Reuters
2. Large Promotions of K-cups
In the last few months, there has been a flurry of large promotions on K-cups in the channel. There have been 2-for-1 K-cup box promotions. A friend of mine saw this at a Bed Bath Beyond store: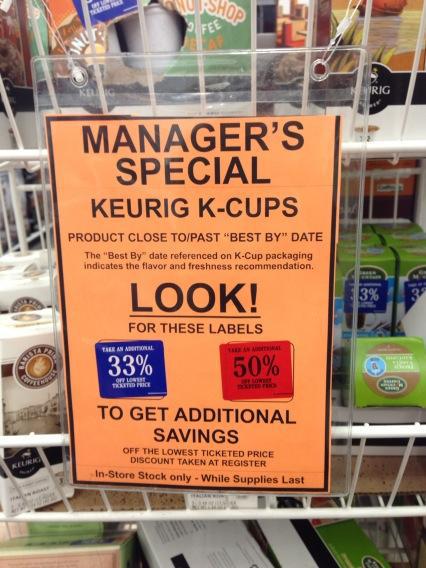 The worst example was Green Mountain offered a $10 off online coupon code on the front page of Keurig.com in mid-October for any orders $10 and over. The company was literally giving away product for nothing. How does that bode well the company's margins and inventory position?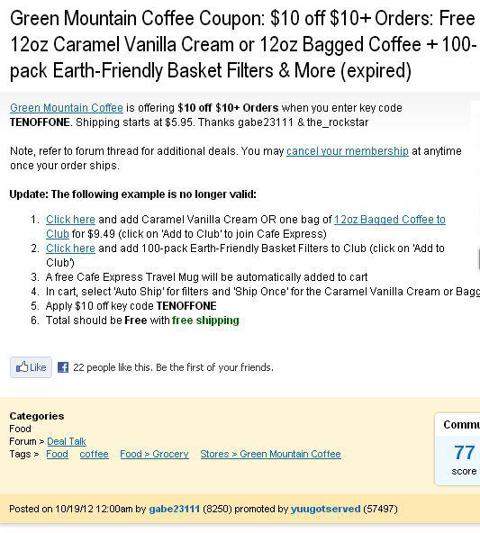 3. Large Keurig Brewer Promotions
Right in the last week of the September quarter, Green Mountain announced rebates across its Keurig brewer line of up to $50.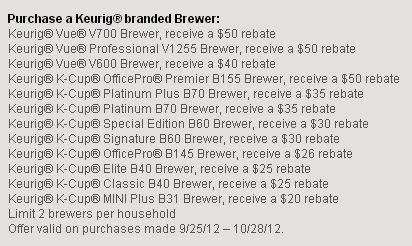 It doesn't take a rocket scientist to figure out a large up to $50 rebate offer in the last week of a quarter isn't a good sign for brewer sales. The brewer promotions didn't end there. Staples offered $20-50 gift cards on any Keurig sold. Target also had a gift card promotion in recent weeks.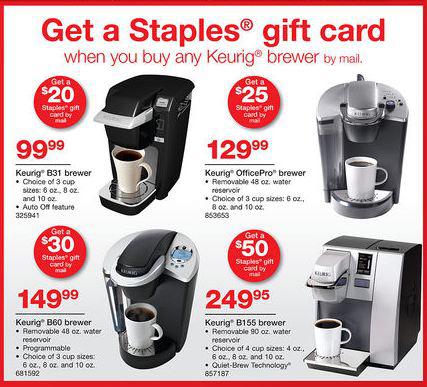 4. The Vue is not selling. Here comes Starbucks Verismo...
Green Mountain launched its new next-generation $230 coffee brewer hoping it would be a way to fight the Keurig patent expiration issue. The problem is it simply isn't selling. It looks like the Vue is a total flop. My channel checks at Bed Bath & Beyond (BBBY) and Walmart (WMT) show the Vue displays full of stocked shelves and dust. The recent $50 rebates confirm the weak sales.
Starbucks (SBUX) is now selling its new Verismo brewer across its 4,300 stores for $199 which makes coffee and espresso. The Vue only makes coffee and costs $230. Why would anyone buy a brewer that is less functional at a higher price point than its competition? Not many people are.
5. Starbucks has Green Mountain in its sights
With the recent launch of the Starbucks $199 Verismo single-cup brewer, Starbucks is directly competing with Green Mountain.
Starbucks' [CEO] Schultz did note that about 75 percent of Starbucks customers don't have a single-serve brewer "primarily because the two machines (from Nestle and Green Mountain) don't deliver on the expectations that our customers want." - StreetInsider
Starbucks is also quoted in October saying it (not Green Moutain) will be the single-serve leader and Verismo may affect Keurig sales.
Starbucks' Verismo is serious new competition for Green Mountain that just started in the past couple of months. Perhaps it is not a coincidence Keurig brewer sales have slowed down in the same time-frame.
6. More brewer competition is launching
This [October] month, Bunn, maker of commercial beverage equipment, will launch a home version of its single-serve coffee machine. The machine, called MyCafe, will work with Keurig's K-Cups, even though it is not licensed to do so.

Also later this month, about two-thirds of U.S. Walmart stores will start selling a machine made by Esio Beverage Co that makes both hot and cold drinks. While that machine does not use K-Cups, it does expand well beyond the capabilities of existing popular brewers. - Reuters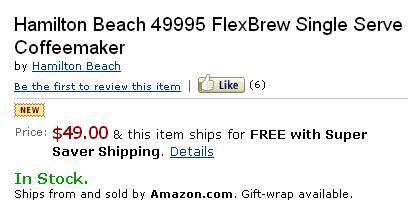 Hamilton Beach is now selling a K-cup brewer for $49 on Amazon.com. A fraction of the price of a Keurig brewer.
7. Green Mountain admits K-cup margins are going to come down with cheaper SKUs
On August 14th, at an investor conference, Green Mountain admitted K-cup margins will have to come down as it comes out with cheaper K-cups. Presentation slide 24: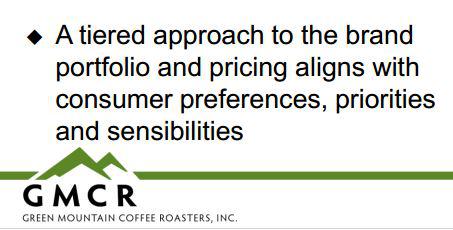 8. Walmart brags about "no royalty" K-cup sales
On its November 15th earnings call Walmart said:

The number of negative data-points from the flurry of Green Mountain's brewers and K-cup promotions, the ramp of serious competition on every front from "no royalty" K-cups to brewers to a new single serve coffee eco-system (Starbucks Verismo) with deep pockets, and lower margins from K-cup patent expiration/price cuts is stunning. All in the past couple of months.
These red flags point to a core business in serious competitive decline, a potentially serious inventory channel stuffing issue, and liquidity concerns in the coming quarters. You have been warned.
Disclosure: I am short GMCR. I wrote this article myself, and it expresses my own opinions. I am not receiving compensation for it (other than from Seeking Alpha). I have no business relationship with any company whose stock is mentioned in this article.