A little-known indicator known as the Philly Fed ADS Business Conditions Index gives an excellent insight into the performance of the economy. The index, which takes into consideration six key factors, tracks much of the same data the NBER, the organization that officially calls recessions, tracks. The ADS takes into consideration:
weekly initial jobless claims
monthly payroll employment
industrial production
personal income less transfer payments
manufacturing and trade sales
quarterly real GDP
As you can see in the following chart, the ADS has been on a negative trajectory since 2010 and is currently in recessionary territory.
images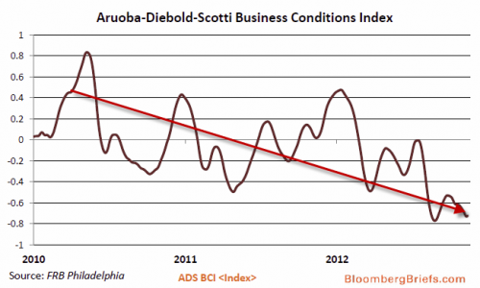 Indeed, this second chart, a historical snapshot of ADS covering 50 years, shows that the ADS has never had a clear long-term negative trajectory without the NBER officially declaring recession. (Recessions shaded in gray.)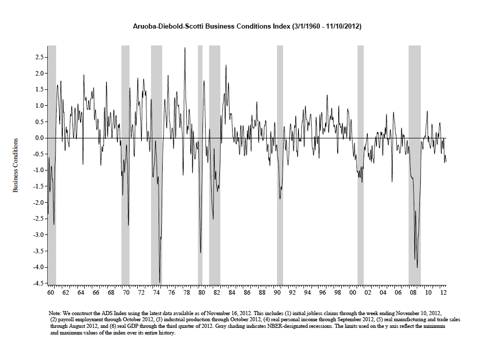 The ADS is only the latest indicator that suggests to me that we will experience a brief, relatively mild recession beginning in Q1 of next year.
Disclosure: I have no positions in any stocks mentioned, and no plans to initiate any positions within the next 72 hours. I wrote this article myself, and it expresses my own opinions. I am not receiving compensation for it. I have no business relationship with any company whose stock is mentioned in this article.