click to enlarge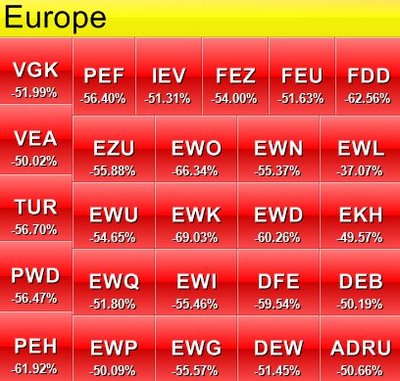 Look at the above picture - it is a 12 month performance map for European Exchange Traded funds, and it's no surprise that it is a deep red color.
The worst performers are Belgium iShares (NYSEARCA:EWK) with almost 70% down, followed by Austria iShares (NYSEARCA:EWO) with -66%. Austria, known as the "gate to Central and Eastern Europe," has been under selling pressure, especially in the last weeks when big hits came to the markets of Hungary, the Czech Republic and Poland.
A relative winner seems to be iShares Switzerland (NYSEARCA:EWL), which is down 37%. The Swiss ETF benefitted mainly from positive trends of the Swiss franc vs. the Euro. But generally we can conclude that the European Union ETFs are down more than 50%.
For comparison, U.S. funds show a far better performance: S&P (NYSEARCA:SPY) -41%, iShares Dow Jones (NYSEARCA:IYY) -40% and PowerShares QQQ (QQQQ) -44%.