Shares of Las Vegas Sands (NYSE:LVS) have declined 30.1% from their 52-week high of $62.09 attained in April. Despite a modest recovery from August to October, the stock dropped again as a result of the company's lackluster Q3 earnings release primarily owing to the weak performance of Marina Bay Sands. However, I believe investor should take this opportunity to accumulate shares at this level given the company's robust growth prospects and the stock's tempting valuations. In this article, I will elaborate on the rationales that support my bullish view.
LVS is undervalued based on the company's strong financial performance relative to its peers' (see comparable analysis table below). Analysts on average predict LVS' revenue, EBITDA, and EPS to rise by 2-year CAGRs of 15.7%, 14.8%, and 28.7%, respectively, over the current and next fiscal years. The rates are substantially higher than the averages of 4.6%, 9.0%, and 14.3%, respectively, for a peer group consisting of LVS' primary competitors. On the profit side, LVS has demonstrated a solid margin performance as most of the firm's margin and capital return metrics are above the par. LVS assumes a relatively lower level of debt as reflected by the company's below-average debt to capitalization and debt to EBITDA ratios. In terms of liquidity, LVS has an above-average FCF margin. Due to the higher profitability and the lower leverage, the company was able to maintain a safe interest coverage. Both LVS' current and quick ratios are significantly above the peer averages, reflecting a healthy balance sheet.
images

To summarize the financial comparisons, LVS' superior growth potential, profitability, and cash flow generation should substantiate a premium stock valuation. The company's larger firm size and significant revenue exposure to the high-growth markets including Macau and Singapore should also help in justifying the valuation premium. Nevertheless, the stock's current valuations at 9.6x forward EV/EBITDA and 17.7x forward P/E represent an average valuation discount of 6.6% to the peer-average trading multiples. It should also be noted that LVS' 0.59x PEG is at a whopping 48.5% discount to the peer average at 1.14x. Both valuation shortfalls suggest that LVS is likely undervalued.
As a result of a significant improvement in the free cash flow since 2010, LVS raised its quarterly dividend by 40% from $0.25 per share to $0.35 per share payable in Q1 2013. According to a chart shown below, LVS' trailing 12-month dividend payment only represents less than a half of the free cash flow generated, suggesting that there remains an ample capacity to sustain a high dividend growth.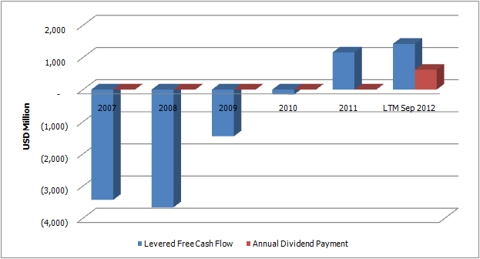 The dividend hike helped lift the forward dividend yield to about 3.3%. Given LVS' trough valuation level (see chart below) and the low-interest market environment, I believe the yield's upside is somewhat limited. Assuming a high dividend yield at 4.0% and supposing that the annualized dividend per share would be raised by just 15% from $1.40 at present to $1.61 in Q1 2014 payment period, this conservative scenario would imply a stock value at $40.25, representing only a 7.3% downside from the current market price.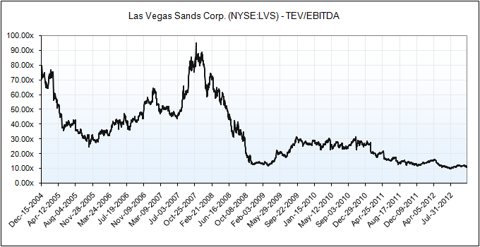 Sell-side analysts are generally bullish on the stock. Of the total 27 ratings complied by Thomson One, there are 4 strong buys and 17 buys. Credit Suisse' research analyst, Joel Simkins, elaborated on his long-term investment thesis in his recent research note (according to Thomson One, Equity Research):
"Despite the challenges LVS faced in 3Q, we are staying the course given compelling long-term growth, significant free cash flow, opportunities to monetize non-core assets, as well as limited supply growth in Macau (no capacity until at least late 2015) and Singapore (duopoly). In addition, we are encouraged by the 40% increase in the dividend in 2013, which demonstrates LVS's commitment to return capital to shareholders."
Based on LVS' 1-year average forward P/E multiple of 18.3x (see chart below), which is fairly in line with the current peer average of 18.7x, and assuming that the analysts' estimated FY2014 EPS of $3.04 would be sustained, one can arrive at a target stock price of $55.63, indicating a 28.1% upside.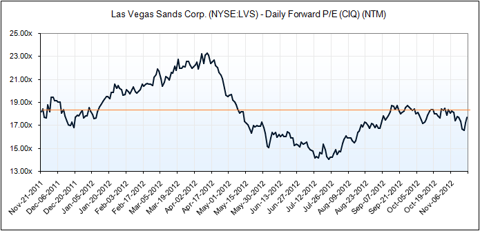 Bottom line, in the light of LVS' attractive risk/reward profile, I strongly recommend acquiring the shares now. An alternative way to potentially profit from the trade is to sell out-of-money put options if you are more comfortable with a lower valuation.
The comparable analysis table is created by the author, all other charts are sourced from Capital IQ, and all financial data is sourced from Morningstar and Capital IQ.
Disclosure: I am long LVS. I wrote this article myself, and it expresses my own opinions. I am not receiving compensation for it (other than from Seeking Alpha). I have no business relationship with any company whose stock is mentioned in this article.