The U.S. labor market continues to show signs of improvement. This is good for U.S. consumption, which in turn is good for the global economy. That is the simple equation for a sustained recovery.
Payrolls processor Automatic Data Processing said private employers added 158,000 workers in October. That was the biggest gain since February. The official government report from the U.S. Department of Labor showed non-farm employers added 171,000 jobs in October, against a consensus expectation of 125,000.
Meanwhile, the Labor Dept reported that initial claims for state unemployment benefits declined by 9,000 for the week ended October 25, 2012, to a seasonally adjusted 363,000. The consensus expectation was 370,000.
Other metrics, including consumer confidence, which as of November 1 was at its highest level since February 2008, and residential construction, also suggest the U.S. economy is turning a corner.
We remain a long way from the normal that prevailed from 1946 until 2007, as demonstrated by the chart "Improving Credit," which depicts the history of charge-off and delinquency rates for loans of all types from lenders of all types since 1985.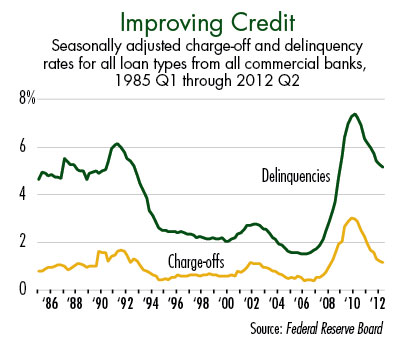 Assuming the federal executive and legislative branches negotiate the avoidance of the now-proverbial "fiscal cliff," the U.S. economy appears on the brink of a sustained recovery.
I remain, however, broadly defensive, with an emphasis on dividend-paying companies with clearly identifiable revenue streams and high-quality assets.
Two names that I like are Discover Financial Services (NYSE: DFS) and Hillshire Brands Co (NYSE: HSH).
The share price of Discover Financial Services has pushed out to a record high in the aftermath of fiscal 2012 third-quarter earnings that beat Wall Street expectations.
Net income fell 3.4% to $627 million, or $1.21 a share, from $649 million, or $1.18, a year earlier; analysts had forecast earnings per share of $1.03.
Purchases made with Discover cards increased 4% to $27.2 billion from a year earlier, while net interest income climbed 11% to $133 million and credit-card loans rose 4% to $48.1 billion. Net interest margin increased to 9.44% from 9.26%.
Discover's default and late-payment rates are the second lowest among the six biggest U.S. credit card lenders. Defaults declined to 2.19% during the fiscal 2012 third quarter, from 3.6% a year earlier. Loans at least 30 days overdue, a signal of future defaults, dropped to 1.79% from 2.49%. I continue to think that Discover Financial Services is a high-quality way to play the recovery of the U.S. consumer.
Hillshire Brands Co is one of the two entities that resulted from the split of the former Sara Lee Corp in June 2012. Hillshire's brands include Jimmy Dean, Ball Park and Hillshire Farm.
During the first quarter of fiscal 2013 (ended September 30, 2012), Hillshire posted a profit of $53 million, or 43 cents a share, versus a restated loss of $218 million, or $1.85 a share, a year ago.
Adjusted earnings per share were 51 cents, up from 32 cents. The consensus Wall Street expectation was 33 cents.
Adjusted retail sales increased 3%, as solid volumes and product mix offset weaker pricing. Retail sales margin expanded by 340 basis points to 11.7%. Adjusted food service sales declined by 1.6%, as better volumes were offset by weaker pricing and product mix. Net sales slipped 1.4% to $1.01 billion.
Management maintained its fiscal 2013 outlook for earnings per share of $1.40 to $1.55. Hillshire will pay a 12.5-cent quarterly dividend on December 31, 2012, to shareholders of record on December 3. Hillshire Brands is a great long play for its steady cash flow that backs a solid dividend.
Disclosure: I have no positions in any stocks mentioned, and no plans to initiate any positions within the next 72 hours. I wrote this article myself, and it expresses my own opinions. I am not receiving compensation for it. I have no business relationship with any company whose stock is mentioned in this article.