The shares of Amazon (NASDAQ:AMZN), the world's leading online retailer and e-commerce solution provider, are currently trading at an astronomical forward P/E of 127. Amazon went public in May 1997 and has since returned over 12,000% to shareholders. The question that haunts every long-term investor of the company is whether the share price has peaked. In this article I'll try to answer the question by analyzing the financial performance of the company vis-à-vis its strong fundamentals.
Amazon is emerging as a technology powerhouse
Everyone knows Amazon as the online retailer giant. However, few understand the extensive technology that Amazon has developed to power e-commerce and websites. Then, Amazon leveraged and licensed that scalable technology to enable other companies to become online retailers and take advantage of the cost and location advantages of online.
One of the most viable sources of revenue generation for Amazon in near future is through its Amazon Web Services or AWS division. Amazon has become one of the most significant players in cloud computing. AWS is the internet infrastructure that is the backbone of cloud-architecture based software and services. As mobile continues to expand, and internet access via mobile devices continues to explode, Amazon will benefit.
Amazon's prospect as a technology powerhouse
The company continues to invest in the "future of Internet" via cloud computing, streaming video business, and tablets. However, it will certainly face serious competition in the road ahead. Large companies like IBM (NYSE:IBM) and many small companies could detract Amazon in its cloud computing business. Netflix (NASDAQ:NFLX) in the streaming videos would be a tough competitor. Google (NASDAQ:GOOG), Apple (NASDAQ:AAPL) and Microsoft (NASDAQ:MSFT) in tablets would emerge as arch-rivals.
Let's shift our focus at the FCF-sales ratios (free cash flow/revenue) of Amazon and its rivals, the higher the better:
| | |
| --- | --- |
| Company | TTM FCF-Sales Ratio |
| Amazon | 1.8% |
| IBM | 15.48% |
| Netflix | 5.7% |
| Google | 26.6% |
| Apple | 26.4% |
| Microsoft | 40.2% |
The ratio of free cash flow to sales is a measure of how much of a company's revenue is transformed into cash. Some investors prefer using free cash flow instead of net income to measure a company's financial performance, because free cash flow is more difficult to manipulate than net income.
While Amazon's revenue continues to be impressive, operating income and net income are lagging. Cash flow from operations and free cash flow growth are slowing and expenses are beginning to outpace growth in revenue. From that point of view Amazon appears to be a risky tech stock at current price.
Does Amazon have the same durable competitive advantage it had five years ago?
Legendary investor Warren Buffett analyzes companies by calculating return on invested capital, or ROIC, to help determine whether a company has an economic moat -- the ability to earn returns on its money above that money's cost. Of course, it's not the only metric in calculating durable competitive advantage or economic moat in terms of value, but ROIC is certainly the most important one. The higher the ROIC, the more efficiently the company uses capital.
Amazon's costs are escalating at a rapid pace. Fulfillment costs are rising out of proportion with revenue. Those include costs of operating and staffing customer service centers. Fulfillment costs don't include shipping and packing materials costs, or the cost of digital content that is streamed. Those come out as cost of goods.
Escalating costs result in erosion of operating margins. Along with declining operating margins, Amazon's ROIC (return on invested capital) is no longer a source of cash generation and value creation. This will eventually show up in shrinking bottom-line and declining earnings per share even as revenue continues to grow.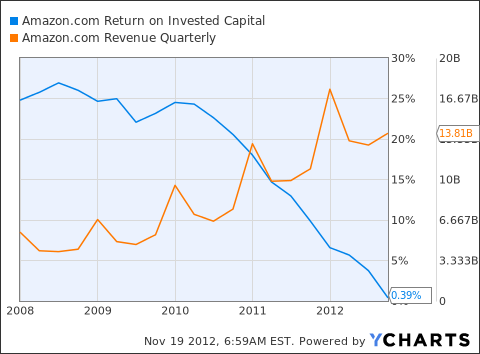 AMZN Return on Invested Capital data by YCharts
Technical Analysis
Technically the stock is trading in over-sold territory, as signaled by the RSI and MACD. A dead cat bounce may be in the cards. But I do believe any such bounce will be a selling opportunity.
The stock has created a double-top in September and October. A head and shoulder pattern is in place along with the 20-Day and 50-Day SMAs approaching the 200-Day SMA. Overall the setup is extremely bearish. Bulls will try to defend the 200-Day SMA that is currently located around $220 level, but most probably they won't succeed.
The bottom line: Amazon may have peaked
The margin of safety or risk-reward ratio is unfavorable for Amazon bulls, at the current price near $225 a share. However, it is always possible for the bulls to take control one more time. I would recommend selling the stock on every rise.
Disclosure: I have no positions in any stocks mentioned, and no plans to initiate any positions within the next 72 hours. I wrote this article myself, and it expresses my own opinions. I am not receiving compensation for it (other than from Seeking Alpha). I have no business relationship with any company whose stock is mentioned in this article.