The recent weakness in the overall market has not spared defensive stocks or low volatility stocks, which are dominated by utilities and consumer staple firms. The S&P 500 Low Volatility Index, which we view as an attractive way to earn an equity premium, with downside protection, is largely comprised of defensive sectors. The utility and consumer staple sectors currently represent ~58% of the low volatility index.
While there has been a rally call around dividend paying stocks, there remains a dislike for the utility sector. Please note this from fellow Seeking Alpha Contributor Russ Koesterich:
While I'm comfortable with dividend paying stocks in general, there is one major exception: U.S. Utilities. .... Today, U.S. utility companies are trading at a slight premium to the broader market. Should the preferential rate on dividends expire, I believe the utility sector may be uniquely vulnerable because it is likely to suffer significant multiple compression.
Mr. Koesterich didn't provide specific details of the premium so I will take the liberty to provide an alternative view (with numbers). Based on current market valuations of the top 10 holdings in the Utility Sector SPDR (NYSEARCA:XLU), I estimate the utility sector is currently trading at an approximate 10% discount to what the sector's long-term valuation metrics would otherwise indicate.
While most valuations are done with earnings multiples or discounted cash flows - I am providing an alternative metric - Enterprise Value-to-Invested Capital (EV/IC). This valuation metric is based off of the concept of "economic value added" or EVA. Essentially a company creates value when the economic profits of the company are greater than the cost of the capital deployed, otherwise known as invested capital. When the cost of the capital is greater than the profit returned on the capital - then the enterprise value should be less than the invested capital. (The short hand calculation for invested capital is the total assets of the firm net of non-interest bearing current liabilities (NIBCLS).)
The utility group is a capital intensive sector with modest growth and one that is highly regulated. Therefore one would expect that valuations in the utility group would approximate the capital deployed. We use a 5 year horizon to help smooth some of the business cycle fluctuations and provide a more normalized set of implied values. The implied valuations are not explicit forecasts but an indication of what the market has typically paid for the sector. The current market value is currently at 90% of the implied value based on valued each dollar of invested capital at only $0.86. Not the characteristics of overvaluation in my opinion.
Figure 1: Top Ten Holdings of XLU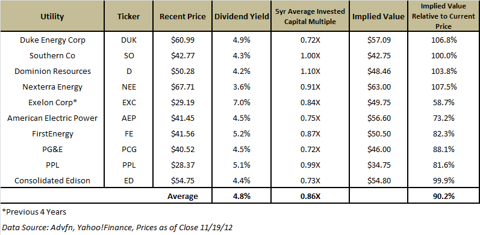 Reviewing the EV/IC multiples also helps identify specific investment opportunities within the group. One example that should be on a value investor's radar is Exelon Corporation (NYSE:EXC). An improvement in the company's profitability could provide upside to the current valuation.
Figure 2 shows the decline in market value added over the past 5 years for Exelon despite its invested capital expanding. If Exelon shows any signs that management can improve its return on invested capital - then company shares have significant upside. The company is trading at 59% of its implied value, which is based on an EV/IC multiple of 0.84X, slightly below the group average. Unfortunately management's recent purchase of Constellation Energy has only made matters worse. (Exelon's purchase of Constellation occurred in Q1'12 and reflects the large jump in invested capital.)
Figure 2. Exelon Corporation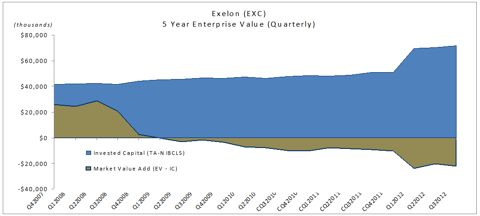 To put Exelon's market decline in perspective, Figure 3 shows Dominion Resources' (NYSE:D) change in value over the past 5 years. Dominion is the only utility of the group that over the past five years has been rewarded a premium for its capital at 1.1X its capital (and versus Exelon's .84X). I estimate that Dominion Resources is currently trading at fair value (103% of implied value) based on its long-term average. Therefore I would be more optimistic that values for a company like Exelon could improve rather than the sector to pull back as a whole.
Figure 3. Dominion Resources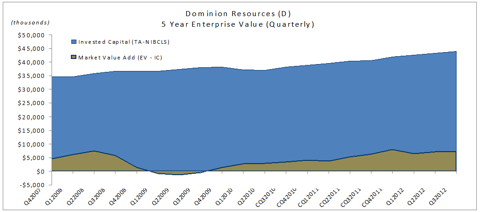 Conclusion
The low beta, high dividend sectors have seen recent market value declines along with the rest of the market. The utility sector has been flagged as one sector to avoid based on some valuation measures relative to the rest of the market. Based on our analysis of the long-term valuations based purely on the sector's invested capital - we would argue that the sector's recent pullback of ~10% (measured by the XLU sector ETF) has put the sector at a modest discount.
Furthermore, value investors should monitor Exelon Corporation as a potential turn-around candidate. The company trades at a significant discount to its invested capital even when each dollar of invested capital is discounted by 16%. That would be in our opinion a fair margin of safety to start with.
Disclosure: I have no positions in any stocks mentioned, and no plans to initiate any positions within the next 72 hours. I wrote this article myself, and it expresses my own opinions. I am not receiving compensation for it (other than from Seeking Alpha). I have no business relationship with any company whose stock is mentioned in this article.