Dorman Products, Inc. (NASDAQ:DORM), an automotive aftermarket supplier, reached its 52-week high of $34.00 on Nov. 6, less than a week after announcing strong third-quarter results that included an earnings surprise of nearly 15%. With strong demand for its products and double-digit growth in expected earnings, this Zacks No. 1 Rank (Strong Buy) offers a lucrative opportunity for growth-seeking investors.
New Products Fuel Q3 Growth
On Nov. 1, Dorman Products announced earnings of 54 cents per share for the third quarter, outpacing the Zacks Consensus Estimate of 47 cents by 14.9%. It also beat last year's 41 cents.
Revenues grew 20% to $156.4 million, driven mainly by burgeoning demand for its products. The company generated higher revenues from recently launched products as it has introduced roughly 2,500 new parts in 2012, including over 630 dealer-only parts.
Gross margin increased to 38.2% from 37.2% in the year-ago quarter. The increase was attributable to a favorable change in sales mix, lower transportation costs, and lower provisions for excess and obsolete inventory.
Earnings Momentum on an Upswing
The Zacks Consensus Estimate for 2012 went up 2.8% to $1.85 per share in the past 30 days, driven by upward revisions from two of three estimates. For 2013, the Zacks Consensus Estimate is up 4.3% to $2.17 based again on upward revisions from two of three estimates. The estimates for 2012 and 2013 suggest year-over-year growth of 20.7% and 17.1%, respectively.
Expensive Yet Justified Valuation
Valuation of Dorman Products looks expensive. The price-to-book ratio of 3.1 times is at a significant premium of 121.4% compared to the peer group average of 1.4 times. Its price-to-sales ratio of 2.0 is also at a considerable premium with respect to its peer group average of 0.6. However, the company has a higher one-year ROE of 19.3% compared to the peer group average of 11.2%. The expensive valuation is justified given the company's strong product lineups and continuous improvement in retail sales environment.
Impressive Chart
The stock started outperforming its 50-day and 200-day moving averages from the fourth quarter of 2011. It is currently moving sideways with the 50-day moving average, which stands at $31.00.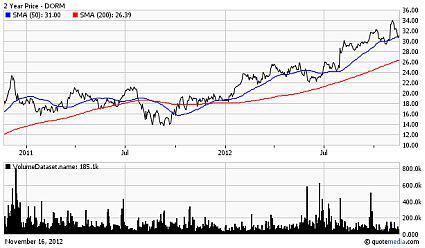 Incorporated in1978 and headquartered in Colmar, Penn., Dorman Products is a supplier of automotive replacement parts and fasteners and service line products for the automotive aftermarket. The company offers nearly 128,000 different automotive replacement parts, fasteners, and service line products, primarily in the U.S. through renowned aftermarket retailers including AutoZone Inc. (NYSE:AZO), Advance Auto Parts Inc. (NYSE:AAP), and O'Reilly Automotive Inc. (NASDAQ:ORLY); national, regional and local warehouse distributors such as Carquest and NAPA; and specialty markets and salvage yards. It also distributes its products to international locations such as Europe, Mexico, the Middle East, Asia, and Canada.
Read the full analyst report on DORM (email registration required).