Over the course of the last week Sirius XM (NASDAQ:SIRI) seemed poised to test the 50 day moving average and perhaps even test the 100 day average. This is normal behavior for an equity fresh off of a sprinted run to 52 week highs. Even with the outlook for 2013 being positive from a financial standpoint, it is a rare occurrence that an equity does not take a small breather and settle down a bit. With Sirius XM recently it seemed a question of whether or not the breather would take the equity to $2.50 or not.
In the midst of a technical retracement Liberty Media (LMCA) stepped in and made open market purchases that not only seemed to quell the dip, but hold the equity to levels right around the 50 day mark instead of lower. If you are a long term holder that was a welcomed event. If you are an active trader playing the technical moves it literally threw a wrench in your works. Alas...That is how the market works.
If you consider how NASDAQ counts volume, Liberty Media stemmed the downtrend on November 15 with a nearly 17 million share buy. That would account for almost 34,000,000 shares of the volume (NASDAQ counts the buy and the sell) on a day where volume came in at almost 123 million shares and the equity tested $2.55!
The biggest question now for active traders is whether or not Liberty is done buying. The last time that Liberty Media stopped buying the equity did the quick retrace that technical traders had been anticipating. Will it happen again?
The first bit of information to understand is how much room Liberty Media has to buy more shares. As of this writing the Liberty Media stake stands at about 49.24% on a converted basis. The company is about 50 million shares shy of the 50% threshold. Essentially that means that Liberty Media has room to defend the stock price further if it so desires. That is an important piece of information for active traders that like to play the ranges.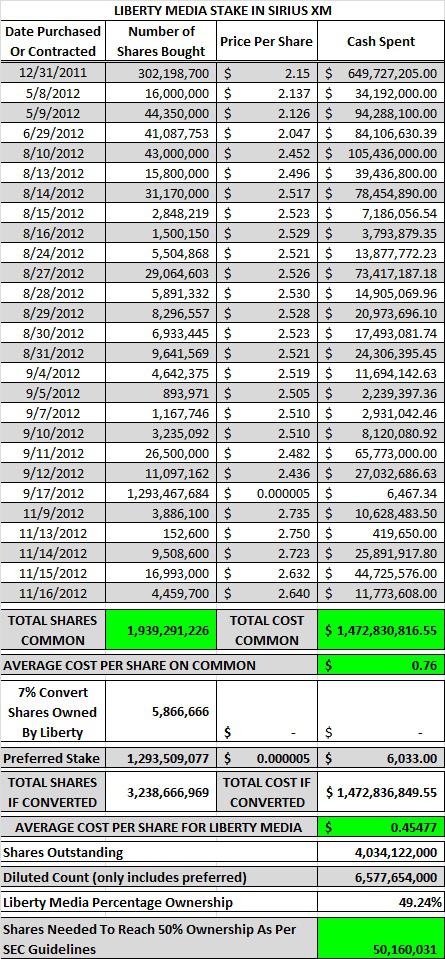 Personally I do not see Liberty going right up to the threshold. Perhaps they stop at 40 million shares. If the company goal is indeed to defend the price at current levels, it can do so with strategic buys over the next several trading sessions.
Why would Liberty defend the stock price? It has every reason to. The open market common shares and forward purchase shares bought by Liberty carry an average cost of about $2.28 per share. These represent the shares that Liberty has spent nearly $1.473 billion on and the company is seeking to extract that money back out of Sirius XM in one way or another over the next 18 to 24 months. The popular consensus is that Liberty will be able to accomplish this via a share buyback or perhaps even a dividend.
What we know is that Liberty Media has stated that it would be a willing participant in a share buyback without increasing its percentage of ownership. Simply stated it means that if Sirius XM were to buy back shares, Liberty Media would sell one of its shares for every non-Liberty share bought back. If that is indeed the case, it makes sense for Liberty to be on the cusp of a 50% stake prior to a buyback being announced. In addition, keeping the share price well above the average cost for Liberty makes such a transaction profitable, and could even provide the funding required to eventually take its stake over 50%.
The dynamics here are quite interesting. Many analysts have built share buybacks into models when arriving at price targets that are in the $4 per share range. Sirius XM did not offer up 2013 guidance, and in fact, seemed to indicate that share buyback activity may not begin in 2012 as some analysts had modeled. In essences, the very models that show loftier price targets may now be off if share buybacks become delayed much beyond the next two quarters. Simply stated, we now have uncertainty as it relates to this equity in terms of the Liberty Media dynamic.
Make no mistake, Sirius XM is in a good place financially speaking. The numbers in 2013 should be impressive and deliver higher margins, healthy Free Cash Flow Growth as well as higher EBITDA. The uncertainty relates to whether or not a perfect storm of the financialsand share buybacks will coincide. If it does, the stock price can challenge the high price targets. If not, those targets could be much more challenging. Time will tell.
What we know is that Liberty Media has stated to the FCC that it will not go over 50% until the FCC rules on de jure control. The comment period is over, so we could get an FCC answer late in Q4 or early in Q1 of 2013. Liberty is essentially capped at 50 million more shares unless there are additional options exercised and sold by current management. Liberty still has room to defend the stock price, but it is closing in ion its final possible purchases that can happen prior to an FCC decision.
Will Sirius XM test $2.50? That remains to be seen and a lot depends on whether Liberty continues to be an active buyer. If Liberty stops buying, $2.50 is possible. All we can do is watch the volume and watch the SEC filings.
Disclosure: I am long SIRI, LMCA. I wrote this article myself, and it expresses my own opinions. I am not receiving compensation for it (other than from Seeking Alpha). I have no business relationship with any company whose stock is mentioned in this article.