Over the months I have been a frequent contributor and reader of Seeking Alpha's StockTalks, and it's a pretty common occurrence to hear about investors wanting more shares of Seadrill Limited (NYSE:SDRL) - on a nice pullback. Unfortunately, that pullback has been in hiding, with Seadrill demonstrating tremendous strength over the past year. Personally, I too have been waiting for a pullback in the name, and on Friday I think we got one.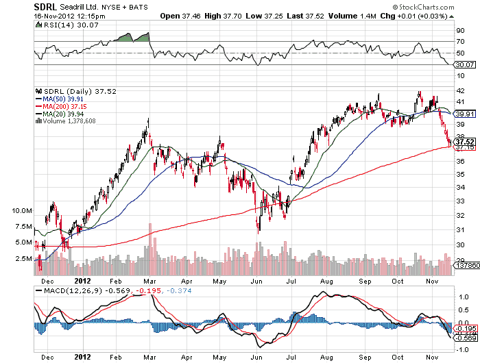 Source: Stockcharts.com
Technically speaking, Seadrill has had very strong support around the 200-day simple moving average, (red line). While both the 20-day simple moving average (green) and the 50-day simple moving average (blue) are beginning to converge on the 200 day, typically displaying downside momentum, Seadrill has shown to hold the 200-day rather well.
Last December, Seadrill traded down near the 200-day, then around $30 before moving up nearly in a straight line, to almost $40 a share, a gain of roughly 33%. Eventually the price retreated in May and early June, along with the rest of the market, and again breached the 200-day sma. For about three weeks it traded around that mark, slightly over and slightly under at several times before making another run for new highs. This time the move was from ~$32 to $42, an approximate 31% move.
With an RSI of 30.07, it is suggested that Seadrill is oversold, with an upcoming bounce in the near future. While I believe this to be true, I am trying to capture the longer, more powerful move, like the two from earlier this year, each of which netted over 30%.
Seadrill is a contractor for offshore drilling companies. Lately, especially this past year, as noted in a thorough analysis by EFsinvestment, Seadrill has done an impressive job winning contracts, making them a cash-flow machine. While Seadrill does operate with a rather high debt load (~1.70 debt-to-equity ratio), the impressive grip they have on high-payout contracts will lead to solidified streams of future income.
Below is a look at a Reuters Company Profile Summary, with important pieces being italicized. Also, an asterisk has been added where key statistics were added by myself. For example, "SDRL's debt to equity ratio (1.70)* indicates..." where the figure, (1.70), was added by me for the benefit of the reader.
Debt-To-Equity
SDRL's debt to equity ratio (1.70)* indicates that it has been more aggressive with using debt to finance growth than 86% of its peers in the Oil Well Services and Equipment industry. The resultant effect on earnings would be more volatile than related companies.
Return On Equity
The Return on Equity (14.05%)* for SDRL shows that it is able to reinvest its earnings more efficiently than 76% of its competitors in the Oil Well Services and Equipment industry. Typically, companies that have higher return on equity values are more attractive to investors.
Profitability
SDRL's Gross Margin (62.53%)* is more than 93% of other companies in the Oil Well Services and Equipment industry, which means it has more cash to spend on business operations as compared to its peers. As indicated by the Operating Margin *(43.51%), SDRL controls its costs and expenses better than 97% of its peers.
Dividend Payout
SDRL's dividend yield (9%)* is greater than 85% of other companies in the Oil Well Services & Equipment industry. As indicated by the payout ratio *(164.98%), SDRL's earnings support the dividend payouts more than others in the group.
Source: Reuters
Many who are deciding on investing in Seadrill look to do so because of the dividend, and rightly so. Seadrill yields nearly 9%, with a current quarterly dividend payout of $.84. With Seadrill, it all depends on how well business is going when determining what the payout will be. When times are good, the dividend is high and often times include special dividends too. Vice-versa, when times are bad the special dividends are gone and the normal dividend is slashed - sometimes to nothing.
However, while Seadrill's dividend can sometimes be in limbo, that's no reason to turn the name down in this current environment. While in late-2008 Seadrill did suspend its dividend and did not resume until late-2009, it has been on the rise ever since. November 23, 2009 was the first dividend payment since halting it in 2008, for $.50. Since then however, the dividend payout has increased in 11 out of the last 12 quarters, as well as 2 special dividends in that time span.
I expect the yield to continue to rise in the coming quarters, and even expect the special dividend to increase as well. The previous payout for the special dividend was $.20 and $.15, respectively. By securing future contracts it locks in future revenues, which means that Seadrill will not likely have any issues maintaining, as well as raising, their dividend payouts.
Usually I use options to leverage my positions and limit my risks, but I think owning the outright shares of Seadrill is a better strategy. While investors, as well as myself, could look to use options as a hedge or enhance returns, I think the dividend yield coupled with capital gain potentials are too enticing to not own the outright shares. With a constantly increasing dividend and potential for special dividends along the way, I think Seadrill is a buy.
Disclosure: I have no positions in any stocks mentioned, but may initiate a long position in SDRL over the next 72 hours. I wrote this article myself, and it expresses my own opinions. I am not receiving compensation for it (other than from Seeking Alpha). I have no business relationship with any company whose stock is mentioned in this article.