This past Friday, Research In Motion's (RIMM) shares experienced nearly a 5% gain. In addition to the gain, heavy volume of 35 million shares traded vs. the average daily volume of 25 million. On the following Monday and Tuesday the rally continued, so much so that the once-bearish Jefferies has made an about-face.
This article will attempt to answer what has caused this surge, and the why behind all of the action with RIMM to the upside. The analysis will begin with examining Friday's chart below.
Friday's Chart of RIMM
Click to enlarge images.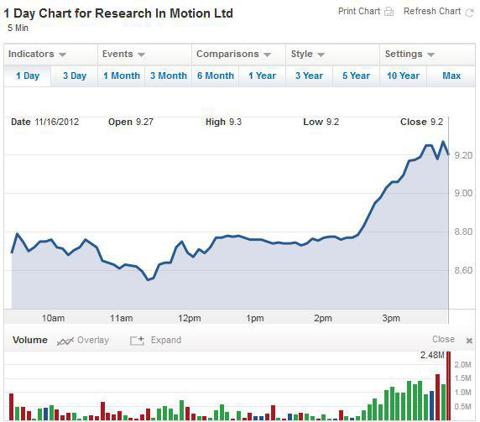 Looking at Friday's chart, notice how most of the trading and gains occurred near the end of the trading day. Also note the support, and the close of $9.20. The $9.20 support level held even through there was an aggressive unload of 2.5 million shares near the close of trading.
For additional perspective of this move, and of the $9.20 close, examine the six-month chart of RIMM below.
Six-Month Chart of RIMM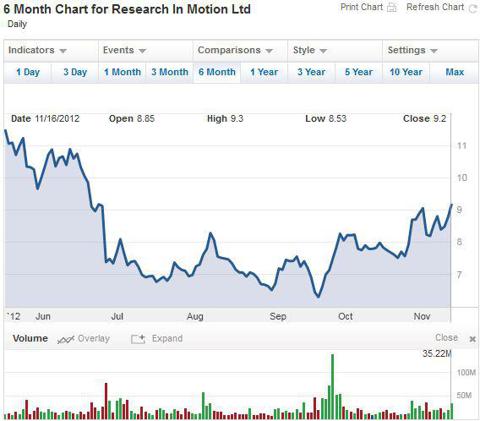 Looking at the six-month chart, notice how a straight line could be drawn from the June 28, 2012, close of $9.13 to this Friday's close of $9.20. A line straight across shows that RIMM was able to trade at levels on Friday not seen since June 2012.
This is an obvious positive result, and the uptrend becomes quite apparent and noticeable in the three-month chart of RIMM below, using linear regression to illustrate.
Three-Month Chart of RIMM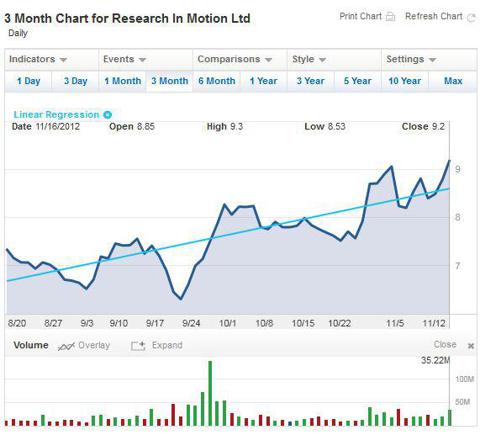 Readers will notice the clear low of $6.22 in the three-month chart, and the line moving up. This uptrend is holding after some profit taking and volatility. Essentially, RIMM has pushed through any resistance in making its way back to the June lows.
RIMM's Rally Since Friday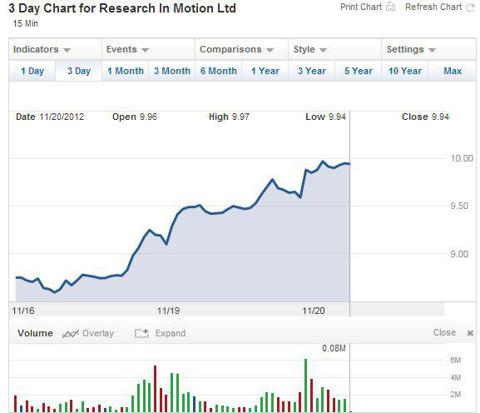 RIMM briefly flirted with and popped above the $10 mark. The bullish sign is reinforced with a look at RIMM's MACD, which registers a strong bullish trend.

Most of these recent gains and volume could be attributed to the hype of the BB10 launch in January. However, another view -- as mentioned in my article from Sept. 26 -- was that the recent service outage and subsequent sell-off was a gross overreaction.
The only reason, in my view, why RIMM shares were in the valley of sub-$9 was due to the postponement of the BB10 launch date, and the service delay overreaction. Since both of these have been resolved, RIMM should be trading back at levels prior to those events.
For additional perspective, a summary of what the bulls and bears have been saying is listed below.
RIMM Fundamentals (for Quick Reference)
P/B: 0.5
PTBV: 0.8
P/S: 0.3
MCAP: 4.75B
What the Bulls Say
Cash of $2.3 billion, and comparing this cash level to RIMM's current market cap
No debt
Other assets available to tap if more cash is required, such as un-mortgaged real estate
BB10 launch is a reality and the phone has been presented to carriers for testing; furthermore, the phone will be in stores soon after launch
80 million subscribers, which grew from last quarters 77 million
60 million subscribers use BBM, and can now use VOIP via WIFI
100,000 qulaity apps at launch vs. 1,500 solitaires, and apps that have never been downloaded as will Apple (NASDAQ:AAPL) and Google (NASDAQ:GOOG) Android products
BlackBerry Balance -- a secure solution to the BYOD issue; CIOs/CTOs will have to consider this dual secure profiles vs. the cesspool of Android apps, or the recently hacked Windows 8 phone (Mircosoft's (NASDAQ:MSFT) new phone offering)
High security and achieving the FIPS 140-2 -- a high percentage of current RIMM customers are government customers, and they will now be able to upgrade to the BB10 at launch
New innovations, such as BB flow, flick, adaptive language, and camera features
A new phone, some consumers just like what is new (the "gadget geeks")
QNX licensing for smartphones, Hiens has met with other CEOs to discuss licensing deals -- perhaps hardware manufacturers like Samsung and HTC will want an alternative to Google Android OS
QNX licensing across automotive and other industries such as medical, nuclear power plants, etc. (I noted where QNX is going in my article here, as well as Kurt Windibank's article here)
Other patents, which can be used to sue, and strengthen a position as an original product
Conservatively, one-eighth of the existing RIMM user base of 80 million could upgrade to BB10, resulting in 10 million initial unit sales of BB10s
5,000 legacy workers have been trimmed at RIMM to improve margins
Huge short interest in RIMM shares nearly one-fourth, making a good potential for a short squeeze
If BB10 launch is successful, EPS for RIMM should be in the $2 to $4 range
Warren Buffet of the North Prem Watsa is now on the board, and owns a significant stake in the company, as well as new board members such as Barbara Stymeist -- the independent chairwoman of the board
Thorsten Heins has a proven past in turnaround efforts, is innovative, and has thus far shown his efforts at RIMM are working; generally, a new management shuffle across the company
RIMM still makes monthly residual revenues from the use of its networks
Blackberry Flow, Blackberry Hub, and Time shift
What the Bears Say
RIMM will burn through its 2.3 billion in cash within the next 12 months
RIMM is missing the key holiday season for its launch
There will be a loss of subscribers who will not wait till launch, or will not come back
QNX and BB10 are not new or innovative enough to impress users that have already switched to other products
There is only room for one or two companies in the smartphone market, and since RIMM is not one of them it has already lost and cannot make a comeback
BB10 will be too little to late, or will be dead on arrival
Some organizations and CEOs have made the switch from RIMM -- why would they go back?
Consumers don't think the phone is cool enough, and it doesn't have 400,000 apps to choose from
Overseas subscribers don't really matter, they are low-paying, and all that really matters is market share in the U.S.
QNX does not offer a substantial revenue stream to make any difference in RIMM's financials
Employees and consumers have heavy pull in what happens for device usage, and choice at their work (BYOD), so if employees choose AAPL, MSFT, or GOOG products, then the company will bend to their will and desires (companies can save costs and keep employees happy)
Perception of pop culture and teens, as they do not view BB products as cool
AAPL is cheaper P/E-wise and had greater EPS
BBM is irreverent due to apps such as WhatsApp
Playbook was a flop, so BB10 will be a flop -- there are no lessons learned
What the Fence-Sitters Say
Due to all of the unknowns, it is better to take a safe, and balanced approach. One suggestion out there is writing covered calls as mentioned here, or waiting until the BB10 is successful -- more analysts upgrade the stock, then jump in.
What I Say
In closing, I feel as if the shorts have already been squeezed from the $6.22 low and valley to $9.20 close as of Friday. Unless, of course, the shorts "shorted" very high. However, the bandwagon shorts are now out of play. What will be interesting to see is what the numbers look like for this upcoming quarter. This may cause a retest of some lows, or even push to a new high.
My prediction is that RIMM will return to the TBV of about $12 near the launch of BB10, even though there will be some volatility due to profit-taking and additional shorts covering. If the BB10 is received well, expect RIMM to make its way all the back to the book value of $18. From there, if the EPS gets cranked out in preceding quarters, expect $23 to an even possible $30 to $40 range.
That being said, if the bears are right and BB10 is a flop, then expect a game over or dismal share performance of $4. That is why purchasing late-dated calls, writing covered calls, or the bull put spread might be the safer way to play vs. going just long the shares.
Charts courtesy of RBC Direct Investing.
Disclosure: I am long RIMM. I am long RIMM 2014 calls. I wrote this article myself, and it expresses my own opinions. I am not receiving compensation for it (other than from Seeking Alpha). I have no business relationship with any company whose stock is mentioned in this article.