Many months ago I wrote an article that described why I thought Ford (NYSE:F) was not a good investment in the interim term of 6-9 months. In the article I laid out bearish viewpoints that ultimately led to lower prices. However, things have changed in Ford, and the outlook (with the exception of the Fiscal Cliff) are looking bright once again. I was bearish on Ford earlier this year, but that was then, and this is now.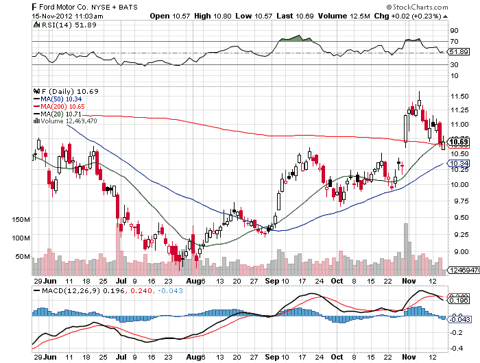 Source: Stockcharts.com
Technically Speaking
Ford is looking positive in many lights. While the 50-day simple moving average (blue line) is below the 200-day simple moving average (red line), and is considered bearish overall, it has begun closing on it very fast. If the 50-day is able to break through the 200-day, it will form what is known as a "Golden Cross," a very bullish setup for technical traders. The 20-day simple moving average (green) is above the 50-day sma, another bullish sign, and just broke through the 200-day sma, as a potential sign of things to come for the 50-day sma.
Also, over the last month, Ford has been rather strong, outperforming the S&P 500 (NYSEARCA:SPY) by 10%, gaining 4% in that time span versus -6% for the S&P, respectively. The recent strength has gone on to prove a more recent article, where I thought Ford may be gaining strength, but had not yet held a position. I was originally waiting for a retreat to the 50-day sma, which was around $9.50.
However, as you can see on the chart above, Ford looks to have significant support around the 200-day sma. If this level can hold, then Ford will be, in my opinion, a buy. Before getting into any fundamentals, let's take a look at the trade:
Trade #1
BUY 1 June 7.00 Call @ 3.90
Net Debit (Max Loss): 3.90 ($390)
Delta: 99
Trade #2
BUY 1 January 2014 5.00 Call @ 5.85
Net Debit (Max Loss): 5.85 ($5.85)
Delta: 98
I really like both of these positions and they're essentially the same. They are both a bullish play, both have high deltas, and both are comprised nearly of 100% intrinsic value. That last point is pretty important for stock replacement: intrinsic value. For those who aren't aware, intrinsic value is how much actual, tangible value is within the call option. By being so deep-in-the-money, (callable at $5 and $7 per share, respectively), time value is nearly eliminated from the equation, even though these options expire in 8 months and 14 months, depending on which one you choose.
In fact, that is the only difference when looking at these two options plays. The first, Trade #1, expires earlier (in June) than Trade #2, (January 2014). The only real difference is how long you believe it will take for the intended move to take place. For me, I'm not trying to time the move, I'm replicating owning the stock, rather than purchasing the shares outright.
Should you want to own 100 shares of Ford, it will currently cost you around $1,085. But let's say you purchase 1 June 7.00 call option, you would only have to pay $390, or about 1/3 the price of the original 100 shares. Since the option trades with an extremely high delta (99) and is comprised of mainly all intrinsic value, the price of the call will move in lock-step with the underlying price of Ford, whether it's up or down.
Fundamentals
The only real disadvantage of owning the call options over the stock, are some of the benefits that come with owning stock in the first place, such as voting rights and dividends.
Ford's dividend, which was recently declared unchanged at $.05 per share, is paid out quarterly. In my opinion, the dividend yield (~1.75%) isn't enough of a reason for me to own the actual shares over call options.
Even though Ford didn't raise its dividend this quarter, it's also comforting to know that it has the money to do so, whenever that time may be. Also, there has been a lot of speculation about when current CEO Alan Mulally will retire. In a recent press release, when many may have thought the possible announcement of a new CEO was in the works, Ford confirmed that Mulally would remain in his current role until at least 2014.
This is great news to any shareholder, or soon-to-be shareholder of Ford. Mulally, who steered Ford clear of government bailout funds in 2008, was able to cut costs, adapt to harsh economic conditions, and keep Ford from filing bankruptcy, something other automakers, such as General Motors (NYSE:GM) had to do. With another tough ride imminent and Europe becoming more of a disaster than ever, Mulally is just the man shareholders will want in the captain's chair.
Though it has sparked some uproar in Europe, Ford has recently announced it would be closing down three European plants due to the low demand in the region. The idea is to cut costs, even though it hurts those who work there. Moves like this will help improve Ford's balance sheet and help contain European losses - which is now estimated at $1.5 billion, up from $1 billion, for 2012.
By closing these three plants, two of which are in the U.K. and the other in Belgium, should help Ford lower its capacity by 355,000 units, or close to 18% of production. The U.K. plants are planned to be shut down by mid-2013, while the Dutch plant will be closed in 2014. It is estimated that Ford will save up to $500 million, something that will help not only contain losses, but get Ford operating on a more efficient basis in the region.
Despite all of these headwinds, Ford recently shocked many investors and analysts by beating its recent earnings. Strong domestic sales were able to edge out European losses, which topped $460 million this quarter. I think Ford will be able to overcome losses in Europe long enough to become prosperous in the region -- expected to be around mid-decade -- while still posting strong domestic numbers in America, which is one of the main reasons I am bullish on Ford.
Of the "Top 20" vehicles, Ford has four models included, the most of any one automaker. Aside from having the most models in the top 20, Ford also owns the top spot with its Ford F-Series, selling 56,497 models in October, bringing its year-to-date sales up to 520,230 and up 10.9% from the previous year. In terms of growth, the Ford Focus has seen the biggest increase in sales this year, up 36.9% from last year and Ford saw a 47.9% in Focus sales from the previous October. Despite selling 205,006 Focus models, it finished third in Ford sales behind the Escape, as 219,907 units have been sold year-to-date. Below is a chart of "Pickup Truck Sales In America - October 2012":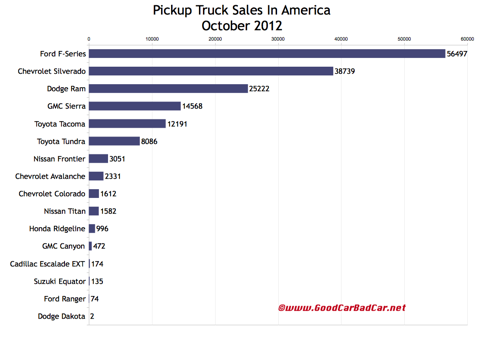 source: goodcarbadcar.net
When comparing who took home the most pick-up sales last month, let's consider what share belonged to Ford. Of the 165,732 pick-ups sold, Ford sold 56,497 of them, as discussed above. That represents over 34% of sales for that month. While Ford has a dominating position in the truck market, it's looking for penetration in the minivan market, something that will likely change over the coming years.
While analysts aren't always spot on with the stocks and where they should be or will go, it's worth keeping an eye on. Of the 24 analysts covering Ford, there are 5 "Strong Buys," 9 "Buys," and 7 "Holds." There are no analysts sporting an "Underperform" or a "Sell" opinion. The low target amongst analysts is $12.00 and the high target is $20.00, with the median target being $14.00.
This option play is nice, whether you choose the June 2013 or January 2014 expiration. Depending on which one is selected, one could purchase 2 to 3 times the amount of shares (in options form) for the price of 100 outright shares of Ford. This is some of the leverage that one can gain when using options, while still having the value of the position move nearly identical to the stock.
For me personally, I will be looking at establishing a long position in the January 2014, 5.00 call options and possibly selling out-of-the-money call options in front-month expirations. This will reduce the overall price of the long call option, and can do so drastically when the process is repeated several times over the span of the option's life.
Disclosure: I am long F. I wrote this article myself, and it expresses my own opinions. I am not receiving compensation for it (other than from Seeking Alpha). I have no business relationship with any company whose stock is mentioned in this article.