On Terex's (NYSE:TEX) 3Q 2008 earnings conference call Friday, management prefaced their comments with the statement, "These are unusual times…Terex is prepared for the current environment and is managing with a focus on cash."
Spot on guys. These are unusual times indeed, with dislocations in valuations and inexplicable events that are bound to confound the most seasoned investor, Terex management included.
They went on to describe how two divisions (Aerial Work Platforms and Construction) will be downsized significantly to match the imminent downturn in activity, and that the order books in their Cranes and Mining divisions are still relatively robust. This permitted a 2009 sales forecast in line with 2008, and although an earnings forecast was not stated, earnings of an equal order ($5-6 for 2008 and 2009) should have led to an impressive rebound in the share price after a precipitous drop in the past 3 months- a global infrastructure play on a PE of 2 or 3- that's attractive on any investment-metric, even in this environment!
Yet Terex's share price has fallen about 10% every single day (yes every day!) since the announcement, and over the last three months it has now massively underperformed its industry peer, Caterpillar (NYSE:CAT).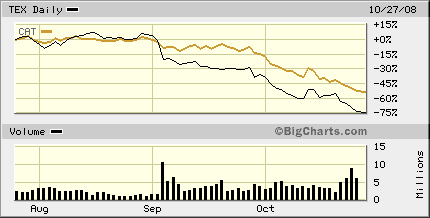 So what's so fundamentally wrong with Terex? What are the company specific issues that have led to this painful carnage?
Cash flow for the quarter and indeed for the 9 months this year is poor, but there should be a significant unwinding in working capital in the fourth quarter, given the seasonality of the business and given that sales growth will now moderate. In 4Q 07, it produced $395m from operations and this should be paralleled this time round.
I have no issue with management and their intentions to this point- their stated policy of downsizing to rescale business in a credit environment starved of oxygen is undoubtedly prudent and correct.
But I have a monumental objection to their proceeding with the Fantuzzi acquisition, which was conceived 6 months ago, is about to consummated, and will cost them $267m.
Here's the excerpt of their conversation on Fantuzzi with an analyst from Merrill Lynch.
Andrew Obin - Merrill Lynch
Most of my questions have been answered. But just in terms of Fantuzzi, philosophically speaking, is there a set of circumstances that under which you would consider walking away from that deal? And can you do it from a legal perspective?
Ronald M. DeFeo - Chairman of the Board and Chief Executive Officer
I don't think, Andrew, it would be appropriate to even speculate about that at this point in time. We have a contract. It's a good business. We think the business will be nicely additive to the company. So, I don't want to speculate.
Andrew Obin - Merrill Lynch
What's the… is there a breakup fee on the transaction?
Ronald M. DeFeo - Chairman of the Board and Chief Executive Officer
I have no comment on that really.
Andrew Obin - Merrill Lynch
Okay. Thank you very much.
I am still trying to comprehend the stupidity of this view. It may well be a good business and additive in time, but does management have any inkling about the severity of the credit downturn we face, a contraction in cash that is only likely to get more severe in the coming months? It simply contradicts the most basic conventional wisdom of these unusual times. The numbers: they intend to proceed with a transaction which will give them 6% of their sales (about $600m), which is currently loss-making, and will cost them 22% of their current market capitalisation! (At the current share price the market cap is $1.2bn- so to repeat, one tiny (loss-making!) business giving 6% of sales is being paid for with 22% of the entire worth of a company that has taken decades to grow. No, oh please no!)
Terex, you are not managing your business for cash if you don't walk away from this proposition. It would not only be imprudent but reckless, given the concerns of the market. There will be many more opportunities to use your hard-earned and scarce cash. Walk away. This is not the time to be principled and ideological about a long-term view. Dogmatism is the order of the day. Pay the contract cancellation charge and walk away. Don't make Terex into a T-rex.
Disclosure: The author has a long position in Tex.