Great companies seem to find a way to remain great, despite macro challenges. At Sherwin Williams (NYSE:SHW), greatness comes from notching record sales despite housing data remaining significantly below multi decade trends.
In the first 9 months of this year, Sherwin's sales are 9.2% higher than 2011. And, sales were a record $2.6 billion, up 4.8% year over year in Q3. The quarter's success came from both volume, which rose as more homes were built and renovated, and pricing, which increased to help offset input costs.
The majority of Sherwin's sales, some 70%, come from its own distribution channel, which includes 3,478 retail stores. While homeowners tend to buy their paint at Home Depot (NYSE:HD) and Lowes (NYSE:LOW), 90% of sales to paint contractors occur in paint stores.
This suggests Sherwin's fortunes are likely to improve as professional builders construct more homes. The following chart shows how early we are in the housing recovery, hinting at higher coatings volume going forward.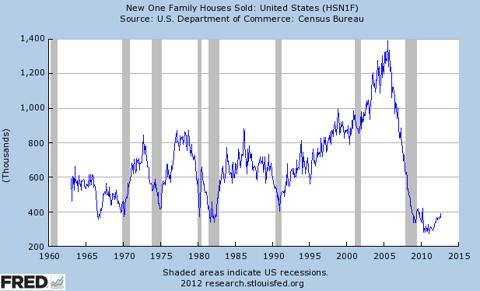 It also suggests investors should keep a close eye on private non-residential construction, which is also recovering tends to rely on professional painting contractors.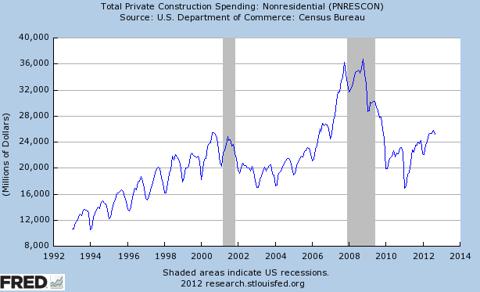 The recovery in these markets pushed comparable sales at Sherwin stores up 8.9% last quarter. To meet this growth, the company added 8 new stores in Q3; bringing total new stores added this year to 28.
Sales from Sherwin's paint stores group finished the quarter at $1.55 billion, good for 9.6% growth from a year ago. The volume and pricing strength was leveraged against fixed costs to boost profit to 19.3% of sales from 16.7% in 2011.
The paint stores group strength more than offset the 1% drop in consumer group sales, which includes spray paints and floor waxes. It also offset the 1% drop in global finishes sales, which came in at $491 million and were weighed down by currency conversion.
Despite flat growth in the company's two smaller segments, pricing improved across all three groups, which helped gross profit increase to 44.2% from 41.8% last year. These results, combined with the company's outpacing Street estimates in each of the past four quarters, prompted analysts to boost 2013 earnings estimates to $7.88 from $7.78 a month ago.
The global growth opportunity:
The global market for coatings increased to $99 billion in 2011, up 5% from 2010. And, while the top 10 global companies, such as PPG (NYSE:PPG), own 57% market share, some 15,000 smaller companies compete for the remaining 43% - suggesting significant consolidation potential.
Source: Sherwin Williams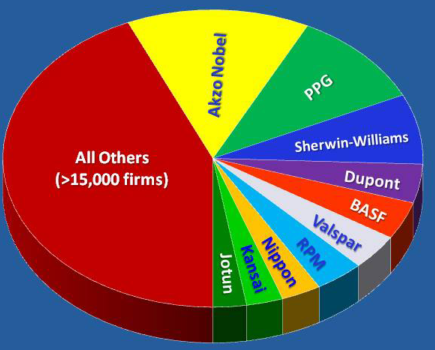 The consolidation potential is evident in Sherwin's acquisition of Mexico's biggest paint company, Comex, for $2.34 billion this month. Comex adds $1.4 billion in annual sales and expands Sherwin's reach in Latin America, where Comex generates 66% of its revenue.
In addition to expanding Sherwin's reach into Latin America, Comex also brings with it an additional 240 company owned stores in the United States and additional manufacturing capacity across North America.
Given Comex gets 75% of its sales from architectural paint, the ongoing housing recovery suggests the deal may offer significant tailwinds over the coming decade. Industry wide sales of architectural coatings entered 2012 some 185 million gallons lighter than their mid 2000's peak.
Source: Sherwin Williams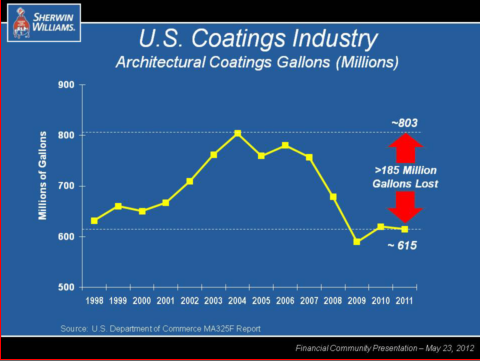 And, while the U.S. is recovering at a slow pace, 10% of all global architectural coatings demand comes from South and Central America, which indicates Sherwin's expansion in the region makes sense.
A good time to be a shareholder:
Historically, shares have traded higher in the final quarter. Over the past 10 years, data from the Seasonal Investor shows prices have increased 9 times, producing an average 8.82% return.
Source: Seasonal Investor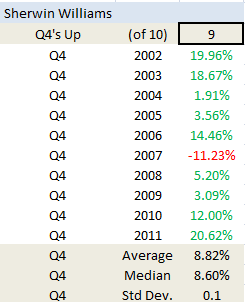 Breaking the 10 years of Q4 data out by month, and comparing it to the S&P 500 (NYSEARCA:SPY) index ETF, shows shares tend to outpace the market in each of the three months in the quarter.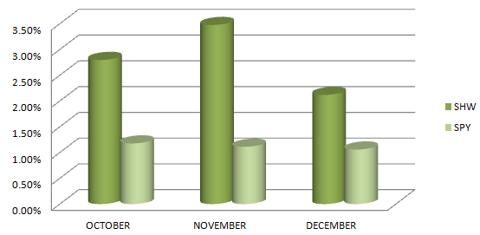 Given shares are near their 52 week highs, investors may be hesitant to take positions. However, Sherwin compares favorably to the basics sector in a couple different ways.
First, while the forward PE ratio to 5 year PE ratio low is a bit over 2:1, it's still lower than the sector overall.
Source: E.B. Capital Markets, LLC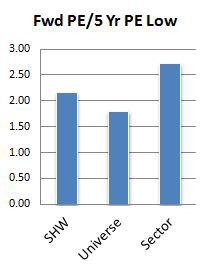 Second, forecasted EPS growth is expected up roughly 20%, which tops both the broader market and a screen of large cap basic materials stocks.
Source: E.B. Capital Markets, LLC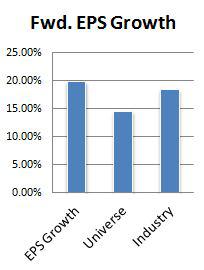 Finally, investors should also keep in mind sales and earnings may benefit in 2013 from post-Sandy reconstruction, which should boost paint demand and provide additional pricing power. Combine this opportunity with the domestic building recovery and expansion tied to the Comex acquisition and you get a compelling story for additional upside.
Disclosure: I have no positions in any stocks mentioned, but may initiate a long position in SHW, HD over the next 72 hours. I wrote this article myself, and it expresses my own opinions. I am not receiving compensation for it (other than from Seeking Alpha). I have no business relationship with any company whose stock is mentioned in this article.