Tesoro (TSO) operates 7 refineries with a total throughput capacity of 665,000 barrels of oil per day. Tesoro's total refinery throughput is about a fourth that of Valero's (NYSE:VLO), whose two largest refineries single handedly match the total throughput of Tesoro. And where Tesoro has $1 billion in trailing twelve month operating cash flow, Valero has $4.8 billion.
Tesoro's largest refining segment is in California and represents about 39.5% of total capacity. This is quite a difference in emphasis than Valero, whose CEO William Klesse commented on California in the most recent conference call:
"[The state] still [has] over 10% unemployment…So when you start to look at this, demand is down, and there's too much refining capacity [in California]. So you see this...and as the others on the call see, when there's an operating issue in California, the market quickly balances and margins improve. And then when everybody's back and running, we all tend to run down to cash cost." (Valero Conference Call, dated 10/30/2012)
All this is to say that before even including the pending regulations of the California market (for instance, AB32), California is not necessarily the best place to be doing refining today. Yet, with Tesoro's recent acquisition of BP's (NYSE:BP) "Fully integrated" southern California refining business, Tesoro is increasing its bet on the region. We will discuss this acquisition again towards the end. First, let us take a look at the relative performance of Tesoro's refining segments.
Segments
Below we can see the refining margins for the fiscal 2011, note the high manufacturing cost in California (red arrow) and the increase in throughput margins in the mid-continent region (green arrow):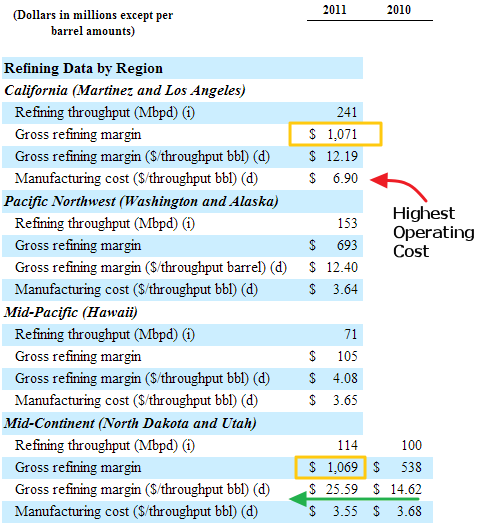 (Source: Tesoro 2011 10-K, p. 41)
Note, also, that the gross refining margin for Tesoro's refineries in the Mid-continent are enjoying the benefits of the Brent-WTI spread (see graph below). The benefit is such that, despite a throughput volume of half that of Tesoro's California segment, the mid-continent region contributes nearly the same absolute amount in gross margin (or, rather, compare the orange box's in the table above).
The large throughput margins in mid-continent region is due to the WTI and Brent price divergence seen below: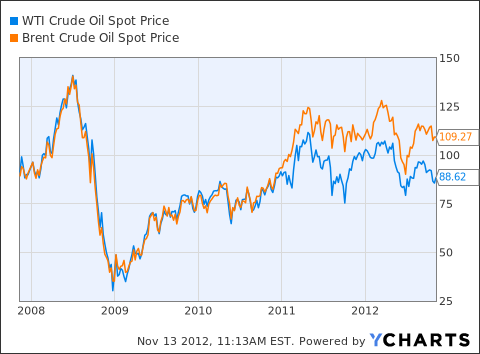 WTI Crude Oil Spot Price data by YCharts
The price difference between global oil prices (using Brent as a proxy) and between WTI oil prices at Cushing, is due to the massive drilling underway in mid-continent United States. This notion of geographic benefits and disadvantages was noted by Valero CEO William Klesse:
"But it is these type of assets [, those in the mid-continent, for instance], as you know, and as the others on the call know, their high cash flow is...tied to the WTI, LLS or Brent spread. I mean refining is all about location today. And if you're in the right location, your cash flows are huge. But there is a forward curve or a forward expectation." (Emphasis added; Valero Conference Call, dated 10/30/2012)
Given that refining is all about location, note the locations of Tesoro's refineries below -- they are absent exposure to the eastern United States, and they have exposure to California (39.5% of capacity), Washington (18%), Alaska (10.8%), Hawaii (14.1%), North Dakota (8.7%) and Utah (8.7%). The latter two refine advantageous feedstocks coming out of the mid-continent region. See Tesoro locations below: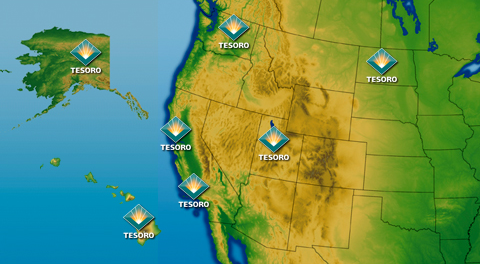 (Source: Tesoro Website, located here, accessed 11/12/2012)
Due in part to the Brent-WTI spread, Tesoro completed an expansion of its North Dakota refinery by some 68,000 bpd last quarter, effectively doubled the capacity of the refinery. The expansion increases Tesoro's total exposure to discounted mid-continent feedstocks by some 58%. Tesoro CEO Gregory Goff commented on the expansion in the most recent conference call by saying:
"The additional EBITDA generated during the quarter alone, all but covered the $35 million we spent on the project." (Tesoro Conference Call, dated 11/1/2012)
According to managements statements on the last conference call, Tesoro is also attempting to get oil from the Bakken formation to its refineries in California and Anacortes, Washington -- the latter of which they have achieved by completing a rail unloading facility at that refinery [1]. Management commented:
"And we began receiving unit trains of price and quality advantaged Bakken crude oil at our Anacortes Washington refinery in September.

Our rail unloading facility, with permitted capacity of 50,000 barrels per day, is operating well and in line with our expectations. We expect to deliver about 40,000 barrels per day of Bakken crude oil to Anacortes in the fourth quarter." (Tesoro Conference Call, dated 11/1/2012)
In fiscal 2011, the Washington refinery was utilized at approximately 81% of capacity. With more Bakken crude soon to be coming to the refinery, Tesoro will be able to get an increased advantage by refining a cheaper feedstock and utilizing the excess capacity. The gross refining margin increased last quarter by some 16% over the same quarter last year -- a trend which ought to continue in coming quarters at the Washington refinery.
Overall Industry Trends: Favorable Winds
The general industry is in a period of prosperity due to the general increase in prices conjoined with the opportunity for lower feedstock costs from the mid-continent oil boom. This mid-continent supply glut, -- seen in the ending inventories of Cushing, OK and the WTI Brent Spread -- will eventually be relieved.
However, for now, the refineries able to refine the cheaper crudes -- due to geographic location -- stand to benefit in the short-term. It is my belief that the general North American refining industry stands to gain as the glut dissipates. The wind appears to be at the back of the North American refining industry.
The Most Recent Quarter
"During the third quarter, we again increased refinery utilization rates, running total throughput of 626,000 barrels per day or 93% of total capacity, the highest level in 4 years." (Tesoro Conference Call, dated 11/1/2012)

"We continued to reduce operating expense, with manufacturing costs of $4.42 per barrel, the lowest since 2007." (Tesoro Conference Call, dated 11/1/2012)
One can see the decline in operating expenses in the spread between revenue and expense below: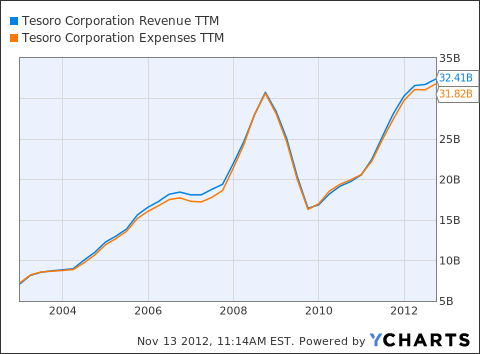 TSO Revenue TTM data by YCharts
This is further increasing Tesoro reported diluted earnings per share significantly, although the figures are still below those attained in 2007: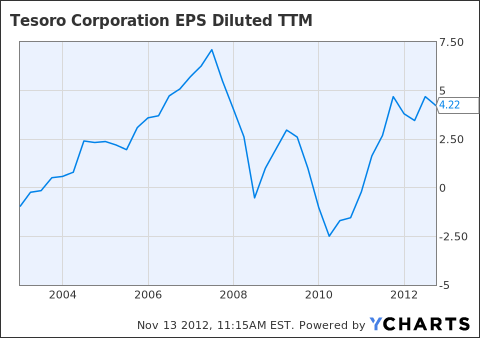 TSO EPS Diluted TTM data by YCharts
The recent quarter is a continuance of a trend of improvement throughout the industry. The various opportunistic projects of Tesoro indicate that they are well positioned to continue to improve with the refining environment.
Further, while Tesoro increased its share repurchase program, it did not repurchase shares in the most recent quarter. Instead, management used the windfall to improve the capitalization structure of the corporation [3]. This improvement in the capitalization may have taken place to position Tesoro so that it remains financially flexible after the BP Refinery acquisition.
BP Refinery Acquisition
The purchase price of the BP acquisition was $1,175 million plus the value of inventories on hand (about $1,300 million). After the acquisition, Tesoro plans to sell the logistics assets associated with the acquisition to Tesoro Logistics LP (TLLP) -- of whom they own 52% -- for approximately $1,000 million. Making the net purchase price of the refinery look cheap.
The BP assets -- Carson Refinery, specifically -- is located in the California market right next too Tesoro's Wilmington Refinery:
(Source: Tesoro "Acquisition of BP's Southern California Refining and Marketing Business," power point presentation, located here)
The acquired refineries capacity is approximately 266,000 barrels per day -- increasing Tesoro's total capacity to 931,000 barrels per day, an increase of 40%. The acquired refinery has a Nelson Complexity of 13.3, indicating that it is among the most complex in the world. The refinery and the other aspects of the deal [4] are expected to close before mid-2013.
As put in the presentation, management expects the deal to improve EPS by 24% in 2013: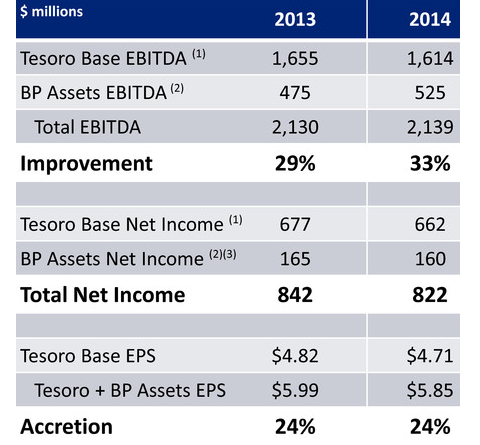 (Source: Tesoro "Acquisition of BP's Southern California Refining and Marketing Business," power point presentation, located here)
Valuation
Tesoro appears to be undervalued on a free-cash-flow basis. Its current free-cash-flow [5] yield, using the annualized nine-month figures and the company's current market capitalization [6], is 19.8% [7]. Using trailing twelve month figures, its free-cash-flow yield is approximately 9.5%. Given the inertia involved in the new North American oil boom, it is likely that North American feedstocks will continue to sell at a discount to world oil prices -- which further suggests that Tesoro stands to benefit over the next decade.
Conclusion
Given the status of its projects and the general industry trends, Tesoro looks attractive. I still have another favorite within the field -- but Tesoro is undervalued and the present price looks like an opportunity.
Notes:
Additional information on the train unloading facility was offered in the most recent Tesoro 10-Q, p. 33: "We intend to offer the Anacortes, Washington unit train unloading facility to TLLP in the fourth quarter of 2012. We expect to deliver an average of approximately 40 Mbpd in the fourth quarter of 2012 and up to 50 Mbpd by mid-2013 of Bakken crude oil through this facility to our Washington refinery. The construction of the facility was substantially completed in the third quarter of 2012."
According to oil consumption data for China and the United States, China consumes about half the amount of oil as the United States - however China is bound to continue to increase its consumption of oil as it strives to attain standards of living on par with those of the "West."
As summed up beautifully by Gregory Goff: "The solid operating results and success on multiple strategic fronts allowed us to generate significant cash flow and further strengthen our balance sheet during the quarter. As an offset to the new Tesoro Logistics steps, during the quarter, we redeemed $299 million of Tesoro's senior notes that were otherwise due November 1 this year. We also took advantage of attractive debt markets during the quarter by refinancing $925 million of outstanding debt, extending maturities by an average of 4 years and reducing average interest expense by more than a full percentage point or about $16 million of cash interest savings annually. In all, we reduced debt by more than $100 million in the quarter and with strong EBITDA and retained earnings growth, reduced our total debt to about 25% of total capitalization. Debt, net of cash, at the end of the third quarter was just 4% of total capitalization." (Tesoro Conference Call, dated 11/1/2012)
Included in the transaction were about 800 retail network dealer sites, ARCO brand ownership, extensive logistical system, a 51% ownership interest in a 400 megawatt gas supplied cogeneration facility and a "350,000 metric ton per year calciner for anode coke."
Free-Cash-Flow = FCF = Operating Cash Flow - Capital Expenditures
Market Capitalization = 140,435,119 shares * $38.21 per share = $5.36 billion
($1,175 - $382) / 0.75 = $1057 million; $1057 million / $5360 million = 19% FCF yield.
Disclosure: I have no positions in any stocks mentioned, and no plans to initiate any positions within the next 72 hours. I wrote this article myself, and it expresses my own opinions. I am not receiving compensation for it (other than from Seeking Alpha). I have no business relationship with any company whose stock is mentioned in this article.