Based on valuation the choice is easy.
On Monday home improvement giant Lowe's (NYSE:LOW) reported earnings that simply matched the Value Line estimate from their Sep. 28, 2012 report. It must have exceeded more recent analyst views as the stock was up $2.13 or 6.69% to $34.50 as of 10.30 am Tuesday.
Momentum-oriented traders and short-covering might explain the uptick. Fundamentals don't. A look at the past year's action tells the tale.
We have all been taught to buy low and sell high. Over the past 12-months it was critical to buy LOW when the valuation was below 15 times earnings. When it went towards 19x it was due for a significant drop.
After this week's price surge Lowe's is trading at about 21x FY 2012 EPS. The yield is 27.9% below what was available in early August. It's time to take profits. Management says they expect $1.64 for the year wrapping up in January versus $1.69 in FY 2011 (both numbers exclude non-recurring items).
LOW carried an average P/E of 15.5x earnings during the six-year period from 2006 - 2011 which straddled both good and bad housing markets.
I'm not alone in my opinion that LOW now presents little upside. Morningstar carries a neutral rating and sees fair value as $34.

Standard & Poors is much less sanguine on the prospects for LOW. They call these shares as an outright sell. S&P sees fair value at below today's quote (@$30.60) while forecasting a 12-month goal of $24.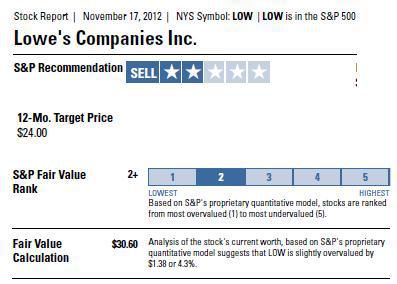 Think twice if you're considering swapping out of LOW into industry rival Home Depot (NYSE:HD). HD looks similarly pricey and is equally unlikely to deliver good share price performance from its present level.
Home Depot now sells for the highest P/E of the past five years. It offers the lowest yield of that entire period as well. Today's buyers are paying all-time high prices while receiving the worst value for money on HD shares since before the housing bubble burst.
As with Lowe's I'm not alone in seeing HD as overpriced. Standard and Poors calls fair value at just $59. They are even more pessimistic with their 12-month goal price of $50 while maintaining a two-star (out of 5) SELL rating.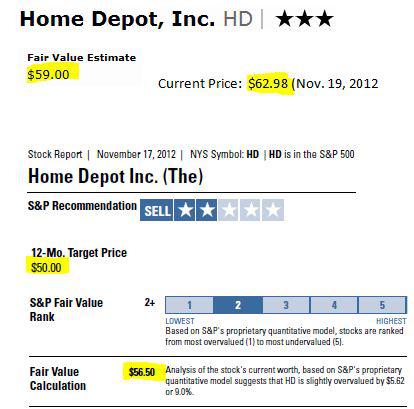 The KISS [Keep It Simple, Stupid] principle is in play here with both HD and LOW. SELL both names while enthusiasm is running rampant. You will likely get a much better re-entry point in the future.
Buying right after a major price spike is a recipe for disaster. Don't get burned chasing past performance that is unlikely to be repeated.
Speculative traders might wish to buy some puts out to January of 2014 to profit from the expected pullbacks.
Disclosure: I have no positions in any stocks mentioned, and no plans to initiate any positions within the next 72 hours. I wrote this article myself, and it expresses my own opinions. I am not receiving compensation for it (other than from Seeking Alpha). I have no business relationship with any company whose stock is mentioned in this article.