Stocks To Trade:
Today, we are looking at an earnings trade in Alcoa (NYSE:AA), longs in Bank of America (NYSE:BAC) and Priceline.com (PCLN), and shorts in Intuit (NASDAQ:INTU) and United Parcel Services (NYSE:UPS).
For an earnings trade, we are looking at Alcoa today. The aluminum company that leads off every earnings season has been weaker since its last earnings report, and we do not foresee a lot of potential upside for Alcoa moving into its next report. The company is expected to see around a 5.5% decline in revenue year-over-year, with some gains on the earnings side. With global demand for aluminum still weak and no apparent changes to this trend in the near-term, we believe that AA has limited upside into its January report. 2013 should be better for aluminum with demand in China expected to improve, but we do not believe that this increase in demand will start to reflect in Alcoa shares until later in 2013. The Jan2013 bear call spreads are enticing to us, and we like the 9/10 bear call spread as a play on our expectations that AA's earnings are not going to bring about much demand for the stock.
Trade: AA, Dec22, 9/10 Bear Call Spread
Max Gain: 10%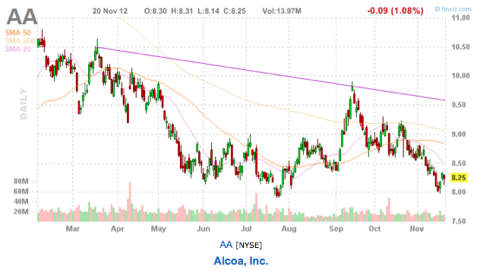 For longs, we like the looks of Bank of America and Priceline. BAC is holding up well in the recent market weakness, as it continues to hold its 50-day MA. The stock has looked solid since its October earnings, and we expect the strength in the stock to continue, as the company has seen its delinquency rates come down on credit cards, has commented it wants to sell mortgage services, and has received several upgrades. The stock has solid support below it with the 50-day MA that has held since August, and we believe that line will continue to hold up unless something changes drastically. The breakout point we like for the stock is 9.75, as that has been a multiple top, with 10 an even stronger breakout level.
Another stock that is looking solid right now is Priceline. The company declined back to its 20-day and 50-day MA after breaking out on very solid earnings. The stock then bounced off those lines, and it is starting to look very good for a bull put spread moving forward. The 590 line is the breakout point for earnings, and we believe PCLN will hold that line moving forward. The company should benefit from its earnings outperformance, and will see a lot of upside if the market returns. In the meantime, downside risk appears limited.
Equity Trade: BAC, Long
Breakout Point: Break of 9.75
Options Trade: PCLN, Dec22, 590/585 Bull Put Spread
Max Gain: 18%
For shorts, we like the looks of Intuit and UPS. Intuit looks like it is very close to a serious breakdown, and UPS continues to look very weak in the midst of a long-term downward channel. Intuit broke out of an upward channel after a strong downtrend followed by weaker earnings. The company guided very weakly for its coming Q2 at 0.40 - 0.43 vs. 0.59 expectations, and that has put the stock in a current bearish trend. The stock is currently holding its 200-day MA, but a clean failure of that line is definitely a place to look at for shorting the stock.
UPS has also looked weak after its latest earnings report. The company may see some positive effects from the 2012 holiday season, which is expected to be stronger than 2011, but the stock is still under a number of strong resistance lines. The stock has the 20-day and 50-day MA at 72, an upward channel line at 73, and 200-day MA at 75. Therefore, we like looking at those areas for a bear call spread. The earnings issue continues to plague UPS, and until and unless the stock gets some catalysts from the holidays, we see it struggling. That data may not start to really come out until early next year.
Stock Trade: INTU, Short
Breakout point: Break of 200-day MA
Options Trade: UPS, Dec22, 75/77.50 Bear Call Spread
Max Gain: 5%
Tomorrow's Outlook:
The market gave up some of Monday's gains, but it's still looking better as the U.S. moves closer to resolving its fiscal cliff issues. At the same time, it's the final day before the Thanksgiving break, so volume should be very low. We expect a fairly flat day in the market as traders buy dips and sell strength for scalp trades. Additionally, the market will be reacting to several data points, as well as news out of the eurozone concerning Greece. The Greeks are expected to get another round of loans, which should give the market some potential to rally. For data, the market will be reacting to Jobless Claims, Crude Inventories, and Michigan Consumer Sentiment. Those data points will also be in play tomorrow, especially jobless claims. Those numbers came in very weak last week, and a reversal of that data would also help the market.
Charts courtesy of finviz.com.
Disclosure: I have no positions in any stocks mentioned, and no plans to initiate any positions within the next 72 hours.
Business relationship disclosure: The Oxen Group is a team of analysts. This article was written by David Ristau, one of our writers. We did not receive compensation for this article (other than from Seeking Alpha), and we have no business relationship with any company whose stock is mentioned in this article.