There have been at least a few articles on what I believe is an extremely undervalued stock at this time--Skullcandy (NASDAQ:SKUL). Everything from mathematical formulas to market sentiment to institutional ownership has been used to explain why some people believe a short squeeze is likely in the near future. In fact, I wrote about an impending squeeze back in August. So what should investors be expecting from Skullcandy now, 3 months and an earnings call later?
Why aren't the shorts covering?
This is a difficult question to answer. As of market close on November 19th, 2012, the short interest for Skullcandy stands at a mind-blowing 56.6% of the float. After beating analyst expectations during their most recent earnings call, most investors would have expected shorts to begin covering, though there's a caveat. During the same earnings call, SKUL lowered EPS expectations for the year from $1.10 to $1.00. This could be what shorts are using to justify keeping their positions open with the expectation that the stock price will continue its journey downwards.
Another possibility is that short investors do not see Skullcandy's business model as something that will last for a long time. Skullcandy has, until now, targeted consumers looking for cheap headphones with vibrant colors and designs that allow them to express themselves. Investors may see this as a "fad" item not unlike the LiveStrong bands several years ago.
More recently, Skullcandy has been making the move into higher end markets with noise-canceling headphones and those meant to compete directly with Beats by Dre. It's possible shorts see this move as one that is caused by the slowing sales of its cheaper products. They may see Skullcandy's management as indecisive in what their flagship products should be (unlike Apple (AAPL), for example, which is extremely focused on a few products).
So are the shorts right to doubt Skullcandy?
Probably not. It's possible that the move into higher end products is caused by weakness in the sales for cheaper headphones. However, if there IS any weakness, it's likely just temporary. Most consumers that are buying Skullcandy's cheaper products aren't doing so under the pretenses of keeping them for years, like they would with a set of Beats. They're cheap enough that they can buy several pairs should they lose them or damage them somehow. In that sense, this market will never be saturated with the product since the longevity of the headphones isn't meant to be too long.
On the other hand, the move into higher end products gives Skullcandy another audience to grow revenues. The reported weakness in Europe (the reason given for the revision of this year's EPS estimates) is temporary. As Skullcandy begins to get comfortable in the new markets, it will surely lead to overall growth for the company.
Should I invest now?
Skullcandy is at an all time low. If you believe that there is a future to the company, there's no reason to wait for a better buy-in. The recent sell off was probably due to the revision of the annual EPS and the stock price will likely recover over the next few weeks. The technicals aren't clear but RSI shows that SKUL is in oversold territory. The Ultimate Oscillator is simple in downtrend territory and no longer in oversold territory. Finally, MACD looks to be converging towards the signal line but is still below it.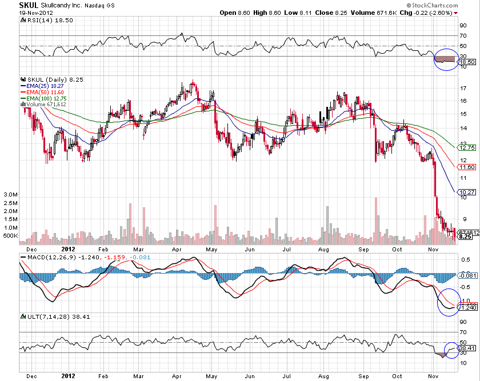 Fundamentals look solid for the company with a PEG ratio of 0.46 and a price to book value of only 1.82. Skullcandy is trading at only 8.6 times earnings which is cheap by any consideration. Possible issues in the future could be increasing debt (though still relatively low) and shrinking margins on high end products.
As always, it's important to do your own research before investing. Skullcandy is a small-cap which is more volatile than its peers which can be a dangerous combination if you're unsure of its future. On the other hand it can be a great growth stock that can carry your portfolio. It's also optionable which allows more customization depending on your appetite for risk and your hesitation on its future.
Disclosure: I am long SKUL. I wrote this article myself, and it expresses my own opinions. I am not receiving compensation for it (other than from Seeking Alpha). I have no business relationship with any company whose stock is mentioned in this article.