I am absolutely fascinated by the ongoing discussion about Green Mountain Coffee Roasters (NASDAQ:GMCR). No one seems to have a neutral opinion about the company. They either love it or they hate it. For every positive development that someone points to, there seems to be an equally valid negative piece of news.
I have come to a definitive conclusion that I just don't know what is going to happen next week when earnings come out. And I have created an options strategy that perfectly suits my opinion. Please read on.
The most important positive argument (in my opinion) is the fundamental one. The company is selling at about 11.7 times estimated earnings, while the estimated growth rate is almost double that amount (20.6%). Very few companies out there can boast such numbers. Of course, the one exception is Apple (NASDAQ:AAPL), which has a similar P/E and about a 25% growth rate, and the stock has fallen almost 25% over the last two months. So who cares about the fundamentals? Are they good for anything?
The doom-and-gloomers rejoiced in a recent negative article about the company -- Red Flags Drape Green Mountain Coffee Roasters. But then a couple of dozen comments followed that refuted most of the important points made by the author.
Clearly, Green Mountain bears have voted with their wallets. About 50 million shares have been sold short -- about a third of the 155 million shares outstanding. I would think that many of these sellers might be getting a little skittish going into the earnings announcement coming after the close next Tuesday (November 27).
The company has authorized itself to spend $500 million to buy back shares of stock. I think that is a big bluff to scare some of those people who have shorted the stock. Green Mountain only has $130 million in cash, and about three times that amount in debt. It is rumored to be expanding operations internationally, and it will need cash for such an expansion. So I don't expect the stock buy-back to materialize.
But maybe the bluff is working. I suspect that the 10% gain that the stock has picked up the last two days was largely due to some of these short sellers covering their backsides. What if the earnings announcement does manage to exceed expectations? A real short squeeze might ensue. If I were short the stock, I would be a little scared that this thing just might explode. Besides, how much lower can it go? The upside is unlimited. That's scary.
Look what has happened to the stock this year: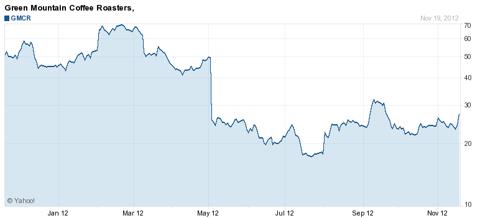 Except for a brief few weeks last summer, the stock has traded in a relatively small range between $20 and $30 for six months, during which time there were two disappointing earnings announcements. All that bad news didn't seem to depress the stock one bit. It seems to have stabilized.
So while I really don't know which way the stock is headed in the next four weeks (that's long-term thinking to options nuts like me), I think the chance for a big upswing is greater than a big downswing.
That being said, I set out to create an options strategy that would make a decent gain if the stock did anything except drop by more than 10%. Here is what the risk profile graph looks for those positions when the December options expire on the 21st :

Here are the trades needed to create the above graph (click to enlarge):

The positions would cost a little less than $8,000 to put on. If the stock stays flat after the earnings announcement, there should be a gain of about $6,000, or 75%. If it falls by 10%, to $25.08, a small profit should come about. Below $25, there would be losses.
On the upside, if the stock moves 10% higher, the portfolio should gain about $8,700, or more than 100%. The stock can go up just about any reasonable amount and a gain should come about. These all seem like pretty good odds to me.
If you wanted more downside protection than these positions provide, you would sell lower-strike calls in the two diagonal spreads. If you lowered the strikes on the December calls to 25 and 26, the gain would be about 25% if the stock fell 10%, and the downside break-even point would be just over $24. But with those positions, if the stock moved 10% higher, you would make "only" about 75%.
For those who have read my earlier article about GMCR, I already have diagonal spreads in place, which will result in a nice gain at any price above $20 on December 21st, so my personal positions have far more downside protection than the above graph promises. Check out An Interesting Options Play For Green Mountain Coffee Roasters.
One caveat to the above positions -- the December options currently carry an elevated Implied Volatility (about 95) because of the impending earnings announcement, while IV for the January options is about 87. This number is bound to drop after earnings are released, so the value of the January options may fall below what the graphing software assumes. This just means that the gains from the three calendar spreads might not be quite as much as the graph suggests. However, if the stock closes above $28, the value of the two diagonal spreads will be worth a minimum of $10,000 (actually more because the January options have another month of life), so much of the gain is locked in if the stock price holds up.
By the way, those calendar spreads are unbelievably cheap, at least to my way of thinking. They can be bought for $.50 - $.55 (less if in-the-money strikes are used), and I checked back to see what an at-the-money option with one month of remaining life might be worth in "normal" times (i.e., no earnings announcement on the way), and the answer was about $2.00. In other words, if the stock closes near $30, $31, or $32, one of those January calls should be worth about four times as much as the spread cost at the outset. The stock would have to fluctuate quite a distance away from those prices before a one-month call with a month of life did not have at least $.55 of premium value.
I, for one, am looking forward to next Tuesday evening with the above positions in place.
Disclosure: I am long AAPL, and long and short calls on GMCR. I wrote this article myself, and it expresses my own opinions. I am not receiving compensation for it (other than from Seeking Alpha). I have no business relationship with any company whose stock is mentioned in this article.