Vanguard Natural Resources LLC (NYSE:VNR) is a well run energy company with a current high yield of over 9%, paid monthly. VNR's distribution is well protected by the use of hedges. VNR has over 90% of its expected 2013 oil production and 100% of its expected 2013 natural gas production hedged.
VNR is a LLC focused on the acquisition and development of mature long-lived natural gas and oil properties in the United States. It is treated for tax purposes as a MLP. VNR does not have a general partner, therefore it does not pay IDRs. VNR distributions require filing a Schedule K-1 at tax time. Please keep this in mind, that for IRA accounts, the IRS allows a maximum of $1,000 of Unrelated Business Tax Income also referred to as UBTI. For this reason, it is best to hold MLPs like VNR in taxable accounts.
On Nov. 16, 2012, VNR declared a cash distribution attributable to the month of October 2012 of $0.2025 per share. This distribution is an increase of 1.25% from last month's dividend of $0.20 per share. As of today's closing price of $26.96, Vanguard offers a very attractive 9% annual yield. This is the third such increase in the distribution for VNR this year. I believe that at current prices VNR is a buy. Though it has run up in the last few trading sessions, the stock is still undervalued.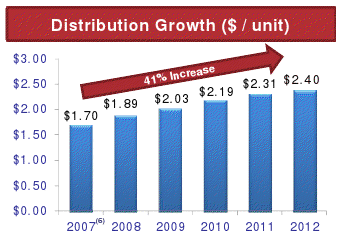 VNR's acquisition strategy is to acquire developed and mature oil and gas properties with stable long life production. Assets bought are then managed with a focus on maintaining cash flow levels. VNR reduces its price and interest risk through hedging. The primary goal of this strategy is to distribute these cash flows to unitholders.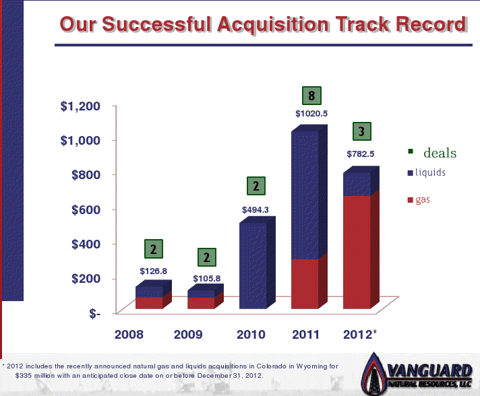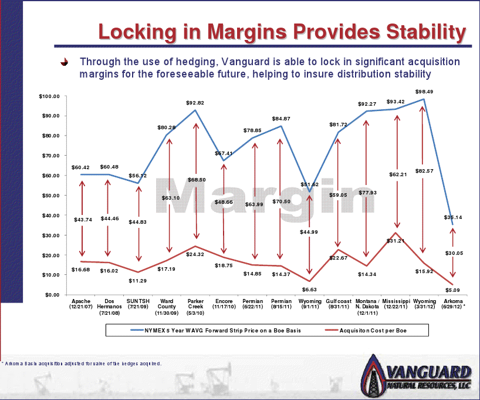 VNR has more than 80% of its expected crude oil production hedged through 2014. The weighted average price is about $91.18 per barrel.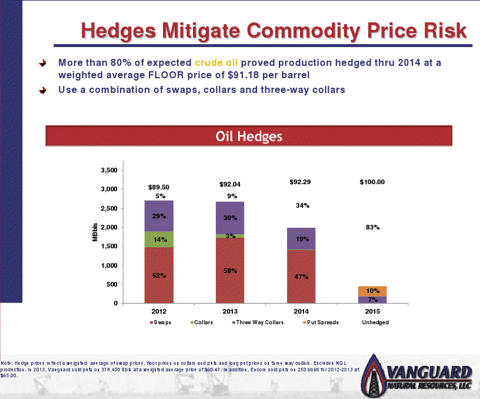 VNR has about 85% of its expected natural gas production hedged through the first half of 2017. The weighted average price is about $5.11 per MMBtu.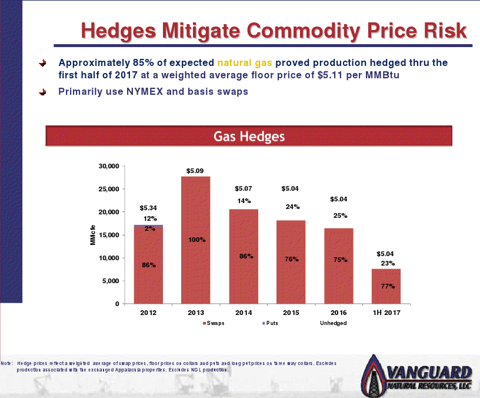 VNR also has stated that it will fund its acquisitions with approximately 60% equity and 40% debt and deleveraging the company over time via equity issuances and paying down debt with excess cash flows. To date, VNR has financed 58% of its acquisitions with equity.

Preliminary 2013 Outlook
Included with its Q2 earnings, VNR released some preliminary FY 2013 numbers. Adjusted EBITDA for 2013 is estimated to be $270 million. Distributable cash flow for 2013 is estimated to be $160 million. The mid-point of distributable cash flow per unit for 2013 is estimated to be $3.22. These estimates do not include any of the recent acquisitions of oil or natural gas properties.
Using the current 90% dividend payout ratio, these estimates imply a possible monthly dividend of $0.2415, or a yield of 10.7%. This would be a growth of the dividend of 19%. However, VNR has stated that it would like to bring its dividend payout ratio lower, to about 1.3x coverage (about a 77% payout ratio). This would imply a possible dividend for 2013 of $0.21 per share. This would be an increase of 3.7% from current levels.
Proved Reserves
As of the end of Q3 2012, total proved oil and natural gas reserves were 138.6 million barrels of oil equivalents, consisting of 62.7 million barrels of crude oil, condensate, and natural gas liquids and 455.4 billion cubic feet of natural gas. Natural gas reserves accounted for 55% of total proved reserves. Sixty nine percent of the total reserves are proved developed. VNR has been aggressively buying assets, and reserves are up 75% for the year.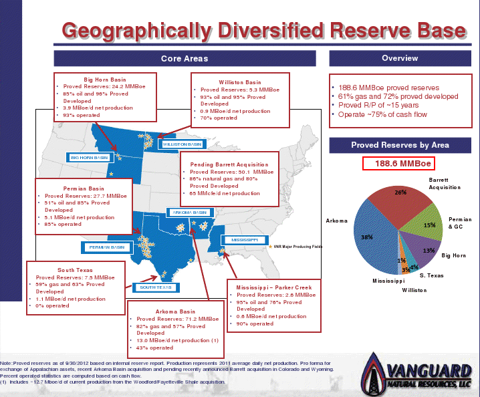 Recent News
VANGUARD NATURAL RESOURCES TO ACQUIRE NATURAL GAS AND LIQUIDS ASSETS IN COLORADO AND WYOMING
On Nov. 1, 2012, VNR announced it had entered into a definitive agreement to acquire natural gas and liquids assets in the Piceance Basin in Colorado and the Powder River and Wind River Basins in Wyoming for a purchase price of $335 million from Bill Barrett Corporation. The effective date of the acquisition is October 1, 2012 and the company anticipates closing this acquisition on or before December 31, 2012. The transaction is expected to be immediately accretive to distributable cash flow.
On Nov 15, 2012, VNR announced it had entered into a definitive agreement with an undisclosed seller to acquire certain non-operated oil and natural gas assets in Montana for a purchase price of $131.0 million. However, the properties under the agreement are subject to a third party's preferential right to purchase, which expires thirty days after notice. The properties are located in the Bakken trend and are characterized by mature oil production with some associated natural gas production. The properties will be immediately accretive to cash flow and have current net production of approximately 1,100 BOE per day. The effective date of the acquisition is August 1, 2012 and the company anticipates closing this acquisition on or before December 31, 2012.
Conclusion
VNR's 9% dividend seems safe with the hedges in place. We will need to see how well the recent acquisitions work out to see how much they add to VNR's cash flows for next year. VNR is a great buy if what you want is a steady monthly high yield. Though just make sure you add this stock to a taxable account.
Disclosure: I am long VNR. I wrote this article myself, and it expresses my own opinions. I am not receiving compensation for it (other than from Seeking Alpha). I have no business relationship with any company whose stock is mentioned in this article.