By most accounts, Best Buy (NYSE:BBY) has experienced many challenges in its business over the past 24 months. Among them are increased competition from Amazon.com (NASDAQ:AMZN) and others, a decrease in the average size of televisions purchased and a shift away from notebooks (where the company had experienced much success in the past) and towards tablets. As a result of these conditions, the company's results have deteriorated and investors are calling into question the viability of the company's business model. I am more constructive on the company and its prospects going forward.
Intense competition is nothing new in the retail space. J.C. Penney (NYSE:JCP) is an important example of how competition left unattended can cause serious damage. The company's sales peaked back in 2008 and now the company struggles to hold on to profitability. Conversely, sales at competitors' Kohl's (NYSE:KSS) and The TJX Companies (NYSE:TJX) have increased 10% and 25%, respectively. While J.C. Penney has/had the problem of brand identity and a real lack of anything tangible to drive consumers into their stores, Best Buy continues to be appealing to a great number of consumers, as evidenced by the company's 40 million active rewards members.
Earlier this quarter, the company announced that it was going to price match competition on most of its products. While I understand why investors are concerned that the price match will drag down the company's margins in the short term, I think investors should start to consider the long term strategy. Long term, what management is communicating by price matching, is that there is no use in going to Best Buy's stores and purchasing the end product on Amazon.com. Retail is a highly fixed cost business. The more transactions they can consummate in the stores, the greater the marginal profitability. Most consumers in the U.S. live within 15 miles of a Best Buy. If consumers are convinced that Best Buy has the best price, in addition to first class customer service, it is conceivable that Best Buy wins out in the Amazon battle over the next couple of years. Most of the products Best Buy carries, whether it be notebooks, desktops, phones, appliances or televisions, are somewhat big ticket items that consumers want to be comfortable with before they purchase. For instance, when most consumers go online to compare notebooks they generally have little idea of the speed or memory that they will need. This is where Best Buy's team of associates help out so that not only are consumers getting the best price, but they also know what they are buying.
When thinking about the move from notebooks to tablets, the best way to think about it is Apple (NASDAQ:AAPL) dominating new product categories. For the past few years, Apple craze has been sweeping the nation. Without seeing the new phone or tablet, people knew that they wanted/needed the next new Apple product. I think that this mentality left little room for Best Buy to add value to the consumer shopping experience. If a consumer knows that they want an Apple product, they will likely shop at an Apple store or simply purchase the product online. For those of us that think that the new Windows products are likely to catch share in the market place, there is significant room for Best Buy to add value. Many of the new Windows 8 products are slim laptops and convertibles. If a consumer is choosing the windows experience, or at least choosing between Apple and Windows, they likely will want to walk into a store to touch the product and see how it performs. This should benefit customer traffic greatly in the months ahead. The same shift is currently happening in cellular phones. While Apple once dominated the market for cellular phones, competitors including Samsung, LG, HTC, Nokia (NYSE:NOK), and maybe in February, Research in Motion (RIMM), are putting forward compelling enough options for consumer to want to explore what phone they want to purchase and inquire about what features each phone has.
A competitive strength that Best Buy has is that there is no other national chain where a consumer electronics consumer can walk in and get answers to high level questions about the technology they are purchasing. Additionally, by the end of the holiday quarter, the company's balance sheet should be almost free of net debt, giving Best Buy flexibility as it cements its strategy going forward. For those who believe the company can grow from its new lower base and sustain its dividend, the current $0.68 per annum dividend represents a 5% yield for investors. Significant investments the company has made over the past few years have left it with significant operating leverage as its non cash depreciation and amortization expense is $100-$200 million greater than its capital expenditures on an annual basis.
image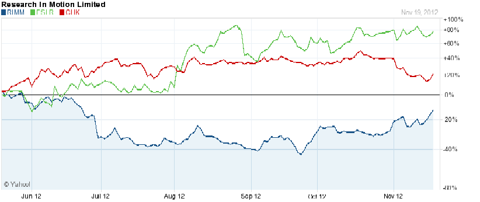 On the high end of the company's guidance for free cash flow, the stock trades at 4x. Best Buy represents a deep value. Some might call it a value trap. Some widely publicized "falling knife" situations that I've been able to profit from in the past twelve months include Research in Motion, First Solar (NASDAQ:FSLR) and Chesapeake (NYSE:CHK). What these stocks all have in common with Best Buy is that they were once high fliers. Once the momentum went from positive to negative, many institutional investors and traders alike bailed ship in search for an easier to understand story. However, for those that do their homework, and tread lightly, there is money to be made when others are panic selling. As always with these types of stories, if you act, buy in small and increase your position on any volatility.
Disclosure: I am long RIMM, BBY. I wrote this article myself, and it expresses my own opinions. I am not receiving compensation for it (other than from Seeking Alpha). I have no business relationship with any company whose stock is mentioned in this article.