In today's market, there aren't many sectors that provide opportunity for investors quite like biotech. It's easily one of the most high-risk areas in which to invest, but handsome rewards await those willing to bear the uncertainty. With the appropriate combination of due diligence and luck, picking the right biotech can yield many times the original investment.
Take for example Sarepta Therapeutics (NASDAQ:SRPT), whose PPS nearly tripled in one day of trading on October 3, 2012. On a longer-term scale, shareholders of Arena Pharmaceuticals (NASDAQ:ARNA) saw their investment appreciate by 657% between January 25 and July 9 of this year.
ImmunoCellular Therapeutics (NYSEMKT:IMUC) is another biotech whose pipeline could yield handsome rewards, both for cancer patients and investors alike. Based in Woodland Hills, CA, ImmunoCellular's lead drug candidate ICT-107 is a personalized dendritic cell vaccine for Glioblastoma Multiforme, or GBM, the most common and aggressive type of malignant brain cancer in adults. Doctors have been stymied by GBM for years, and the current standard of care just doesn't cut it. In fact, most patients diagnosed with GBM die within a year of diagnosis, even with total gross tumor resection followed by radiation and chemotherapy. Obviously, there's an unmet need for novel approaches to treating GBM, and ICT-107 may be just what the doctor ordered.
The theory behind the ICT-107 dendritic cell vaccine is simple: induce the patient's own immune system to attack the cancer by isolating dendritic cells from the patient, exposing said cells to specific cancer stem cell antigens, and re-introducing the dendritic cells into the patient. This results in a focused immune response against the cancer, which largely spares surrounding healthy tissue and minimizes side effects experienced by the patient (especially when compared to traditional, systemic chemotherapy). If you're interested in the details of dendritic cell vaccines, this video provides an excellent, in-depth explanation.
What makes ICT-107 so special is the fact that it targets cancer stem cells (CSCs), which were only just discovered in the late 1990s. It is now known that CSCs play a major role in cancer recurrence and metastasis, so destroying CSCs is paramount when treating a primary cancer. By attacking CSCs, ICT-107 is thus uniquely designed to minimize both spread and recurrence of GBM, both of which are essential to patient survival.
Currently, ICT-107 is in Phase IIb trials, which are expected to wrap up by the end of 2013. The Phase I trials were extremely promising, with 80% overall survival two years after initial ICT-107 therapy, compared to a dismal 26% in the control group. More astonishing than that, 50% of patients receiving ICT-107 were alive four years after initial therapy, compared to only 12% in the control group. Even though those numbers come only from a Phase I study of 16 patients, they are absolutely astounding given the current survival rates of GBM. If the Phase IIb numbers are half as good as those from Phase I, ICT-107 has a serious chance of becoming the new standard of care in GBM.
Of late, ImmunoCellular's PPS has been under pressure, and it's nearly 52% off its most recent high of $3.88 (set in May 2012). In August 2012, resignation of then-CEO Dr. Manish Singh drove shares down more than 14% to $2.50. Thereafter, on October 18, 2012, a public offering of 10,000,000 shares at $2.10 per share stressed the PPS even further. Currently, ImmunoCellular trades at $1.88 per share, having demonstrated a nice level of support in the area. In my opinion, the recent sell-off has been a bit exaggerated, leaving ImmunoCellular at a nicely discounted price.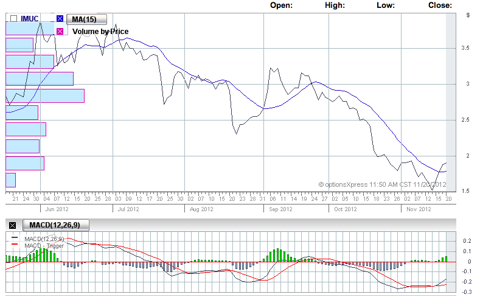 As such, I believe that ImmunoCellular is currently a very attractive investment. With ICT-107 leading its innovative pipeline of immunotherapeutic agents, ImmunoCellular is poised to yield great returns, both to investors and cancer patients alike. As with any biotech, there is certainly a chance that ICT-107 will disappoint; however, Phase IIb results would have to be significantly different from those seen in Phase I trials, and such a big swing from one trial to another is certainly unlikely. In my opinion, buying ImmunoCellular at these prices gives investors a chance to see great return from their investment. The potential to net a nice multi-bagger is very real here.
Disclosure: I am long ARNA, IMUC. I wrote this article myself, and it expresses my own opinions. I am not receiving compensation for it (other than from Seeking Alpha). I have no business relationship with any company whose stock is mentioned in this article.