Jana Partners, the hedge fund stalking Agrium Inc. (AGU), let loose another salvo in the fight to break up one of two leading public Canadian agriculture companies, the other being PotashCorp (POT).
Monday morning Jana said it "intends to propose" nomination of four of its own directors, along with Jana managing partner Barry Rosenstein, for election to Agrium's Board of Directors.
The Jana nominees are touted as having the retail and distribution experience that Agrium's current roster of directors lack. In fact, one of them is David Bullock, who was EVP and CFO of agricultural input retailer UAP Holdings, before Agrium took them over in 2008.
The Jana/Agrium situation is starting to sound like Pershing Square's successful assault on Canadian Pacific Railway (NYSE:CP) in the spring.
The latest development, along with the two day relief rally on equity and commodity markets, boosted Agrium's stock back above $100, closing at $101.25 US and $101.00 CAD on the NYSE and TSX respectively.
Let me apologize if you sold out your AGU on my guess the stock would go even lower, after the sharp decline to about $95 US following their Q3 earnings disappointment. Whenever an activist shareholder is lurking, it is wise not to be out of the stock too long - my bad.
Here is a discussion held on BNN TV last night regarding some of the dynamics of this latest Canadian example of "Barbarians at the Gates."
This fight between Jana and Agrium is now headed for a proxy voting contest at the next annual general meeting of shareholders, which Agrium typically holds in early May, or earlier if Jana calls a special meeting, which they have the right to do, owning more than 5%.
It also came out on Monday that Jana has upped their Agrium share position to 9.2 million or 6.2%. from 7.3 million on September 30 filings. Jana had Agrium call options which may also have been exercised or are being held.
Jana is "all in" on Agrium because at least a third and possibly as much as 40% of their investment portfolio is made up of Agrium now.
But it isn't as simple as major shareholders deciding on whether they like Jana's nominees more than Agrium's existing 11 person Board.
More shares of Agrium are still managed by the asset management divisions of our biggest "Schedule A" Banks.
Canadian banks controlled at least 11% of Agrium as of the last SEC filings (Sep 30), information supplied by Bloomberg notes. It should be noted that some of the increase in their shares owned are by the general bank, which would include trading positions on "prop desks" (aka speculating on higher Agrium stock prices).
The major proxy advisory firms that will weigh in on any proxy contest at the next Agrium annual meeting, include Glass Lewis, Egan-Jones, ISS, and others. Their consensus recommendation will often decide how an investment advisor votes, because the latter have a fiduciary duty to follow "expert" recommendations unless they want to stick out their necks and make a case that they should do otherwise.
Second, Jana has not as of yet nominated a full slate of board members, just proposed a minority of the existing number of board members. This was probably done to avoid greater scrutiny by the proxy advisors because of the lack of continuity a full change of the guard would represent, thus making it easier for a proxy firm to agree with a more modest change.
Agrium did institute a "majority vote" requirement on directors, as of 2007, ahead of TSX proposed rules making it necessary for directors to get a majority affirmation (e.g. more than 50%) of the votes cast.
All of Agrium's directors received plus 90% of votes cast at the last meeting, however voter proxy turnout was low, with only slightly more than half of the shares voted.
A special meeting of shareholders which Jana is now in the position to request, might gather a far greater turnout.
The proxy advisors will look at total shareholder return provided to Agrium shareholders, and performance of the stock relative to peers.
Third, there has been quite a bit of discussion and argument as to what the relevant measure should be for Agrium's stock performance. Agrium's stock has done well, but so has the whole agricultural sector, boosted by crop prices.
Clearly, the Agrium retail business is unique with no peers, and domestic peers in the fertilizer business do not have retail businesses or comparable wholesale businesses (CF has more nitrogen weighting, POT has more potash weight, MOS has more phosphate and no nitrogen). Yara International could be considered closer to being a peer of Agrium.
It should be noted that Jana takes issue with including the last six months of Agrium stock performance in viewing the performance of the existing management and board.
Quite rightly, Jana says it was their approach and discussion with Agrium in May 2012 (including their share buying before the issue went public) that caused Agrium on June 7, 2012 to increase their previously declared on May 11, 2012 dividend to 50 cents from 22.5 cents. That is unusual to back date a dividend increase like that.
Jana was either lucky or prescient when they started buying Agrium in May, because corn was making a bottom. It has since rallied about 20% on the new crop futures. Of course when the efforts by Jana went public in August, the stock price rallied even more.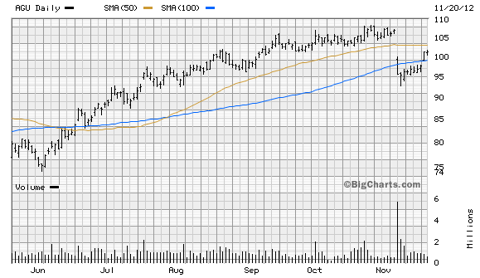 CP Rail's stock was languishing before Bill Ackman of Pershing Square initiated share purchases in late 2011. The CP Rail board was eventually overturned on May 17, 2012. So the stock rallied up in anticipation of positive change, not in an endorsement of existing management.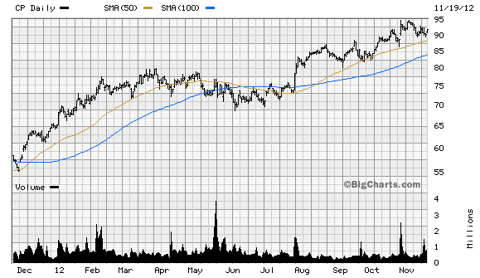 Here are a couple of stock price comparisons that should be of interest:
AGU versus CP Rail over last four years. Sure they are in different businesses. But you can see both share prices were doing poorly before (still private) activist actions.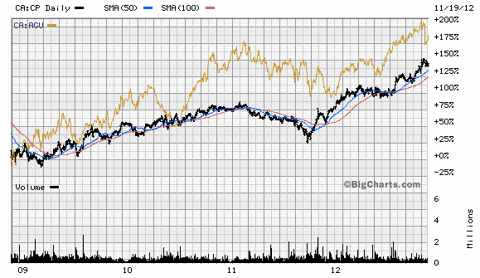 AGU versus Yara International over the last 4 years. Yara is a large and international nitrogen producer with phosphate and NPK sales. Four year share performance (not including dividends) has been more or less equal, excluding the activist action on Agrium.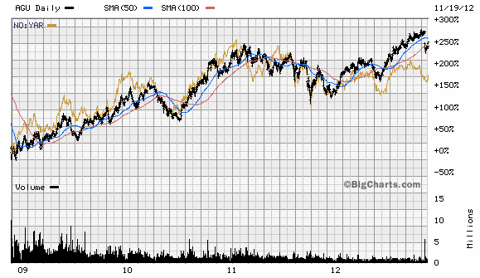 Jana argues that according to the composite peer benchmark they created, Agrium has underperformed by 37% since they closed UAP Holdings on May 7, 2008.
I am not sure why this is the relevant starting point.
Since Mike Wilson was appointed President of Agrium in October 2002, Agrium has increased in size by almost 10 fold in virtually every metric, and the stock has done quite handily.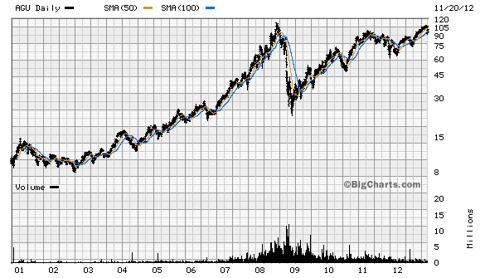 Disclosure: I have no positions in any stocks mentioned, and no plans to initiate any positions within the next 72 hours. I wrote this article myself, and it expresses my own opinions. I am not receiving compensation for it (other than from Seeking Alpha). I have no business relationship with any company whose stock is mentioned in this article.