When the going gets tough, the tough start drinking, eating and smoking - so said one of CNBC's many talking heads as the stock market continued its post-election nosedive. In truth, a bear market might not turn a person to drink, but it doesn't hurt. Three of the world's top alcoholic beverage companies have been consistent performers until lately. But which is the best of the breed?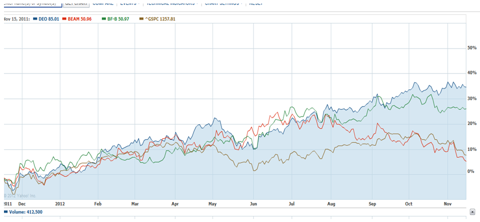 Source: Yahoo Finance
Jim Beam (NYSE:BEAM), represented by the red line, makes a number of popular brands of liquor. But the S&P 500, represented by the brown line, has given that stock a bad hangover.
Next in line is Brown-Foreman (NYSE:BF.B) which is best known for one brand, Jack Daniels Tennessee Whiskey. But BF.B also has a diverse group of brands including Southern Comfort, Finlandia vodka, El Jimador tequila, and a few smaller brands. Brown-Foreman was up above 30% for the year until the worst of the market turmoil hit.
A TOAST TO THE KING
No doubt about it. The king of the category is Diageo (NYSE:DEO), which has stood its ground with a solid 25% gain for the past year as the competition stumbled. Some investors won't have heard of Diageo, an old London-based company. But everyone, including non-drinkers, knows this company's brands. There are just too many Diageo brands to list here. The company's brand identities span the globe and so does the company itself.
But it takes more than a lot of fancy labels to make a great company. And recently Diageo's CEO, Paul Walsh, has been visiting the U.S. to make deals and to toast Diageo's virtues. It doesn't take a lot of persuasion in this case.
THE COCA COLA OF ALCOHOL
Unlike Coke, Diageo doesn't make much of an effort to boost its corporate brand. It leaves that to the individual labels.
Their performance is spectacular according to Diageo:
Johnnie Walker is the number one scotch whisky in the world
Crown Royal is the No.1 Canadian whisky in the world
Smirnoff is the number one premium vodka in the world
Jose Cuervo is the number one tequila in the world
Baileys is the number one liqueur in the world
The list goes on, but you get the point. Diageo remains in the background while its brands become globally recognized stars. The company has also been clever enough to diversify into luxury lines. In the case of its best-selling scotch whiskey, Johnny Walker has gone up-market.
Johnny Walker Black is for the more discerning drinker, Blue Label is for the premium drinker and Johnny Walker Gold is for the buyer who really doesn't care about money. Diageo will be happy to collect it.
Vodka is a different story. Ketel One is Diageo's "Super Premium" brand. And a fancy grape-based vodka called Cîroc reigns as the firm's ultra-premium vodka with hip-hop mogul Sean "Diddy" Combs, calling himself a hybrid brand manager, chief marketing officer and spokesman.
BEHIND THE BRANDING
Comparing the leading alcohol companies is about a lot more than labels. Behind the label and behind Diageo is the stock itself. Surprisingly, Diageo is the cheapest of the three competing brands in terms of valuation.
Brown-Forman has a forward price multiple of 21.76 with a 1.60% dividend. Beam has a forward P/E of 20.17 with a 1.52% dividend yield. Diageo is the cheapest stock with a 16.06 multiple.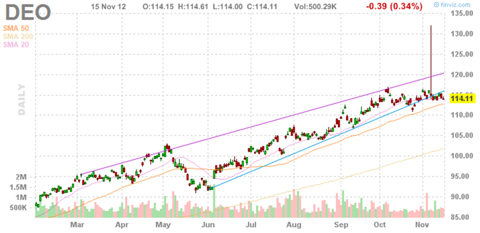 Amazingly enough, DEO is also the most rewarding stock, and not just in terms of performance: Diageo leads the pack with a 2.42% dividend.
BILLIONS OF DRINKERS
The European malaise is so nasty that even liquor sales on the continent are lagging. But Diageo is happy to boast of its limited exposure in the old country. Brown-Foreman depends on Europe for 27% of its sales. Beam gets 22% of its revenue there, while Diageo has roamed far from its London offices, leaving only 21% of its sales volume dependent on Europe.
Chalk up another win for DEO!
And don't imagine that the company is resting on its laurels. While serving a premium dividend to its investors, the company is spending its remaining cash on growing around the globe. The company already has a strong foothold in China's so-called "White Spirits" market. But CEO Walsh says he's more interested in India's growing middle-class.
Diageo is buying a 53.4% stake in India's largest spirits company, United Spirits, for $2.05 billion. (United Spirits is owned by Indian entrepreneur Dr. Vijay Mallya, who needs sufficient cash in order to bail out his Kingfisher Airlines out of bankruptcy.) Diageo's Walsh says he's looking forward to accessing the Indian market which he thinks will be as large as 600 million people.
Rounding out Diageo's global presence is Latin America where the company says it foresees continuing double-digit growth. Sales growth for the past year was a dizzying 19%!
All in all, Diageo appears to be the best, biggest, most profitable and apparently the most bullet-proof of the world's distillers. In these tough times, raise a toast to Diageo!
Action to Take: Buy DEO at $114.55 or less. Target: $144. Sell-stop limit: $107
Disclosure: I have no positions in any stocks mentioned, and no plans to initiate any positions within the next 72 hours. I wrote this article myself, and it expresses my own opinions. I am not receiving compensation for it. I have no business relationship with any company whose stock is mentioned in this article.