Dell (DELL) has been a victim of transformational changes taking place in the personal computer industry. The stock reacted accordingly and grossly underperformed the stock market for more than a year. Management has endeavored to minimize adverse effects of the competitive challenge and diversify the company's business base. Much has been done but much more is required.
Investors have to be concerned about a stock's potential as an investment. Their objective is (or should be) to buy low and sell high. I will render an opinion later in this article on DELL's current investment (speculative?) merit. There is risk involved in any equity position and it is up to the reader to discount my presentation to whatever extent he or she may choose. And it is up to them to make their own decisions about the stock's suitability according to their personal investment criteria.
It is the successful assumption of risk that produces significant investment gains in the form of dividends and/or capital gains. (1) The dividends I receive as an investor are those declared by the company's management. And (2), when things go right (or wrong) the capital gain (or loss) I realize results from a favorable (or unfavorable) response by Mr. Market and the price at which I am able to sell the stock. He is the adjudicator who re-prices each stock daily and he doesn't ring a bell when its price is topping or bottoming. Therefore, (3) due diligence dictates that I rely on both fundamental and technical analysis when making investment decisions: the former tells me "what" stock to buy (or avoid) and the later tells me "when" to buy or sell it.
The questions to be answered are as follows: (1) is there a definable risk attached to DELL at this time and (2) is that a risk worth taking?
The remainder of this article will be presented in two parts: the first deals with fundamental analysis and the second, with technical analysis.
Fundamentally, what's wrong and right with the company?
Dell is an integrated technology solutions provider in the information technology industry. Its business base is shifting from production and marketing of personal computers to providing long-term value creation through the delivery of customized solutions that make technology more efficient, more accessible, and easier to manage. About 50% of the company's business is still tied to PCs.
The seeds of latent obsolescence sprouted when smartphones and tablets were introduced in recent years. That was the beginning of transformational change in the personal computer industry. History shows that such change is a recurrent event related to the grand dynamic called evolution. For example, the railroads were the backbone of the U.S. economy until cars, trucks and airplanes came on the scene. The semiconductor was introduced and then displaced vacuum tubes. The supermarket displaced the corner grocery store. And the commercial broiler displaced the farm chicken in the nation's food supply. So the change now taking place in the PC space is a variation on a theme. Joseph Schumpeter, the famed economist, called the process "creative destruction."
In the 1930s Sunny Jim was a company that dominated the market for hot breakfast cereals, but along came Kellogg with its line of cold cereals. Kellogg launched an aggressive advertising campaign. Sunny Jim's management didn't recognize the threat and refused to counter because it thought advertising was a waste of money. Three years later Sunny Jim went belly-up. When it's time for transformational change, such will occur. The companies adversely effected either adapt or fail. Michael Dell saw that his company would be adversely impacted by changes indicated for the PC space and he chose to adapt by embarking upon a diversification program. He owns 243 million (14%) of Dell's 1.74 billion shares outstanding. The current market value of his position is $2.2 billion, give or take a million or two. So financially, he has a lot riding on the outcome of the program. It's fair to say he's putting his money where his mouth is.
The role of the PC declined in recent years due largely to the mobility of smartphones and tablets. And the tablets should get a big boost in functionality with the launch of Microsoft's (NASDAQ:MSFT) Windows 8. That will make tablets even more competitive with PCs. Industry-wide sales of the new products cited exceeded PC shipments in 2011 and their use continues to grow while PC shipments are declining. Personal computers will continue to be used for a long time to come but their role as we know it is destined to diminish.
Dell's revenue from its PC business is being adversely affected because of the shift to smartphones and tablets and because of competitive gains being made by producers of lower quality computers. Its new touch-screen computers and Windows 8 may be helpful but PC sales are likely to decline in coming quarters. The inroads made by others also resulted in the loss of pricing power so profit margins were pressured.
Michael Dell recently reiterated that his company's future has little to do with PCs. It's going to be about selling data center software, hardware, and services to business enterprises. Thanks to a number of acquisitions, Dell now has an $8 billion-a-year information technology services business plus another $1.5 billion in software sales. Dell's share is just a small percentage of the $800 billion information technology market.
Acquisitions played a big part in Dell's diversification program thus far as companies specializing in data storage, data security, and software were brought into the business mix. Dell spent more than $12 billion on 18 acquisitions since 2009, thereby adding corporate data center products to lessen its reliance on PCs. Experienced executives have also been hired to expedite the transformation process. A few days ago assignments of key executives were shuffled so apparently internal assignments and controls are not yet as good as they need to be. Dell gets less than 5% of its income from consumer PC sales. Services to businesses and the government generate much larger profits. The company's recent acquisitions will help attract and service such customers.
In 2011, Dell acquired Compellent Technologies, a data storage company. In Q2 of 2012 it purchased a data security service called SonicWall; in Q3, Quest Software; and in Q4, Gale Technologies whose specialty is software for so-called "private cloud" computing. There is concern among observers that these acquisitions were costly and they may not pay off for several years. But, what is the alternative?
Among the new product offerings resulting from the acquisitions were storage centers that can increase performance up to 100 percent over previous versions when running enterprise workloads as they double bandwidth; array software that enhances data protection, capacity utilization, and virtualization capabilities in affordable, high performance solutions; and data protection portfolios optimized in a backup appliance.Some of the new product offerings are currently available and others will be by Q2 of 2013.
In Q3 lower demand for most of the company's product lines wreaked havoc on operating results. PC sales were down 8% from the year ago level, notebooks were down 26%, software and peripherals were down 11%, storage was down 16%, and services were down 1%. Servers grew by 11% by gaining market share.
Dell missed analysts' expectations of $13.9 billion in revenues and 40 cents in earnings per share. The actual numbers reported were $13.7 billion in revenue and 39 cents in EPS (last year's number was 54 cents). It missed its own guidance for Q3, having forecast $13.8 billion to $14.2 billion in revenues. It provided guidance for Q4 below analysts' $14 billion to $14.4 billion; the consensus forecast was $14.5 billion. When giving guidance most managements try to be conservative to lower expectations and then deliver results to meet or exceed those expected. Dell also missed guidance in Q2. The worse-than-expected results are likely to continue in Q4. Dell forecasted sequential revenue growth of 2% to 5%, which translates into sales of $14 billion to $14.4 billion. If so, the company will again miss analysts' expectations; the analysts had projected $14.5 billion.
Some 35 analysts follow the company on a regular basis. Their average earnings per share estimate for fiscal Q4 (ending in January) is 40 cents, with the high and low being 50 cents and 35 cents, respectively. Their average estimates for fiscal 2013 and 2014 are $1.73 and $1.75, respectively. The high and low estimates straddle the 2013 number by about 10 cents and 2014's estimate by about 20 cents. The wide disparity in their estimates shows that there are bulls and bears among the analysts. The stock is currently priced at $9.05 which is 5.2 times the consensus estimate for next year and it has a dividend yield of 3.5%.
At the end of Q3, Dell had $14.2 billion of cash items on its balance sheet and total debt of $8.4 billion. It is noteworthy that a dividend policy was initiated in Q3 to pay a quarterly cash dividend of eight cents per share of common stock. Management believes that it can generate cash flow from operations in excess of net income over the long term. It is confident that it has the financial resources to satisfy its capital requirements.
Institutions owned 71.5% of the 1.74 billion shares outstanding on October 31. During the past six months they collectively bought about as many shares as they sold. Insiders (other than Michael Dell) also bought as many shares as they sold.
The thing that is wrong with the company is that the mainstay of its business base is still personal computers. The thing right is that noteworthy progress is being made with regard to diversification. Dell is betting big time that the transformation can be accomplished by about 2016.
The news flow during recent months has been decidedly negative with regard to Dell and other participants in the PC space. The poor performance of the company in Q3 didn't help its image within the investment community. A common complaint among observers is that the diversification program isn't progressing fast enough. Maybe not, but it isn't due to lack of effort. The spate of acquisitions and new product introductions attest to that. Dell is re-creating itself. The challenge Michael Dell faces is enormous. He has to compete for market share against the likes of Cisco (NASDAQ:CSCO) and EMC Corporation (EMC) which have vested interests in the IT space. And, like Dell, they are looking to acquire start-up companies to include in their corporate development programs. I think Michael Dell made the correct call when he decided to diversify instead of trying to slug it out with competitors in the PC space and be an also-ran in a declining industry.
The stock market works as a discounting center where the investment merits and demerits of a stock are re-priced daily. Nobody knows what is or what isn't discounted by Mr. Market until after the event. I am going to assume that the pros and cons relating to DELL's fundamental merits are well known and therefore they are being discounted in the stock's current price. Without further ado I will shift my focus to technical analysis.
Technically, is the downtrend in the stock's price about to end?
Technical analysis is basic supply and demand analysis as taught in economics 101. When the propensity to buy a stock is greater than the propensity to sell it, the price goes up; and when the opposite is true the price goes down. It's that simple. The difficulty is deciphering what the balance is between the two propensities and whether the balance extant will continue or reverse. An equilibrium situation requires one interpretation and a disequilibrium situation requires another.
The chart below was constructed from data in my workbook. Its salient features are explained in the notes below it.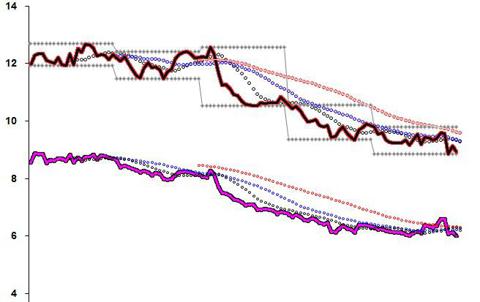 (1)The bold black line on top is price and the bold pink line below it is relative strength. (2) The dotted lines are moving averages and there is a set of those for price and a similar set for relative strength; they are used to define trends and reversals. (3) The five sets of gray parallel lines that frame the stock's price action are 22-day trading ranges and their progression shows how the trading range shifted during the 110 days charted. As technical indicators, items (2) and (3) are independent of the other so either one can be used when evaluating the technical status of a stock.
DELL's high price in Q1 was $18.25. It declined precipitously in Q2. Since then, as shown in the chart, it leveled off before trending down during the past 55 days. The last 22-day trading range shifted down so that remains a "bearish" indication. However, during the past 55 days the price and relative strength lines were weak for most of the 55-day period but that was changing. The reversal process was complete for the relative strength line but it still had a way to go for the price line. If the price line completed its reversal, the bottom for the stock's price might have been established. That hope was dashed with the release of the Q3 operating report.
The sharp drop in price the following day occurred on heavy volume of 3.5 times the norm for the past 30 days, indicating the stock was being dumped by discouraged investors. The stock recovered somewhat during the past two days but the negative trends for price and relative strength are once again established. That is the problem. In order for a technical reading on the stock to be good enough for me to become bullish, the reversal process must be complete and decisive for both price and relative strength. Until that happens I will continue to avoid the stock and advise interested investors to do likewise.
I never tell a reader what he or she should do. I just write the article about a stock I am researching, render an opinion, and state what I am doing as an investor in the stock. I close by reminding the reader that it is up to him or her to make their own decision about the stock's suitability according to their own personal investment criteria.
Disclosure: I have no positions in any stocks mentioned, and no plans to initiate any positions within the next 72 hours. I wrote this article myself, and it expresses my own opinions. I am not receiving compensation for it (other than from Seeking Alpha). I have no business relationship with any company whose stock is mentioned in this article.