In my previous article, I discussed LinkedIn's (LNKD) strategy and its operations. LinkedIn relies on revenues from its job posting solutions, premium subscriptions and advertising and has driven very impressive revenue growth in 2012. This growth, coupled with expectations of continued strong growth, have resulted in a relatively high valuation with a P/E multiple of 146 (based on Monday's closing price and the expected full year EPS of $0.72). This valuation is well in excess of the S&P 500 average of 14 which suggests there is some significant potential downside if LinkedIn fails to meet future growth expectations.
This article will use this information to suggest some investment strategies that could be used to profit from LinkedIn's current position:
1) The current picture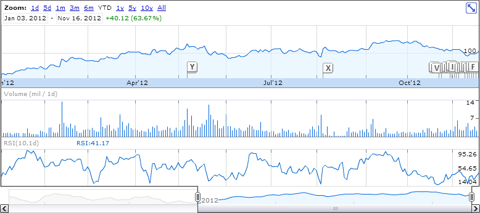 Since the beginning of the year, LinkedIn has seen an increase in price of 64%. The price peaked in September at $123, and has since retreated.

The retreat bottomed out November 8-9 at the price of $95.62, and has since recovered to Monday's closing of $105.53.
Momentum seems to suggest that these shares are bound to continue rising in the short-term. Support for a short-term rise comes from shares trading at a price below resistance at $107, and the 15 day Relative Strength Index (RSI) which currently stands at 52 and still has some room to move up before down.
2) Strategies to Profit from Long-Term Decline
a) Short Selling
Short selling would provide the trader with exposure to the downside of LinkedIn's future share price movement as the sale takes place before the purchase. Short-selling is an inherently dangerous trading activity due to the theoretically unlimited risk that comes with it.
Short-sellers should postpone a trade in the near future until the shares recover their lost ground. I would recommend waiting at least until a price equivalent to resistance of $107 is reached, and likely beyond this point. Short-sellers will also need to be aware of LinkedIn's strong institutional backing. Currently, institutional owners own 70% of outstanding shares, including the following largest owners.
| | | | | |
| --- | --- | --- | --- | --- |
| Holder | Shares | % Out | Value | Reported |
| JENNISON ASSOCIATES LLC | 7,476,176 | 9.38 | 794,493,223 | 2012-06-29 |
| PRICE (T.ROWE) ASSOCIATES INC | 6,868,643 | 8.61 | 729,930,691 | 2012-06-29 |
| MORGAN STANLEY | 4,589,729 | 5.76 | 487,750,500 | 2012-06-29 |
This is a concern for short-sellers as these owners in themselves are able to sustain the price to a certain degree through their own demand, which limits the downside of the shares.
Furthermore, LinkedIn may still have plenty of upside room remaining if it continues to surpass short-term expectations, and analysts re-write long term expectations. The core reasons of why I believe LinkedIn is overpriced - its valuation, profitability concerns and growth expectations - were all true at the beginning of 2012. Nevertheless, the share price has since risen 64% in conjunction with spectacular earnings releases showing strong short-term growth. This trend is not sustainable, but it may create significant liabilities for short-sellers unable to cover their margin.
b) Options
A less risky alternative to short selling is to purchase a put option. This option allows the trader to gain exposure to the downside of the share for a fixed time frame. In my opinion, it is more favorable than short-selling as it limits the potential loss to the cost of the option.
The two nearest option expiry dates are December 21, 2012 and January 19, 2013. It would be difficult to anticipate a large price correction in the period leading to these dates without any scheduled earnings releases. As a result, I wouldn't suggest entering into any put options expiring at this date.
The following options expiry date is February 16, 2013, which shortly follows the earnings release. The volatility around the earnings release could distort the price at this period, therefore this is not a suitable date for this strategy. See instead a discussion on how to profit from the earnings release below.
The medium-term option date lies in May 2013. While this is the first viable option for a put strategy, the downside during this period may also be limited. The significant institutional support of the share could continue to prevent a decrease within this timeframe. In addition, if LinkedIn is able to meet or exceed the two earnings releases between now and May 2013, we could see the price spike to record highs during this period as analysts again increase their future expectations for revenues and earnings.
In order to gain exposure to a longer term decline in share price, the January 2014 and 2015 options are the best choices. The revenues and earnings growth are more likely to finally fall below analyst expectations and cause the valuation to correct during the longer term.
Currently, these options have relatively steep prices due to their long time frame. The $100 puts are trading at $20 for 2014 and $25 for 2015. As a result, the shares would have to experience a significant drop in price for them to generate a profit. In addition, there is low trading volume in these options which creates some additional pricing risk due to the large bid-ask spreads.
3) Profiting from the earnings release
The Q4 2012 Earnings Release is tentatively scheduled for February 4, 2013 with a current average analyst expectation of $0.18 EPS. The previous stellar earnings releases have driven the strong share price growth this year to date. As a result, the options expiring on Feb 13th 2013 will be of interest to short-term LinkedIn Traders.
The past four earnings releases have all beat earnings expectations with the exception of one which matched analysts. In addition, each release featured a large increase in revenue.
| | | | | | | |
| --- | --- | --- | --- | --- | --- | --- |
| Period | Actual | Estimate | Revenue | Close before | Close After | %Change |
| Q3 2012 | 0.22 | 0.11 | $ 252M | 106.85 | 106.78 | 0% |
| Q2 2012 | 0.16 | 0.16 | $ 228M | 93.51 | 108.51 | 16% |
| Q1 2012 | 0.15 | 0.09 | $ 188M | 109.41 | 117.30 | 7% |
| Q4 2012 | 0.12 | 0.07 | $ 168M | 76.39 | 89.96 | 17% |
The most recent release in November occurred in the middle of LinkedIn's recent slide that ended November 9th. This release was initially met with a large jump in price of 7.6% at open, which evened out that morning.
The earnings releases were incredibly well received with large spikes in the share price. Coupled with the fact that the current valuation is largely based on growth expectations, LinkedIn presents an excellent opportunity to profit from the volatility that will result from the highly anticipated earnings releases. A future release in excess of the estimates will likely send the price skyrocketing again, while a release short of expectations may quickly burst the valuation bubble.
- One-Sided Strategy
Playing the earnings releases could be accomplished through a share purchase and call option, or through a short-sale or put option to give exposure to one side of the price movement. This option would provide a significant return as long as the position taken was in-line with the earnings release, which results in a bit of a gamble.
- Two-Sided Strategy
Gaining exposure to both sides of the price movement could be accomplished through a strangle option strategy. This strategy would involve purchasing both a put and call option with a Feb 16th expiry. Both options would be purchased out of the money just ahead of the earnings report date, therefore their costs should be relatively low. A sufficient price movement, either up or down,to cover the costs of both options would result in a profit. On the other hand, too little price movement would result in a loss of the cost of the options less their residual values.
Conclusion
To those who want to profit from the anticipated future correction in the price of LinkedIn's shares, I recommend a put option with a January 2014 or 2015 expiry. These options would be an excellent way to gain exposure to a future correction in LinkedIn's valuation, while limiting the risk that would come with short-selling.
I don't recommend using options with shorter terms, since the strong institutional support for LinkedIn's valuation has the effect of limiting the downside in the shorter term. In addition, the upcoming Q4 2012 earnings release could send the shares skyrocketing and temporarily distort a longer term decline.
LinkedIn also presents a great opportunity to profit from the volatility that arises after an earnings release. Using a strangle option strategy of buying both a call and a put out of the money ahead of the earnings release, you could net a profit from a significant movement in the price in either direction after the release.
---
Disclosure: I have no positions in any stocks mentioned, but may initiate a short position in LNKD over the next 72 hours. I wrote this article myself, and it expresses my own opinions. I am not receiving compensation for it (other than from Seeking Alpha). I have no business relationship with any company whose stock is mentioned in this article.