Aetna (NYSE:AET) stated in a Clinical Policy Bulletin revision that has contributed to the rise in Vivus (NASDAQ:VVUS) stock this morning. Dated November 20, 2012, Aetna said that specified criteria under which the insurer considers weight reduction medications as "medically necessary" for treatment of obesity. Furthermore, "For members whose medical policies do not exclude weight reduction medications or services and supplies for or related to weight reduction programs, Aetna covers drugs under the medical benefit, not the pharmacy benefit."
Under it's policy, the medications that have been approved by the FDA for weight reduction which would be covered are:
Qsymia, marketed by VIVUS
Belviq from Arena Pharmaceuticals (NASDAQ:ARNA)
Didrex from Pfizer's (NYSE:PFE) Pharmacia unit
Roche's (OTCQX:RHHBY) Xenical
GlaxoSmithKline's (NYSE:GSK) Alli
VIVUS stock is still a very good value play going into 2013. I wrote more about this in an eariler article. It's quite possible that Vivus may have reached bottom in the past week for this year. See the chart below for more.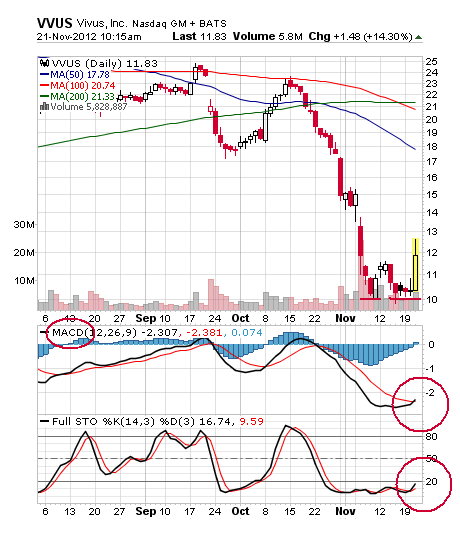 The obesity in America is still a great concern and only getting worse as outlined in this report. Projected increases in adult obesity rates look like they will continue. If obesity rates continue on their current trajectories, by 2030, obesity experts claim that 13 states could have adult obesity rates above 60 percent, 39 states could have rates above 50 percent, and all 50 states could have rates above 44 percent. So, moving forward, investors have an opportunity to take advantage early-on in the cycle by investing in the obesity drug market with either VVUS or ARNA stocks.
Today, Vivus shares reached $12.59 on this policy change. Keep in mind that the obesity drug was just launched in September 2012. Currently, VVUS is in the very early stages of delivering this product to the market. In due time, it is expected to gain additional traction as new prescriptions usually do by providing patients with the new drug mail-order delivery plan approved by the FDA using the very best certified pharmacy network of providers: CVS (NYSE:CVS), Walgreen (WAG) and recently signed Express Scripts (NASDAQ:ESRX).
Also, it should be noted that Arena's shares reached a high of $9.32 on this news and shares of Orexigen Therapeutics (NASDAQ:OREX), which is developing a competitive weight loss treatment that is being considered by the FDA for approval also moved higher, tapping a high today of $4.75.
Disclosure: I am long VVUS. I wrote this article myself, and it expresses my own opinions. I am not receiving compensation for it (other than from Seeking Alpha). I have no business relationship with any company whose stock is mentioned in this article.