Yelp continues to struggle. Since we first took a negative view on Yelp (NYSE: YELP) in our June 25, 2012 article titled "Why Yelp Is Not A Good Investment: 3 Reasons to Sell the Stock Now", the stock has tumbled 21.59%.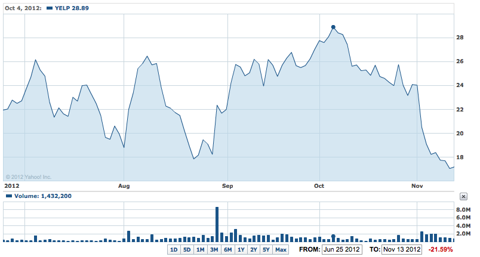 (Above is a chart of Yelp's performance since June 25th, 2012)
The three reasons we cited were: 1) Yelp's flawed business model, with high cost of sales and no clear path to profitability; 2) End of their lockup. Lockups also plagued other social media plays, Zynga (NASDAQ: ZNGA) and Groupon (NYSE: GRPN); and 3) Yelp did not fit two key criteria in stocks on Wall Street's Rules of Investing: (NYSE:A) Buy best-of-breed companies and (NYSE:B) Buy damaged stocks, not damaged companies. We consider Yelp a damaged company and it is certainly not a best-of-breed stock.
Yelp was heralded as a social media darling earlier this year as shares rocketed up over 60% since their March 2012 IPO. Market pundits initially touted YELP as a better investment than social media plays, Groupon or Zynga. However, after a roller coaster summer, Yelp peaked at $28.89 on October 4, 2012, then plummeted 40%.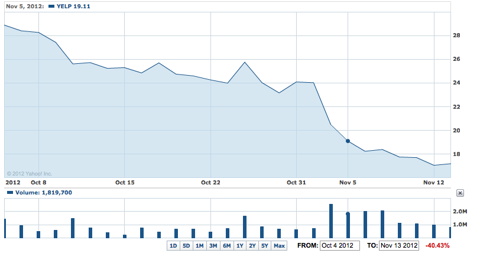 (Above is a chart of Yelp's performance since October 4th, 2012)
Why is Yelp struggling? First, there is widespread concern about Yelp's ad revenue, or lack thereof. Third-quarter earnings beat analyst estimates and revealed that sales rose 63% to $36.4 million. However, fourth-quarter guidance did not meet expectations. Yelp forecast next quarter's revenue at $40-$40.5 million amid lagging ad sales - just short of Bloomberg's average analyst estimates of $40.8 million. Shares fell almost 11%, reversing the stock's upward trend. Yelp's Chief Financial Officer, Robert Krolik, reported fourth-quarter revenue from display ads would be "flat-to-down" because of "execution challenges in that part of the business."
Mobile advertising is another looming challenge. Yelp has also been a laggard at generating mobile advertising revenue, particularly as users increasingly turn to mobile devices for access to social media. Yelp's mobile app generated no revenue in the last quarter.
Yelp's integration into Apple Maps has become further cause for concern. Apple's (NASDAQ: AAPL) vulnerability with its problematic map application is undeniable. All too often, directions are wrong or location data is missing. Apple's CEO, Tim Cook, has apologized for the Apple Map's inadequacies.
It's increasingly apparent that Yelp's flaws contribute to Apple Maps' flaws. Yelp's user-sourced business information is leading Apple Map users astray. Apple needs to work more proactively with Yelp for more accurate business listings and review if they hope to fix Maps.
Anyone with a Yelp account can add or influence venue data. This may range from the business's location to its operational hours - all without independent verification by the business in question. By comparison, Google (NASDAQ: GOOG) requires business owners to confirm their location. Google Maps employs a method known as crowdsourcing.
According GigaOM, Yelp's user-based approach results in "multiple venues entered, prospective businesses that add data but never open, and businesses that are closed but never get removed from Yelp." GigaOM cites a very telling example involving a Napa Auto Parts location. A search of Apple's Maps found one Napa Auto Parts store in a small California city that had 13 reviews from Yelp users. However, Apple Maps showed that particular location as a pizzeria and there was no mention of Napa Auto Parts.
Yelp's approach with hidden reviews and out-of-date businesses will continue to degrade search results and more customer use or map quality improvements wont fix that problem.
Here's why Yelp's method of curating posts presents a further problem to Apple Maps. Yelp favors 'elite' user reviews over reviews by regular users. Elites are specifically selected for their seemingly authentic reviews and profile information. This means the primary reviews seen by searchers are hand picked by Yelp. When using a full browser, the filters can be circumnavigated and other reviews by regular users can also be accessed. But Yelp's mobile application and Apple Maps do not allow those filtered reviews to be seen. As a result, much information is missing. This is likely to become a bigger problem for Yelp, especially if Apple decides to terminate their contract and look for better, more accurate alternatives.
We continue to believe there are just too many negatives outweighing the positives for Yelp. If you're a current shareholder, sell on a bounce. With or without Apple Maps, we remain bearish on Yelp.
Disclosure: I have no positions in any stocks mentioned, and no plans to initiate any positions within the next 72 hours. I wrote this article myself, and it expresses my own opinions. I am not receiving compensation for it (other than from Seeking Alpha). I have no business relationship with any company whose stock is mentioned in this article.