Although Supervalu Inc. (NYSE:SVU) has failed to turn the corner in its multi-year turnaround project, we see some hope for the once-proud retailer. We were disappointed that Craig "The Wal-Mart (WMT) Guy" Herkert was not able to restore SVU's sales momentum and that SVU's leadership team was caught with its pants down with regards to pricing moves made by its competition. One good thing that came about from SVU's poor performance is that it has resulted in a potential upgrade of its leadership team. We were especially pleased that the Minneapolis/St. Paul Business Journal quoted from our July 31st report in which we evaluated SVU's new boss Wayne Sales. While we were displeased to see SVU's shares drop sharply after its Q1 2013 report, we believe that the new boss will stabilize SVU's performance and will potentially restore value to SVU's shareholders either through improving its competitive position or selling off some of its stores or even chains. While SVU has not quite caught up to Wal-Mart, Kroger or Safeway, we can see that at least it isn't Roundy's (NYSE:RNDY).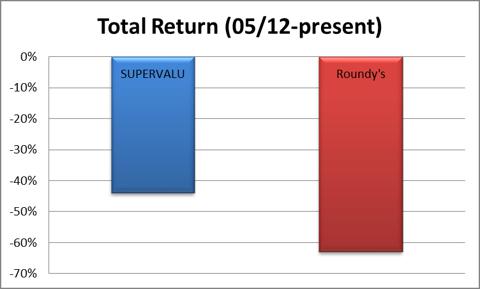 Source: Morningstar Direct
We considered investing in Roundy's in April when we found that David Einhorn of Greenlight Capital took a 1.2% stake in the company during the first quarter. We were attracted to its 8% dividend yield, the potential economic recovery in Wisconsin thanks to the well-publicized fiscal reforms signed into law by Governor Walker and the fact that one of the most recognized investment managers took a well-publicized stake in the company. We ended up passing it up as the price had popped in the wake of its April addition to the Russell 2000 and we were hoping to get it cheaper. It was a good thing that we did because Roundy's share price has suffered a terrible beating since it went public in February and especially since its all-time high price of $12.50 in May. While SVU's share price took a terrible beat-down from July 11th to July 25th, it has since stabilized and has seen rays of hope from potential deal speculation, a new leadership team and necessary moves to improve SVU's price competitiveness.
Both companies have made well publicized dividend cuts recently. SVU cut its dividend by 50% in 2010 and it eliminated the rest of its dividend after releasing its soft Q1 2013 results in July. Roundy's recently announced a sharp 36% decline in its net income for its most recent quarter even though it had the benefit of an 8% reduction in its depreciation and amortization expenses and a 33% reduction in its interest expenses during this time period. Roundy's joined SVU in reducing its dividend in the wake of soft sales results due to pricing promotion initiatives by its competition. Roundy's reduced its dividend by 48% beginning with its Q4 2012 payment. Roundy's still yields almost 13% based on its new $.48/share dividend payment and its $3.73 share price as of November 16th. Although we were displeased that SVU had eliminated its dividend while Roundy's still maintained a dividend, we can at least say that SVU's dividend would have been 70% of its Fiscal YTD free cash flows versus 255% for Roundy's.
One factor that led us to investing in SVU over Roundy's earlier in the year was the free cash flow yield for each firm. SVU had a 40% free cash flow yield in May versus 20% for Roundy's. Although both firms have seen sharp declines in operating and free cash flows on a year-over-year basis versus the prior year periods, SVU's operating and free cash flows have declined at a lower rate than Roundy's. SVU's annualized free cash flow yield based on FY 2013 FCFs is still about 40%, albeit based on lower FCFs and market capitalization. Roundy's only generated $8M in free cash flows during the first nine months of its FY 2012 fiscal period and it has an annualized free cash flow yield of 6.25%. Although both companies have made efforts to pay down debt this year, SVU's debt servicing payments have primarily come from free cash flows rather than an initial public offering of stock like Roundy's. SVU is targeting $900M in operating cash flow and $400M in free cash flow for FY 2013 and will devote these cash flows to its $250M in maturing debt over the next 12 months and the rest to pay down its credit lines.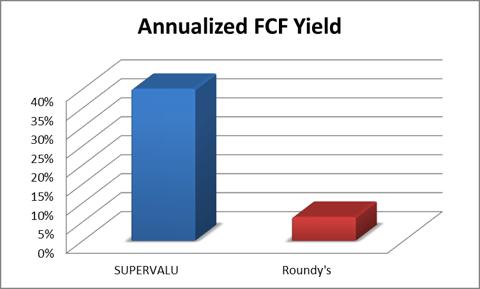 Source: Morningstar Direct
The last item that enables us to conclude that SVU has a better chance of turning itself around and adding value to shareholders is its real-estate portfolio. Supervalu owns about 40% of its traditional grocery store locations. While the company has pledged a portion of its real estate as part of an asset-backed term loan, it can always decide to sell the stores to another grocery chain and use the proceeds to Supervalu down or pay off the loan. We've had a series of discussions with other investment firms in comparing Supervalu versus Roundy's and one thing we agreed on was that the real estate SVU owns gives it a better chance to survive and turn around than Roundy's. Roundy's only owns two of its 160+ stores and one of its distribution centers.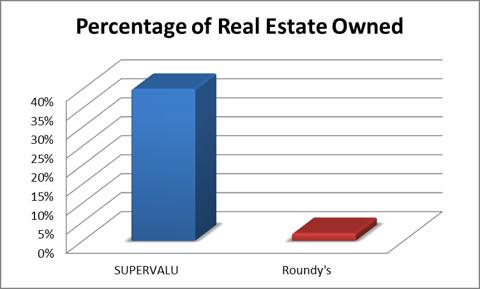 Source: Most Recent Annual Reports for SUPERVALU and Roundy's
In conclusion, we are of no illusions as to the challenging competitive environment both grocery retailers face. Both companies are facing strong and significant industry headwinds as well as operational issues which have negatively impacted the performance of those firms. However, we believe that Supervalu has begun to make more progress in its turnaround situation than Roundy's and we believe that SVU will recover more for its investors than Roundy's. The last two reasons why we tout SVU over Roundy's because its new CEO Wayne Sales had an immaculate record of achievement and performance when he led Canadian Tire (OTCPK:CDNAF) from 2000-2006 and because SVU has already tapped Goldman Sachs and Greenhill to assist it in pursuing strategic alternatives and it has drawn assorted bids from a number of players, most notably Cerberus.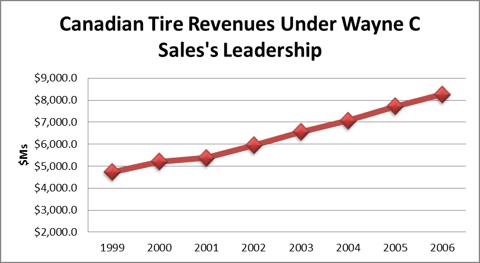 Source: Canadian Tire 2006 Annual Report
Disclosure: I am long SVU. I wrote this article myself, and it expresses my own opinions. I am not receiving compensation for it (other than from Seeking Alpha). I have no business relationship with any company whose stock is mentioned in this article.
Additional disclosure: This article was written by an analyst at Saibus Research. Saibus Research has not received compensation directly or indirectly for expressing the recommendation in this article. We have no business relationship with any company whose stock is mentioned in this article. Under no circumstances must this report be considered an offer to buy, sell, subscribe for or trade securities or other instruments.